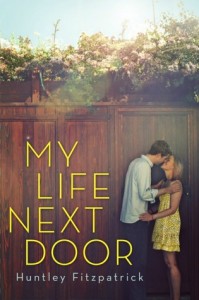 My Life Next Door
by
Huntley Fitzpatrick
on June 14th 2012
Also by this author:
The Boy Most Likely To
(394 pages) •
Goodreads
•
Amazon
•
Barnes & Noble

"One thing my mother never knew, and would disapprove of most of all, was that I watched the Garretts. All the time."

The Garretts are everything the Reeds are not. Loud, messy, affectionate. And every day from her rooftop perch, Samantha Reed wishes she was one of them . . . until one summer evening, Jase Garrett climbs up next to her and changes everything.

As the two fall fiercely for each other, stumbling through the awkwardness and awesomeness of first love, Jase's family embraces Samantha - even as she keeps him a secret from her own. Then something unthinkable happens, and the bottom drops out of Samantha's world. She's suddenly faced with an impossible decision. Which perfect family will save her? Or is it time she saved herself?

A transporting debut about family, friendship, first romance, and how to be true to one person you love without betraying another.

Okay obviously the first thing I need to mention is CONNECTICUT! I love when books are set in my state; I can definitely get a better feel for the setting and environment. Of course, the made-up town in this book is clearly down by the shore (an area I am definitely not from), so it barely feels like Connecticut. My part of the state features a lot of farms and smelly cows.
This book was definitely hyped up, but – thank god – met my expectations! I really loved Jase, and he's the reason this book was so fantastic. Sam was an okay character, but a little flat. I know that she's had a pretty sheltered life and Jase helped her get out of of her comfort zone a bit, but I just wasn't totally on board with her. Regardless, I shipped them as a couple very hard. I liked how sex was kind of an important part of the book. Any YA book that talks about it or actually does it is okay in my book. It's real! It's a part of teenagers' lives.
There were a few things that bugged me. I mean, clearly Tim had a problem with drinking and some drugs, but AS USUAL the portrayal of weed-smoking in a YA book bothered me. It's something that I think authors don't usually get right. This was no exception. Tim was a huge dickhead in the beginning but seriously shaped up throughout the book. At first, I was like "people really wanted a book about this asshole?" (since people were so excited for The Boy Most Likely To)… but I started to see it. I'm really eager to get started on that one, actually. Tim's sister Nan…. oh lord. I have a lot of feelings about her and I'm wondering if anything gets "resolved" on that end in the next book. We'll see, but just know that I would have absolutely punched her in the face if I were Sam.
"It's all so good. My body is singing-happy, my days are full of good moments, my life feels more right than it ever has been before. And that can be, I learn, how it happens. You're walking along on this path, dazzled by how perfect it is, how great you feel, and then just a few forks in the road and you are lost in a place so bad you never could have imagined it."
The family feels in this one were definitely off-the-charts. I felt bad for Sam because her mom was definitely tightly wound and hard to deal with. The Garretts were the complete opposite but so excellent. I loved everyone in the family and could really picture the chaos (in a good way). And then… the twist happened. I won't share spoilers, but I'm still not totally sure how I felt about it overall. It was a very serious topic that happened pretty late in the book (maybe about 75%) and I definitely didn't see it coming. It got resolved in the way I predicted though. It kind of dampened my enjoyment for a while because I was incredibly frustrated with Sam. I know she was stuck between a rock and a hard place, but the answer felt pretty obvious to me.
Regardless, I really enjoyed this one and am eager to get started on Huntley Fitzpatrick's other two books! I'm hoping for the same kind of feels and excellent boys. Jase is king in my heart though… for now.

| | |
| --- | --- |
| Plot & Premise | |
| Characters | |
| Writing Style | |
| Pacing & Flow | |
| Feels or Swoons | |
| Addiction Level | |
| Overall: | 4.3 |
Related Posts