Books that Made Me Smile
Top Ten Tuesdays were started by The Broke and the Bookish and are now hosted by That Artsy Reader Girl, where we make lists of our top ten books (or something else!) based on that week's prompt. The topics are provided ahead of time and can be found here. Book links bring you to Goodreads or my review.
There are a lot of reviews on my blog where I claim I was "smiling like an idiot" throughout the whole book. I decided to keep it simple for this one (anyone notice how lazy my TTTs have been lately??) and keyword search for "smile" to figure out which books I reviewed and shared how much I smiled while reading.
---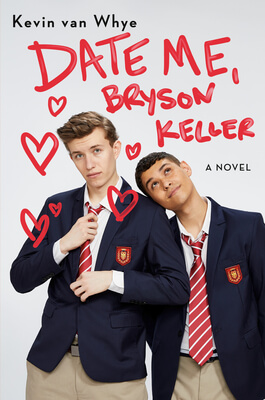 Date Me, Bryson Keller
This book was pure shippy goodness and I remember blazing through it in one sitting, even during the horrible quarantine reading mood I'm in.
"I thought their chemistry built up REALLY nicely throughout the week and felt so real to me. It just made me smile and keep reading all night…

I highly recommend this one if you need something similar to SIMON VS. but honestly? This had even more swoons and chemistry and smiley moments for me."
---
10 Blind Dates
I didn't actually write this in my review but it was the book I used in the 2019 EOY book survey as the one that put a smile on my face or was the most fun to read. Totally loved it.
From the 2019 EOY survey:

25. Book that put a smile on your face/ was the most fun to read? I smiled like a butt reading so many books this year but I think 10 Blind Dates by Ashley Elston made me so happy! It was a perfect light holiday read with a huge family, great friends, and a fun concept.

---
The Friend Zone
My thoughts on this book kind of soured over time the more I thought about the ending, but I really enjoyed so many elements of it while reading.
"While Josh won't make it into my personal book boyfriend list, that does not mean he wasn't PERFECT for Kristen. I felt the chemistry with every passing page and they made me smile so much with their banter. I didn't cry like I expected to (most reviewers said they cried multiple times!) but I did tear up when something big happened toward the end of the book."
---
What If It's Us
This was certainly a realistic book, but the ship and relationship made me smile a lot while reading. Love feeling like a member of the cast or friend group!
"I like both Albertalli and Silvera though, so I had hopes I'd settle in a little bit more. That definitely happened; the story and characters grew on me so much. I loved that the two of them struggled to make things click but they never stopped working on it. This book made me smile like an idiot and it's so damn shippy. The friend groups and family members were fully fleshed out and I felt like I KNEW everyone in this book personally."

---
The Bride Test
I can't believe I have to wait so long for another Hoang book, good lord – her romances are perfection. This one was such a solid story and the ending was ship-tastic.
"From a romance perspective, I loved all of the tropes involved here that I mentioned. They had a lot of amazing chemistry from the start. Unlike Hunting's previous book, these two didn't get together right away. There was good tension and logical considerations made by both of them (like keeping Emme out of their trial-run-relationship so she didn't get hurt). I got toward the end and smiled like an idiot so much that I just knew it would be perfection."
---
The Goose Girl
I need to keep reading this series! I probably need a recap from book one though because I definitely don't remember what happened that made me smile so much at the end lol.
"I loved the bit of romance, even though it definitely wasn't a major area of focus IMO. Her friendships with the other workers were so cute too! I smiled like a jackass at the end of the book and it really just left me with the squishiest feelings, so I had to give this one a top rating."

---
The Fairest Kind of Love
This series is one of those weird ones where you feel like you have to keep reading and are always excited for the next book, but it's really not your favorite. Am I alone in that?? Either way, I remember enjoying the fairy-related elements of this one.
"This one felt cheesier than the last two. I'm not sure if it's just because there's been enough time in between where I forgot what they were like, or if this one was genuinely a little more forced humor than the rest. It was a bit off-putting while I was reading it, even though the story made me smile."

---
Crooked Kingdom
Weird that a book that TOTALLY BROKE ME can also be incredibly funny and perfect and smile-inducing, huh??
"There were so many PURE ASS MOMENTS of friendship and camaraderie and I just smiled like an ass so often. Nina and Inej in particular were wonderful, but I loved seeing this group of misfits band together and get to know each other so closely. Loyal and funny and adorable in a fucked up way. Would die for any of them."

---
So Close to Being the Shit, Y'all Don't Even Know
Goes without saying, but funny celebrity memoirs always make me laugh… especially while listening to the audiobook!
"I've loved Retta for a long time and always wanted more Donna on Parks & Rec, one of my favorite shows. I was SO excited when I saw she had a memoir coming out. I don't read a lot of nonfiction in general but I really only read memoirs by celebrities I love. She made it to the top of my TBR in this category for good reason… Overall, this was such a fun celebrity memoir. As always, I highly recommend the audio so you can listen to it in her own voice. She has so much character and I smiled nonstop; Retta is hilarious."
---
Call Down the Hawk
Stiefvater is just such a wildly talented writer, even when I have no clure what is happening. Just thinking about the Lynch brothers and Ronan + Adam made me smile incessantly.
"Within the first few pages of this book, I was already overwhelmed with SO much love. Reading the descriptions of the three Lynch brothers, reading Ronan talk about loving Adam… ugh, seriously. I was smiling like an idiot at the pages. I was generally looking forward to some solid reading about Pynch but frankly that didn't happen as much as I hoped. I kind of KNEW Maggie wasn't going to make it that easy for us to just read about how much they love each other for 300+ pages but still. Sigh."
Related Posts