I received this book for free (hey, thanks!) in exchange for an honest review. I promise that this does NOT affect my opinion of the book or the content of my review. For real.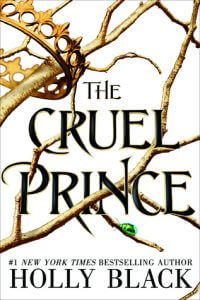 The Cruel Prince
by
Holly Black
Series:
The Folk of the Air #1
on January 2nd 2018
Also by this author:
My True Love Gave To Me
,
The Darkest Part of the Forest
,
The Wicked King
,
The Modern Faerie Tales: Tithe, Valiant, and Ironside
,
The Queen of Nothing
,
How the King of Elfhame Learned to Hate Stories
,
The Stolen Heir
(384 pages) •
Goodreads
•
Amazon
•
Barnes & Noble

Of course I want to be like them. They're beautiful as blades forged in some divine fire. They will live forever.




And Cardan is even more beautiful than the rest. I hate him more than all the others. I hate him so much that sometimes when I look at him, I can hardly breathe.

Jude was seven years old when her parents were murdered and she and her two sisters were stolen away to live in the treacherous High Court of Faerie. Ten years later, Jude wants nothing more than to belong there, despite her mortality. But many of the fey despise humans. Especially Prince Cardan, the youngest and wickedest son of the High King.

To win a place at the Court, she must defy him–and face the consequences.

In doing so, she becomes embroiled in palace intrigues and deceptions, discovering her own capacity for bloodshed. But as civil war threatens to drown the Courts of Faerie in violence, Jude will need to risk her life in a dangerous alliance to save her sisters, and Faerie itself.
Initial Excitement & Summary
I loved Holly Black's TITHE series when I was younger. Unlike a lot of bloggers I've noticed, I actually love fae stories. My cousin and I were always obsessed with faeries when we were kids and that definitely spilled into my reading life. And, of course, Black is the absolute QUEEN of fae stories. Needless to say, I was realllly jazzed up about this one. I had it on my Goodreads TBR since 2015, then Ellice grabbed it for me and let me borrow it early, so I read this back in September/October.
Jude and her two sisters, Vivi and Taryn, witnessed a faerie come kill their parents and whisk them away to the Faerieland. They live there with Madoc, a high-ranking fae, because he is technically Taryn's father. Jude grows up and starts to fight for power. She clashes with one of the princes, Cardan, and trains to become a Knight. I can't say too much more summary-wise because things get awesomely twisty as the book goes on!
Storytelling & Characters
Hoooly shit, you guys. This book was amazing. All of Black's descriptions were out of this world (I guess literally?) and I really felt like I was there. The beginning part of the book is sort of a slow climb up to the climax, where we learn more about the land they live in and Jude's relationships. She forms alliances, learns new skills, and even has to kill. She is manipulative, fascinating, and a straight-up badass. I thought I knew what she was planning but there were so many twists and turns. Jude was definitely a complex character. You want to believe she's a good person but she gives so much evidence in both directions.
I never fully trusted everyone in this book once it got rolling, which had me on the edge of my seat. I need to reiterate again just how many times I was thrown for a loop. There was betrayal, politics, and scheming everywhere she turned. Despite not trusting a lot of people, I did grow to love a few characters. I had a feeling that something would happen with a certain character but I wasn't sure how I would ever be okay with it…. but believe me, it managed to happen somehow. Vague sentence is vague.
Negatives
The first 35-50% of the book was definitely intriguing and had somewhat of a slow build-up to the second half, but that meant I put the book down a lot. I read quite a few books in between reading this one because of that. It wasn't bad, by any means, and I did love it while I was reading. I was often just too lazy to read a physical copy since I spent a lot of time in-between binge-reading ebooks while watching football and wrestling. Believe me though, the book picks up like crazy.
Ending Feels
The last quarter of the book was amazing and my heart was beating so fast. I couldn't stop reading no matter how late it got. There was a lot of action and intrigue and plenty of plotlines to follow. I was definitely expecting a cliffhanger for some reason and I was pleasantly surprised that it wasn't TOO bad. I think the reader gets somewhat of an idea of what may happen next and is eager to find out, but nothing too crazy. I admit that I absolutely need the second book way quicker than 2019, that's for damn sure.
TL;DR?
I think this is just an extremely well-done fantasy novel. People who don't like fae books will likely still love this (according to a couple of my friends who feel that way)… and people who love fae books will adore this book (like me). If I had to compare this book… I'd say there are some elements of Red Queen (the good stuff) and The Darkest Part of the Forest (in terms of Black's atmosphere she creates).
Thoughts in a Gif
Rating Breakdown
| | |
| --- | --- |
| Plot & Premise | |
| Characters | |
| Writing Style | |
| Pacing & Flow | |
| Feels or Swoons | |
| Addiction Level | |
| Overall: | 4.8 |
Related Posts