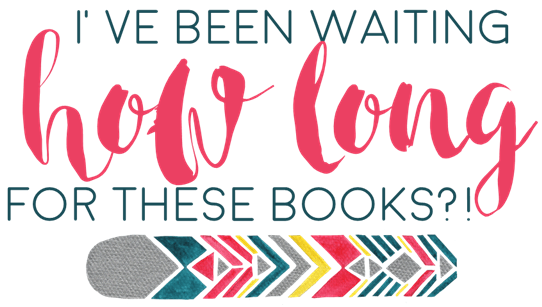 When compiling my post about recently announced books I'm hyped about, I started noticing the "date added" on some of the books on my "unreleased" shelf. Like… I've been waiting HOW long for these books?? Come on. There are obviously two books by Kasie West because duh? and a few more from favorite authors! Why must you all keep me waiting?? Some of these are literally more than 2 years of wait time.
Click on the book cover image to check out the Goodreads page.
John Green has been working on this book forever. COME ON. I mean, to be fair, he did work on getting two of his books turned into movies and (as far as I know) working on a third. But still, your job is to write for me so get going please thank you. I've been waiting since 2014 for this book and it's been two years already… with no end in sight.
I love Holly Black. I was pretty dismayed to see this book not releasing until 2018 because UGH it sounds so good! It seems like its set in the same world as the last book I read from her, but will dive deeper into Faerie courts. It's about "focuses on a young human girl who witnesses her parents' deaths and is forcibly taken to Faerieland with her two sisters—one faery, one human—where she will grow up and one day fight to gain power."
This one is apparently a contemporary but involves a murderer, Scream-style. Stephanie Perkins is one of my all-time favorite authors so this went straight to the TBR when it was announced. I want to get more into creepy mystery books like this. Horror, I guess? I need to figure out the difference…
THIS SOUNDS SO GREAT. It's a "scrapbook-style teen guide to understanding what it really means to be a feminist. It's packed with essays, lists, poems, comics, and illustrations from a diverse range of voices, including TV, film, and pop-culture celebrities and public figures." It features Kody Keplinger and other YA authors too.
I got nervous when Cora Carmack announced that this book wouldn't be traditionally published like the rest of the series, but it seems like it's definitely for the best. She is going to cover the topic of sexual assault and wants to make sure she can do it correctly – without any influence from editors or publishers. Because it's self-pub, though, it's going to take a while to come out and I WANT IT.
It's a given that Kasie West would be on here, but it's weird that this book has been on my TBR for SO LONG. 2014?! That's THREE YEARS until its released and I don't even know if 2017 is accurate. This one seems cute though; it involves "a post from a fake celebrity social media account [that] sets a single-minded swimmer on a hunt to find out the person's true identity."
May as well get Kasie West books out of the way together, eh? This one wasn't added until a year after the previous book, but I will have to wait until 2017 as well. It looks like this book will be published first even though it was announced later? Who knows. Either way, I AM EXCITED. The main character gets locked in a library with the town bad boy for an entire weekend!!! GIVE ME THIS.
I'm not going to lie. This book has a cover on Goodreads but I don't like it, so I kept my theme going here. YOLO. Anyways, I have no idea what prompted me to add this to my TBR forever ago but I'm glad this little exercise on my GR shelves brought it back to my attention. The second half of the synopsis appeals to me the most: a pop star takes an interest in her and her life changes forever. As one does.
---
What books have been on your TBR the longest? Are you as tortured as I am for some of these?
Related Posts