95% of my TBRs include contemporary books and mystery/thriller/suspense-types. Anything under fantasy or science fiction umbrellas tend to be graphic novels, and my nonfiction reads are always cookbooks. I've been reading a lot less than usual so I tend to avoid "heavy" or slower books, which I tend to associate with fantasy. Since 2020, I've only read 14 fantasy novels (which includes a *reread* of the ACOTAR series), plus 6 more books that were paranormal-ish or lighter fantasy).
Looking at one of my genre pie charts from the past few years, the fictional (novels only) books outside of contemporary and mystery/thriller account for only 10% of my reads!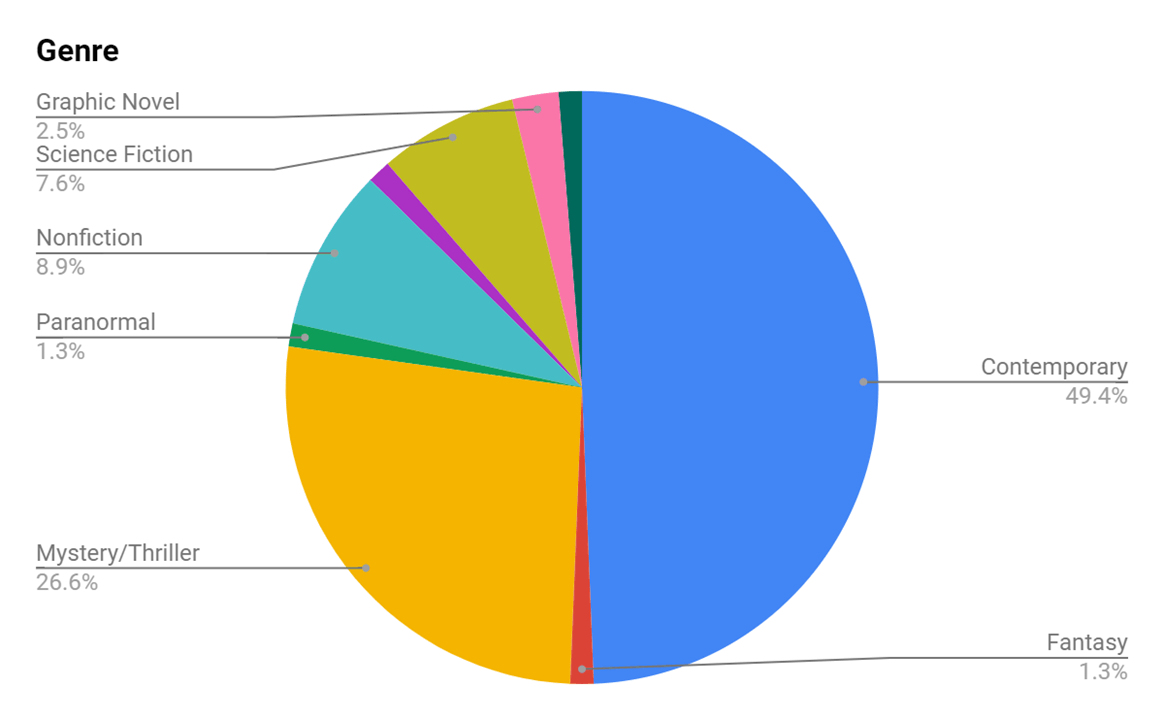 Over the past couple of years, my fantasy/paranormal reads have only included books by SJM (rereads included), the next book in the WAYWARD CHILDREN series, anything by Holly Black or Libba Bray or Leigh Bardugo, and a few other random reads.
In my quest to add more 2023 books to my Goodreads TBR, I found a lot of fun fantasy novels (and some sci-fi or other genres) and thought THIS post would be a great place to share those books. I hope it inspires me to pick up more non-contemporary or non-mystery books in 2023.
Recently Published (2022)
Some of these are by favorite/previously read authors like Susan Dennard, Holly Black, Brigid Kemmerer, Jenna Evans Welch, and Sandhya Menon. Others are new to me and recommended by various lists, booktubers, etc. over the last year.
Backlist Titles
Kind of the same thing here: lots of books by previous favorites (Marissa Meyer, Brigid Kemmerer, Leigh Bardugo, Stephanie Garber, SJM, and Ashley Poston) and some by authors that are newer to me. I always add popular fantasy/science fiction/paranormal books to my TBR when they look intriguing but promptly ignore them for years lol ugh.
Series I Need to Continue/Finish
Some of the ones on this list make me sad, and there are way more probably if I go back closer toward the early blogging days. I read TRUTHWITCH and never continued the series, despite really enjoying it. Same as the IMPOSSIBLE QUEEN. I'll have to reread the first and then continue the rest. FALLEN KINGDOM and TRANSFORMED are the final books in trilogies I really enjoyed. Luckily the latter is a companion series, but I'm afraid I don't remember the rest of The Falconer series to read the final book 🙁
2023 Releases
Some of these are normal for me, like the newest YA Holly Black book and the next book in the Wayward Children series. I read these ever year or time they come out regardless of my weird reading slump. The others are all new authors and new books! You can tell my brand of fantasy/paranormal usually involve fae and witches and not much more haha.
Related Posts