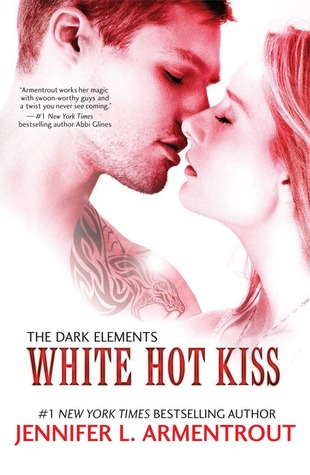 White Hot Kiss
by
Jennifer L. Armentrout
Series:
Dark Elements #1
Genres:
Paranormal
,
Young Adult
Published by
Harlequin
on February 25th 2014
Also by this author:
Meet Cute: Some People Are Destined to Meet
Format:
eBook
(400 pages) •
Source:
Purchased
Goodreads
•
Amazon
One kiss could be the last.

Seventeen-year-old Layla just wants to be normal. But with a kiss that kills anything with a soul, she's anything but normal. Half demon, half gargoyle, Layla has abilities no one else possesses.

Raised among the Wardens—a race of gargoyles tasked with hunting demons and keeping humanity safe—Layla tries to fit in, but that means hiding her own dark side from those she loves the most. Especially Zayne, the swoon-worthy, incredibly gorgeous and completely off-limits Warden she's crushed on since forever.

Then she meets Roth—a tattooed, sinfully hot demon who claims to know all her secrets. Layla knows she should stay away, but she's not sure she wants to—especially when that whole no-kissing thing isn't an issue, considering Roth has no soul.

But when Layla discovers she's the reason for the violent demon uprising, trusting Roth could not only ruin her chances with Zayne… it could brand her a traitor to her family. Worse yet, it could become a one-way ticket to the end of the world.

I have a lot of mixed thoughts on this one. First, I definitely didn't read the description. I'm not sure why, because that's normally something I read multiple times before and during my reading. Layla is half-demon, half-gargoyle, but her allegiance has always been towards the gargoyles (Wardens). She helps the Wardens keep demons at bay and lives with them on their compound. Suddenly there's an uptick in demon activity and Layla is the reason. The biggest thing I liked about this book is that it's incredibly unique. I've read and heard of a lot of paranormal books, but this one is definitely different. Demons and gargoyles? Sounds kind of cool. How the heck did JLA come up with this stuff?? A lot of parts of the book were confusing to me because there were so many types of demons to keep track of. Also, Layla talks about how the Wardens "went public" at one point, so the general public knows they exist but don't know what exactly they do aside from protect them. The story was unique, which was the biggest selling point for me, but I just could not get into it. I was never in the mood to dive in and sit down to read it. I ended up taking a break in the middle of the book to read something else because I just wasn't making any progress. Luckily, that worked – I was able to pick up where I left off and was suddenly more interested in the story. Maybe I just wasn't in the right frame of mind before. Anyways, the last 30% of the book was really interesting and kind of crazy. It kept me reading, finally!


Layla: For a main character, there wasn't a heck of a lot of characterization. The whole book is about her struggle between being half evil and half pure. She can never seem to get a hold of her emotions in that regard. She was stubborn and insisted on helping when she could get hurt; it reminded me of Harry Potter because he too would need to get involved instead of letting other people fight on his behalf. I didn't really like her too much, I guess.
Zayne: He is one of the gargoyles that Layla lives with. She was brought up with him and he's like a brother to her… except she has a major crush on him. A lot of people talk about the love triangle in this book, which obviously there is one, but at the same time – Zayne was almost barely in the book compared to Roth. Maybe that changes in the next book, but the clear winner for me was Roth. She should stick with Zayne as her brother because it's not like they could even kiss anyways.
Roth: He was annoying and cocky but I kind of loved him. He seemed like the love triangle winner in this book. Plus he had tattoos… so, automatic win for me. I was worried about his loyalty at some points and wondered why he felt this attraction to Layla, but I think he certainly proved himself by the end.
Meh. This was one of the weaker points for me. I generally liked JLA's writing style. It was easy to read and funny at times. She wrote some great characters (like Stacey and Sam); I just wish they were included more. I normally love books that start right in the middle of the action, but unfortunately that made this book kind of confusing from the very beginning. It felt like every time a new creature was introduced, she had just made it up off the top of her head at that very moment. It didn't feel like the story flowed together that nicely. There were so many different kinds of souls and creatures to keep track of; I wish they were explained more or included more than once. I give her major props for coming up with such a unique story idea though. No idea how she came up with that stuff. I think the major issue I had with the book was the fact that it didn't keep me interested. I'm not sure if it was related to the writing or the flow of information, but I just was bored a lot of the time. I felt pretty blah about this one until the end.


I think that this point you either (a) love JLA and have read all of her books, (b) have been told a million times to read her and have been completely turned off by her covers so you haven't yet, or (c) don't like her at all. Honestly I've seen SO many people obsessed with her that I can't even think of anyone who doesn't like her. I fell into the second category for sure – this woman is stuck with the WORST book covers! They always include weird people and creepiness. So, in other words: I recommend this one to fans of unique paranormal romance stories and people who love JLA and somehow haven't read this one yet (although I'm not sure what her other books are like to be honest).
Again, really mixed feelings on this one. I'm certainly invested in the story and want to see what happens in the next book. I hope it picks up speed compared to the first one because all of the initial information has been given about their world and all of the creatures. I was bored and meh about this one for the first 65% of the book (thanks, Kindle, for the precise info!) It was definitely a unique take on the paranormal romance genre because of the different creatures in it. That was my favorite part for sure. Even though the book definitely was worth it in the end, I had to stick with my initial reaction of 3.5 stars. Any book that doesn't hold my interest, especially so far in, deserves to be knocked down a little bit as a result. The ending and last part of the book was interesting and really good, but I couldn't shake the bored feeling from before. I think for 4 stars it would have needed to hold my attention a little bit better. Oh, and #TEAMROTH!


(+) Unique, unique, unique! Gargoyles and demons!
(+) A hot demon with tattoos
(+) The ending kept me interested and made me glad I read it

(-) Confusing because of the different demons/souls/creatures and the wardens' public image
(-) Needed to take a break from it just to have the energy to finish the book
(-) Writing style and flow of information was 50/50 for me
(-) Characters definitely could have been developed beyond their abilities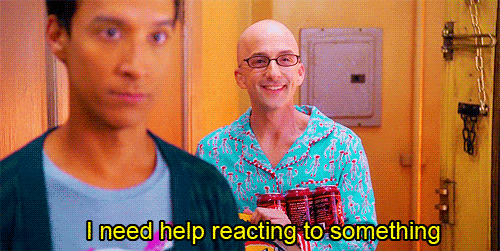 Related Posts