Inspired by my recent organizational acquisitions (and posts by Hannah), I wanted to share some information about how I keep myself organized – primarily for blogging and reading, but also a little about my personal organization, too.
Part Five: Organizing My Goodreads Shelves
There have been an influx of Goodreads-related posts online lately (Brittany's post and Bekka's post for starters!) plus Hannah's tried-and-true guide that I think everyone has read. Feeling inspired by these posts, I decided to include how I personally use Goodreads to keep organized. I've come a longggg way since I first started using the site in 2010. Hopefully some of these methods help you out too!
Time for a Change
When I first started using Goodreads heavily when blogging, I noticed everyone had fun shelves that they were using to remember certain things about books. They also had them split up by genre, for easy access to certain kinds of books. I think mine was super general, including just read, to-read, and currently-reading. I decided to at least add in genres so that I could keep track of what I was in the mood to read. This was a REALLY LONG PROCESS. I added all of the books I read and all of the books on my TBR to these genre shelves. I also added a few more to keep track of things further.
Step One: Genres, Formats, and More
I added the shelves you see on the side (thank god for old screenshots from when my Goodreads looked like this). Shelves for the following:
Genres, including target audience
Formats, like audiobooks or compilations
Favorites, one for series and one for standalones
ARCs from the publisher
Summery books
This worked for a little while, but I hated having to split certain things. I didn't read a lot of Adult fiction, so why split it into multiple? I consolidated those shelves into one "Adult" category instead. I also combined my "Favorite" shelves into one. I also wanted to split out the "From Publisher" shelf into something different. If I win ARCs from other bloggers, I didn't want to keep them on that shelf. I decided to just go with more general "ARC Physical" or "ARC Kindle" so I knew where I got them from or had them located.
Step Two: Further Separating and More Shelves
I won't bore you with the many other changes I made to my shelves before landing on my current system. After getting tired of sifting through my entire "read" shelf on Goodreads for Top Ten Tuesdays, I decided I needed to make some more fun shelves. Once I finish a book, I can add it to the bonus shelves that help when making lists or recommendations. This is definitely one of the best things I've done on Goodreads, even though it was so tedious to go back through all of the books. Now, in case you're interested, check out my shelves here: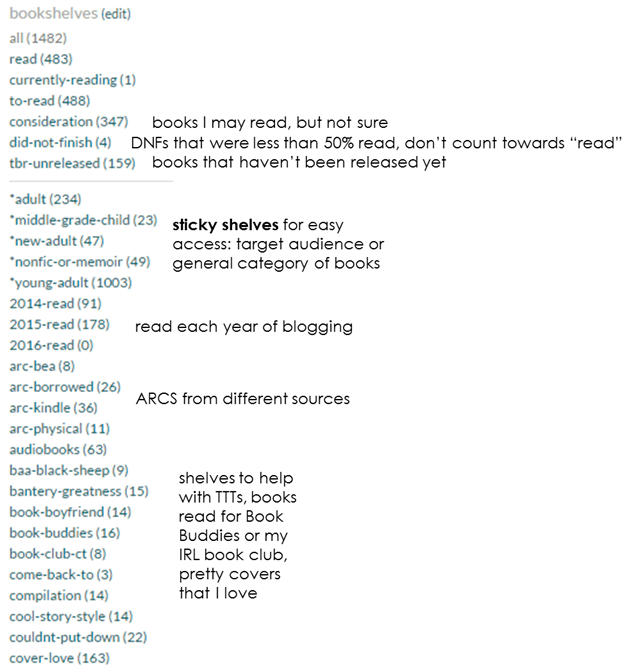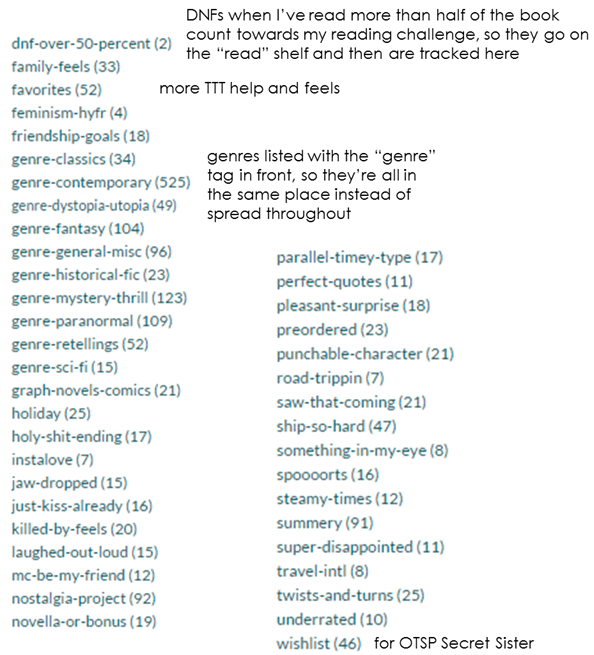 Some of the fun categories for books:
Baa black sheep – books that everyone else loved and I didn't
Bantery greatness – my favorite element of a romance
Book boyfriend – got to keep all my boys somewhere 😉
Cool story style – books with unique forms of storytelling or formats
Couldn't put down – just could not stop reading
Family feels – I looove when there are strong family vibes!
Feminism HYFR – any books I find with some great feminist themes
Friendship goals – for friend-shipping instead of romance 😉
Holy shit ending – self-explanatory right?
Jaw dropped – when a book manages to surprise me!
Just kiss already – c'mon OTP you know you want to
Killed by feels – could be romancey, family, friends, etc.
Laughed out loud – for books where I literally LOL
MC be my friend – sometimes you just need the MC to be your BFF
Perfect quotes – for future reference!
Pleasant surprise – books I was unsure about but really impressed me
Punchable character – not necessarily the MC, but any character that pissed me off!
Road trippin – I love when a road trip or journey is involved
Saw that coming – I've gotten too good at predicting twists…
Ship so hard – DUH
Something in my eye – I don't cry during books often, but when I do…
Steamy times – usually NA books make it on this shelf!
Travel international – for when the characters head overseas
Twists and turns – not the same as the "jaw dropped" shelf, because this book is just twisty!
Underrated – books that need more love
All of these categories have made my life SO much easier with Top Ten Tuesday posts or other recommendation lists. I love having an easy way of referencing certain types of books. I wish I could think of more categories to add, but these sum up the books I read!
Step Three: Eliminating and Moving Books
This is something I'm still working on. I have a tendency of adding books too often and then having to sift through all of my to-read shelf to find something good to read. I made a "consideration" shelf to help separate the books I'm positive I'll read, from the books I'm still unsure of. Sometimes I just want more reviews, or maybe I own the book from years ago but don't know if I'll ever get to it. I plan to sift through my to-read shelf every six months and move books over to the consideration shelf. I hope to also start deleting books entirely.
How do you organize your Goodreads?
Do you have special shelves too?
Related Posts