Inspired by my recent organizational acquisitions (and posts by Hannah), I wanted to share some information about how I keep myself organized – primarily for blogging and reading, but also a little about my personal organization, too.
Part Six: Organizing My Goodreads Shelves (II)
Yeah. My most recent organizational post was about Goodreads too. I'm already ready for a little update because I've made some GREAT changes to help me further organize my TBR. I talked on Friday about how many problems I have with actually creating and sticking with a TBR, so today will show a couple ways I've worked towards fixing that issue. It's not a perfect system because I'll never have a strict TBR, but it helps a lot. In the previous Goodreads organization post I also shared links for more Goodreads organization posts by some other bloggers, so I'll do that here for your reference again: Brittany's, Bekka's, Hannah's. This one is specifically about two new shelves I recently created that help me manage my TBR and keep track of books I'm excited to read.
TBR-Next | an exclusive shelf
Do you want to hear something really stupid? When I first saw people like Danielle creating exclusive shelves on Goodreads to mark what books they're planning to read next, I thought it was a great idea to keep your TBR ideas in one place. I made a shelf and it lasted like a day or to. The reason? I hated having to scroll down on my Goodreads app to click to access other shelves. It created too long of an exclusive shelf list so I had to scroll. Now that I have a bigger screen on my iPhone, I added the shelf. AND IT'S GREAT! I try to keep 10 titles on there, but allow myself up to 15 when I really need to. These are the books that need to be a priority for any number of reasons:
Library books due soonish
Books I really want to read and don't want to forget about
Newly released books that I should have read the ARC for already
Upcoming releases I plan to read the ARC for in time
Book Club and Book Buddies upcoming selections
Audiobooks I plan to start after finishing my current one
It's been really helpful so far! I don't use the numbering/positioning/sorting feature on any of my other shelves, but it's awesome for this one. I like having the ability to shift the books around so I know what needs to be read first.
Jazzed-Up-For-This | a non-exclusive shelf
Aside from tracking the books I'm excited to read soon on my up-next shelf, I wanted to remember all the books that got me REALLY excited when I saw them. Sometimes I read a plot synopsis and think HOLY SHIT I need this book immediately… and then lose it somewhere in my never-ending TBR list. This shelf includes upcoming books, reaaaally far in the future books, and current books that I want to read soon. As you can see below, some books don't even have covers yet. There are also some older ones I was really excited for and just haven't read yet. It's one of those things where I can't believe I haven't read the book yet.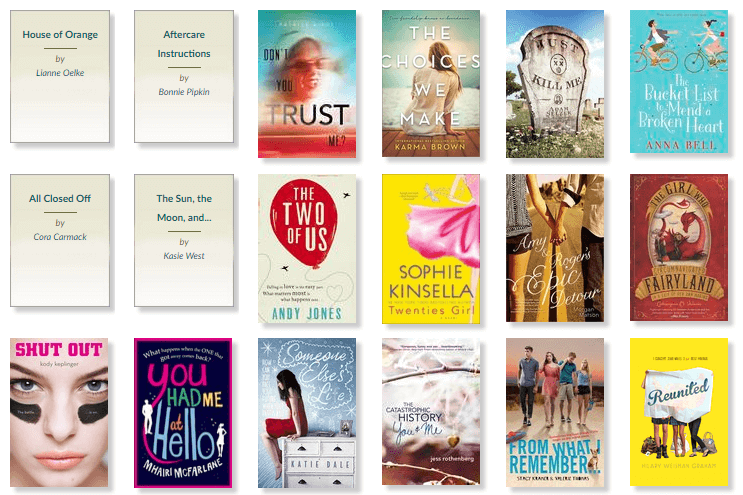 What do you think? Do you have Goodreads
shelves to plan your TBR or keep track of
books YOU'RE really jazzed up about?
Related Posts