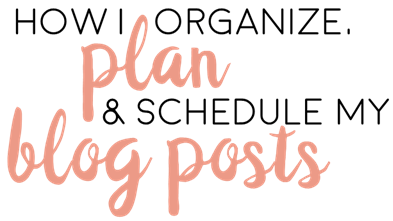 Many moons ago, I wrote a post about my blogging schedule. At that point, I had just started up the blog and had maybe a little too much time on my hands. I was incredibly specific about when I posted certain things and making sure I had 15 book reviews up per month. This was in addition to participating in 4 memes per week and posting 2 "random" things (like recommendation lists or discussions). I'd also post sign-ups for readathons and both mid-month AND end-of-month wrap-ups. You can do the math: that means that most days of the month had 2 posts. I even said, "I really try not to bombard people with any more than 2 posts per day!" SO EXCESSIVE. I mean, I'm glad I dove into this hobby headfirst… but good lord, woman.
I can't lie though, I definitely blog a bit too much still. I love signing up for readathons, participating in tags, and writing so many posts that I'm scheduled out until next year. (Slight exaggeration, but not that much. I'm insane.) I LOVE making lists and TBRs even if I know I'm never going to follow them. I love making graphics and messing around with layouts for my posts. I CAN'T STOP.
I've changed my organization methods SO many times and I feel like I'm finally getting used to my latest plan. Today I'll share my new blog schedule and talk about how I organize and plan… everything.

Do you have a planned schedule for your blog, or do you wing it? Are you someone who writes the review and then immediately posts it because you're desperate to post something right then? Or, are you like me, where you have all of your blog posts (especially reviews) scheduled out far in advance? I don't think either way is better or worse than the other, but I do know what works best for me. I HAVE to have things planned and scheduled. I don't have time to blog at home; I do a lot during my off-time at work and I really like to have it all done early enough so I don't have to worry about it. I have a ~method~ that allows me to write my reviews within 24 hours of finishing the book and schedule posts very far in advance, without worrying about release dates or leaving gaps.
But then… I talked about how I planned on cutting back on book review posts in 2016. This is partially because I planned to read less in 2016 in general, but also because I was sick of writing the same posts every week. Don't get me wrong, I am still definitely HERE for writing reviews. I like writing them and talking books with everyone! But, I just wanted to prioritize things a little better.
My blogging calendar was:
I would average 3 book review posts per week. It just didn't leave me a lot of room in my calendar and I don't like posting 7 days per week. I usually stick to 5 or maybe 6 as needed. I just like to have a day or two off from it, even when they're scheduled ahead of time.
A while back, I was scheduling reviews MONTHS ahead of time. It proved annoying when I would reference a book in a post and not be able to link to my review for it yet. It just became kind of frustrating and I started to wish I didn't have to schedule as far in advance.
August 2015 Blog Calendar:
Look how many posts and readathons I had! It's kind of insane. I feel like an asshole for complaining about having too many posts when some people struggle to make time for a couple a week, but this is something I knew I needed to relax on. There are two readathons in this one month alone, as well as posts on the weekends from wrapping up other month-long challenges! CHILLLLL.
Calming my Calendar Down
Since then, I've adjusted my schedule a lot. It's freeing! I would jam-pack multiple topics or wrap-ups into one post because I didn't have room on my schedule to split things off. My monthly wrap-up posts are INSANE because I cover everything I did as well as everything I plan to do in the following month. Now that I've fixed my calendar and combine review posts, I have more room to spread in OTHER kinds of posts that are more fun to write.
For example, the first month of the new year obviously involves different challenge sign-ups and wrap-up posts. I did a lot of combining for those. The Contemporary Romance challenge has a monthly topic prompt to participate in, which is really fun! It's almost like Top Ten Tuesday, except once a month and only for challenge participants. My first one ended up in my January Bookmark Lit Bulletin because I just didn't have room for another post in my schedule.
March 2016 Blog Calendar:
It's so pretty and open. The beginning of the month is scheduled out right now, but you can see it opens up more towards the end. Some of the posts I'm planning for aren't even completed yet, so they might not go up. I have a more relaxed attitude towards posting and I'm free to split out posts as much as I want. I don't have to combine multiple topics into one post because I don't have room on my calendar. I also don't have to stress about posting on the weekends and "annoying" people for posting too much. (Does this happen? Do you think some people post too much?)
I've talked about how I plan blog posts and reading, during the Love-A-Thon's Mix-and-Match Challenge. It gives a broad overview of the paper (planners, notebooks) and digital (spreadsheets and calendars) I use for my blog and reading tracking/planning. I have lots of things in lots of places, but I love it. I use those tools for planning ahead.
As far as tracking goals, I always reference my 2016 Resolutions post (linked earlier). I also have some specific challenge-related goals for this year that I reference too. I just like to make sure I'm remembering the goals I set and reminding myself to pay attention to them. My book spreadsheet allows for tracking books for challenges and other statistics, so that helps too!
Because of my more relaxed schedule – that really happened because I started combining reviews into "mini review" posts more often – I have room for different posts I've been hoping to work on.
More post ideas I have room for:
Discussion posts
Contemporary Romance Challenge monthly topic
More recaps/wrap-ups (including Reading Recaps)
Fun features (Cover Colors, Currently, Five on Friday, etc.)
TBR planning
Library book checkouts
Upcoming releases I'm excited for
Book tags
Blogger collaborations
Personal posts
Media/TV/other non-book posts
Recommendation lists
What do you think? Do you have a blog schedule or do you wing it? Has it changed since you started blogging?
Related Posts