I watched and enjoyed Kristin's video about how she organizes her Goodreads shelves, and then followed it up with Cristina's post about how SHE reorganized her shelves (inspired by the aforementioned video). Both of these really inspired me to reorganize my shelves too because I'm always overwhelmed by my books and can never figure out how to actually find the books I want to read next. I could sort my to-read shelf by release date or date added, but it's so hard to dive deep and remember that there are genuinely books on there I want to read and keep forgetting about.
What I was working with
I previously created a "consideration" shelf and did a bunch of moving around a few years ago. I've also done a decent job of adding books I'm genuinely considering but on the fence about. However, I knew I could make this shelf work even better for me. I already had a lot of other non-exclusive shelves that I love using, so I wasn't planning on changing those. I thought it would make more sense to fix up my exclusive shelves. My "want to read" shelf was the biggest issue, with over 2,000 books on it. I had to figure out how that shelf could work for me. (This screenshot is from right after I purged a bunch from one of my shelves so the numbers are a little off.) You can see that I also have an "up next" shelf, which usually features the 10-15 books I'm super prioritizing to read right away. There's a DNF shelf and an unreleased shelf for books coming up in following years. I knew I wanted to keep all of these as they were, with the possibility of adding one more exclusive shelf based on what I uncovered when purging and reorganizing.
My goals
I primarily wanted to make Goodreads work well for me. I wanted to easily find which books I might want to read next instead of suffering through ATTEMPTING to look through 2k books. Or remembering off the top of my head. It never worked out that well for me. I also wanted to purge books and delete ones I'm never going to read. My consideration shelf needed to be analyzed because I knew I wouldn't be able to operate with that shelf in the same way as Kristen. My general TBR shelf is always going to be pretty huge, and that's okay, but my consideration shelf needed a companion to be somewhere between a TBR  and a maybe. You'll see how I handle that next 😉
How I approached it
1. Purge books from my "consideration" shelf (and do some other general cleanup).
This shelf had over 500 books on it that I was considering, so I first went through and deleted books that I knew I'd never read. Some were based purely off the title and cover, where I was like "uuuhhh I don't remember this book at all." Some other deletions were more about the books or authors. Will I ever read a Nicholas Sparks book again? Most likely not. Will I read backlist Jodi Picoult books ever? Yeah, I actually might. I made some decisions like that. I also had a lot of random books that shouldn't be on there. If I had the first book in a series on my consideration shelf, I certainly didn't need books three through five on there too! I'm not even sure I want to START the series, let alone continue it. I also did a bit of general cleaning up, like moving ALL books that haven't been published yet to the unreleased shelf. I had put a few on the "consideration" shelf, which didn't feel right. I thought it made more sense to analyze those one by one, each month as they're published.
2. Figure out if there's a secondary TBR shelf of some kind, a step between my "consideration" and my "want to read" shelves (?!)
As I was purging my shelf, I realized that there really are some books that I will maybe, maybe, maybe read in the future… and plenty of books where there's probably one or two less "maybes" in there. Should these books be separate from each other, or is it all the same thing? I don't mind having a million books on that shelf for later  but really wrestled with how useful and helpful that is. Should I have one abyss shelf I could just straight-up delete one day? Should I go through my "want to read shelf" and see if there actually is a middle ground? It turns out that THIS was a better approach. I kind of had no choice but to…
3. Go through my "want to read" shelf and move things elsewhere.
While it may seem silly to have four different shelves, in general, for books I might want to read, I thought it made sense to split things up a little bit more. There are plenty of books I plan to read within the next month or two (like those pulled directly from my monthly blog TBR posts), books I want to read within the calendar year, books I want to read at some point for sure, and books I may never read but still might if the mood strikes.
Workin' it and going forward
As I go ahead through time, I wanted to organize my books according to when I should read them or want to read them. This allows for a few layers of shelving and related timing. Based on number three above, here's what I ended up doing and why, in order of timing:
#1 – Up Next shelf
This shelf will only ever feature 15 books at a maximum. These are the books I include in my monthly TBR posts on the blog, so I know they should and will be read within the next month. I usually read somewhere between 10-15 books per month, so that shelf should only have the books I plan to immediately read.
#2 – Priority TBR shelf
This shelf can feature somewhere around 150 books, give or take a bit. This primarily depends on my Goodreads goal (this year was 120 and that's probably what I'll stick around, but 150 kind of feels right for wiggle room / flexibility purposes as books are released). (Another perspective: Kristin uses her general "want to read" shelf for about 100 books and they're her priority reads for a year or so at a time. I just created a specific shelf for this concept instead.)
#3 – Want to read shelf
While this won't be the dumping ground it used to be, there is a bit less method to the madness here. I expect this to always have the most books on it but they are all books I should generally be interested in reading at one point or another. It'll probably be backlist books that I didn't get to but know I should read SOMEDAY because I *was* really excited about them. It could also be new releases I was excited for or added to my "unreleased" shelf but don't think will be a priority during the upcoming 12 months.
#4 – Unreleased TBR shelf
Here's where I'll keep allll of the books I'm excited to read when they finally release. I've historically been good about going through this shelf around the first of the month and moving the books publishing during the upcoming month to my normal TBR shelf. However, I do hope to move things around a bit more as it relates to these other shelves, and that will be the way to easily organize going forward.
#5 – Consideration shelf
This is definitely the abyss, catch-all shelf. I plan to go through this shelf on a yearly basis and purge it. Which books are not happening at all? Which classics am I sure I'm giving up on? How about all those Jodi Picoult books, Lauren?!
---
Here are some examples of books on my shelves and how I rationalized things when moving them between shelves.
If I own the book, I'm unlikely to actually purge it from my shelves, but I don't hesitate to put it on my "consideration" shelf. Many of the ones above COULD be read by me someday but I'd have to be really super in the mood. Only one is really still on my normal TBR.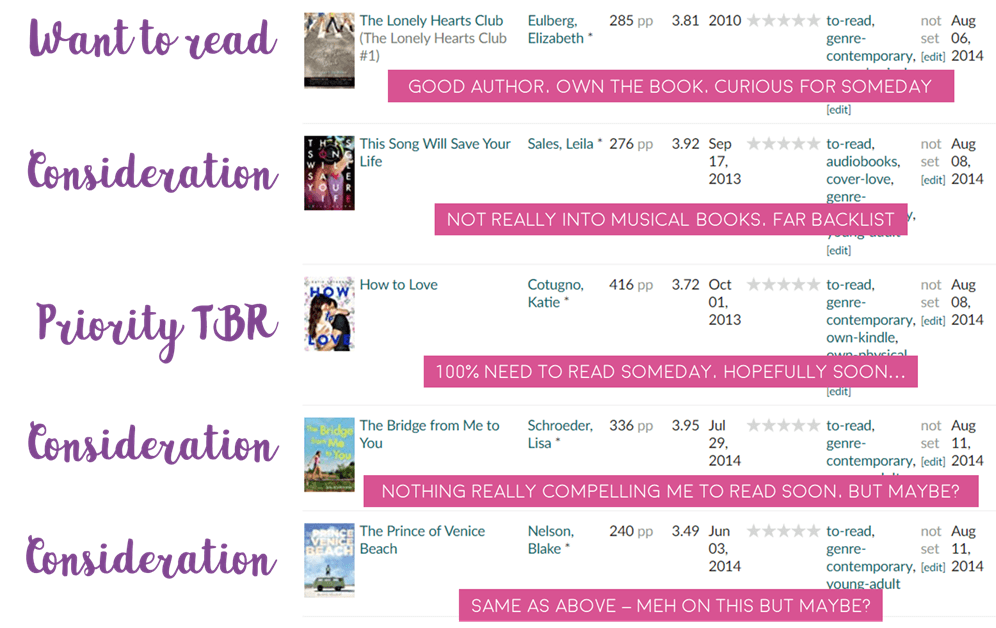 I definitely am getting pickier about which books I want to read and which I'm just considering. A lot of backlist contemporary books I still kind of see as "classics" within the genre that I should read someday. I'm definitely looking at you, HOW TO LOVE.
Woof, I reallllly need to read THE ART OF LAINEY. I cannot figure out how I'm still sleeping on this book. It's quite short and a nice paperback right on my shelf, too! Good lord. Anyways, a couple more for consideration and one for my actual TBR.
Overall thoughts / current shelves
As you can imagine, this is an ongoing exercise. I have over 2,000 books on my "want to read" shelf, after all! I thought it made more sense to start by oldest book added because many of those would certainly be moved to "consideration" or even purged, somehow missing that shelf completely. It'll be a very damn long process but it will definitely be worth it for me.
I thought it would be fun to show alllll of my shelves, which I have done in the past too, but with the new updates and explanations. Here we go!
Exclusive shelves
I explained this earlier so I won't get into it too much, but my exclusive shelves now include a lot more balance, plus one new shelf. There's the "read" and "currently reading" as basics. I added the "tbr priority" shelf because those are the top 120ish books I hope to read within the upcoming 12 months or so. My "want to read" shelf was finally culled down and my "consideration" shelf now has more books on it, which is what I wanted… but 1200 books on my "want to read" is still too much IMO. So eventually that'll get cut back more, I hope. I have a "did not finish" shelf for the books that I read under 50%, stopped, and don't count toward my reading goal. I have "up next," which as 10-15 books on it for immediately reading within the month and "tbr unreleased" for all those books in upcoming years I want to read when they come out, or when I get an advanced copy.
Sticky shelves and yearly reads
My sticky shelves, meaning they are "stuck" to the top of the list for easy access, are basically my age target shelves. It makes it a lot easier to find books within a certain grouping this way. Aside from age targets, I also have graphic novels/comics up here and nonfiction. I know that those could be more in the format or genre section, so maybe that'll change at some point.
I should note now that every single book I add to my shelves will be categorized with at least one of the sticky shelves, plus one or more genre shelves. I always make sure my books have these categories the moment I add them because those are two classifications I find to be the most important when planning out what to read or finding books for TBRs and challenges.
I also have shelves for each year of reading I've done since I started blogging in 2014. You can see that my numbers have declined, on purpose, since then.
ARCs, book clubs, DNFs, favorites, and TTTs

The next segment has a few different categories involved here. The top few shelves are primarily formats. I have three ARC-related shelves so I can keep track of physical ARCs I own or have borrowed from a friend, as well as ARCs on my Kindle/iPad. There's an audiobook shelf for books I own in this format and/or listened to via audio over the years. I have a "compilation" shelf for books I want to read or have read that would short story compilations or anthologies.
I have a few book clubs I'm involved in. There's one at a local brewery, one with two of my friends (a spinoff from the local YA book club I created years ago), and a "mini" book club that's with three other friends. The latter one primarily reads adult fiction/mysteries. (You can learn more about my book clubs here!) 
I call some of these other shelves my "TTT shelves" because I will add books to them after finishing. They'll be common TTT-related topics or just ways for me to remember how certain books made me feel. You'll see shelves over there for when I felt like a black sheep for disliking it, books with great banter, books with a boarding school-like setting, book boyfriends, books about books (like libraries or bookstores being involved, or bookish MCs), books with cool or unique story styles or formatting, books I couldn't put down/stop reading when I tried, covers I adore, books that deal with death (or the afterlife, or that place between life and death), books with good family feels, feminism as a plot point or major characteristic of the MC, and books with strong friendship bonds or groups.
From a "finished book" perspective as well, there are a few random categories in here. I have a "DNF over 50%" shelf because I tend to count those toward my Goodreads goal. If I read 70% of a 300+ page book, I want credit for wasting my time (lol). This is just a way to mark those books as "read," get the Goodreads goal credit, and keep track of them for later. Clearly I don't do this a lot, as there are only two books on that shelf. Similarly, there's a "come back to" shelf for the books I started reading, put on hold, and don't consider a DNF. I may want to read them later. I also have a shelf for my favorites, which is the featured shelf on my Goodreads profile page.
Genres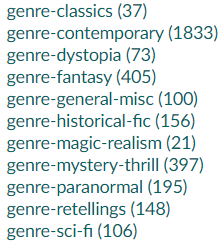 I put all of the genre shelves with the word "genre" first, so they're sorted into the proper area. I don't have every genre on here because I don't read every single genre. I have shelves for classics, contemporary fiction, dystopia (or utopia/near future kind of without being super sci-fi), fantasy, general or miscellaneous (this is a catch-all, like when a book is set during our time but doesn't feel quite like a contemporary romance?), historical fiction, magical realism, mystery/thrillers, paranormal, retellings (both contemporary ones and fantasy/fairytale types), and science fiction.
More TTT, ownership, and excitement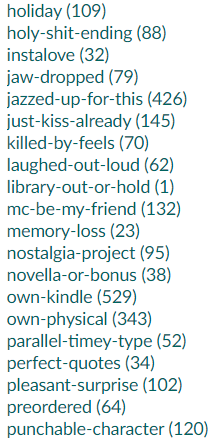 There are more of my TTT topic shelves on here, like the following: books with endings that shocked me or had cliffhangers, books with instalove, books where my jaw legitimately dropped, books where there's a lot of romantic tension where I'm yelling JUST KISS ALREADY, books that murdered my feels, books that made me laugh out loud, main characters that I'd love to be friends with, books involving memory loss of some kind, books that involve parallel universes or time travel or really anything that fucks with time, books with wonderful quotes, and characters I wanted to punch while reading.
I have a few in this section regarding book ownership (or lack of ownership, TBH). I have my shelves for the books I own on Kindle (this category includes egalleys because I like to see ALL the books available on my Kindle at once) and books I own physical copies of (this doesn't include physical ARCs, but does include finished copies). I also have my shelf where I track the books I currently have out from the library or on hold with the library. There's also a shelf that tracks the books I've preordered or have coming soon via preorder.
There's another random format-based category here called "novella or bonus," which includes random short stories, bonus content, and longer novellas that I want to read or have read. I also have a "nostalgia project" shelf that definitely needs to be revisited in 2020, I think!
Final TTT shelves, settings, rereads/etc.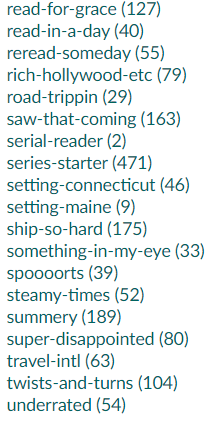 Read for Grace is the reading challenge I plan to host annually in Grace's memory, where I (and others who decide to join) will read a book left on her TBR. In some cases, I may also read a book by one of her favorite authors or one of her favorite books in general. There's a shelf here of the 127 books that I may chose from in years to come – these are all books that we had in common (that we both wanted to read, or were her favorites).
I have a few shelves in this section that have to do a bit with reading, rereading, etc… There's one for the books I read/completed in a single day or one sitting. There's another for books I plan to reread someday. I also have one for books I've read using the Serial Reader app, which breaks up classic pieces of literature into daily reading, so you don't have to force yourself to finish something super dry in a short period of time. And finally, there's  a "series starter" shelf to keep track of the books that kick off a series. This shelf exists so I can specifically look at series I want to start reading or just remember which series I've already started by tracking the first book.
Most of these are more on the TTT side of things, including: books involving rich people (people in Hollywood, royalty, etc.), books with twists or plot points that I saw coming from a mile away, books with major ships in them/OTPs, books that made me cry (the "something in my eye" shelf), books involving sports in one way or another, books including some ~steamy scenes,~ books set during the summer time, books that really disappointed me, books with a lot of twists and turns, and stories I found to be super underrated.
There are a few shelves for my favorite settings or states: one for Connecticut (where I'm from) and one for Maine (my favorite place and where we lived for a year). I am immediately drawn to books set in these two places and I try to use these shelves whenever I see that setting in a synopsis as well, not just when I finish the book. I also have a shelf for books involving road trips and another shelf for books involving international travel (or take place overseas in general).
Related Posts