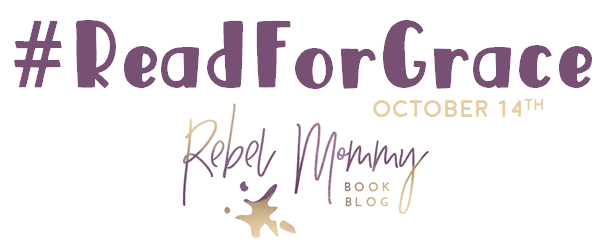 In July of this year, we lost a beloved member of our bookish community. Grace at Rebel Mommy Book Blog was an absolute light in our corner of the internet. She left positive, sweet, and thoughtful comments on ALL of our blogs. I could always count on kind words from her on a post. We spoke a lot via blog comments and on Twitter, and I grew to really cherish her friendship. I can't emphasize enough how genuinely lovely she was as a person. When I had the unfortunate task of sharing the news of her passing, after a long and extremely hard-fought battle with breast cancer (twice), my feed was flooded with love for her. The word "kind" was the most common word to describe her, and I wholeheartedly agree. Despite the challenges she faced in the last year or two, she was always positive and bright across our community. She shared her journey and struggles with us and genuinely kept fighting until the VERY end. She sadly left behind a devoted husband and three young children, including her youngest who was only just over a year old at the time of her passing. She was the epitome of what the good in our community can look like and not a single day has passed since she left us that I haven't thought about her or missed her.
In honor of Grace and all the good she brought, I wanted to put forward a simple challenge for those of us who miss her (or even those who didn't know her but have been impacted by her story now). Like all of us voracious readers, we have a hefty TBR of books ready to pick from and read at all times. The cry that we'll never be able to read ALL THE BOOKS is constant, right? There will always be books left behind.
#ReadForGrace
My challenge is this: on Grace's birthday (hopefully each year) on October 14th, read a book from Grace's TBR list. Read something she was excited about and blogged about, or something from her Goodreads shelves that she was anticipating. I'll include links below for you to find her TBR and choose something from. It can be anything – something you've also always wanted to read, something you added to your TBR because of one of her blog posts, or a new-to-you title you found just because you looked at her TBR. If you'd like to instead, feel free to read one of her favorite books that she'd already read. My idea of reading for Grace includes books she didn't get to read, but it would be a lovely way to honor her by reading her favorites too.
Grace's Favorites & TBR
I wasn't sure if her blog would stick around online, so I made THIS SPREADSHEET that lists her favorite books and books that were on her TBR. For now, here are other links to blog posts and Goodreads shelves as long as they are still available:
As a bonus if you are able to, please also consider donating to a charity that was close to Grace's heart: METAvivor, for metastatic breast cancer research. HERE is a link to donate directly to this charity; please do so in memory of Grace. Any contribution will be helpful. I plan to make an annual donation for her on her birthday.
Please use the hashtag #ReadForGrace while reading one of the books in honor of her. I'll likely start the book  that I choose on her birthday on October 14th and read through a few days, whenever I finish up the story. I'm also thinking I will read another book for Grace, one of her favorites, so I can do both each October.
Related Posts