Today I bring you a Friday edition of one of my bookish lists. Today's "Friday Favorites" includes not a list of book recommendations, but a list of my favorite places to read and why. How does it compare to your favorite places to read?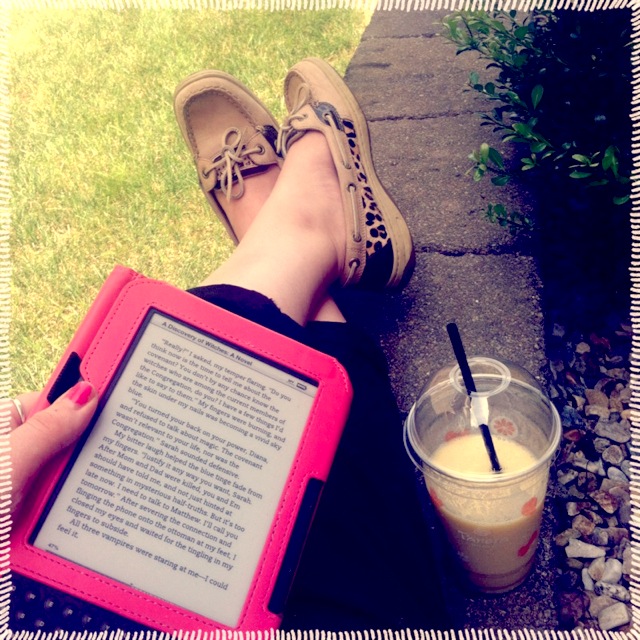 I enjoy reading on the couch, but only when my boyfriend is playing video games next to me. I can never get comfortable on the couch in general, but I don't mind as long as I have someone beside me. It makes me feel like we're spending time together even though we're working on different things.
…or anywhere there's coffee for that matter! I have been searching everywhere near me for a cute, local coffee stop to spend time in. It just doesn't seem like there are a lot left. The closest one is about 15 minutes away from my new apartment so I think I'll have to start up with that soon. I love being able to sip an expensive, fancy coffee and relax.
I initially didn't enjoy audiobooks that much because my first experiences involved some crappy narrators. Now that I've learned to sample the book before buying it, I can get a feel for the performance I'll be listening to. Audiobooks are amazing because they allow you to read when you normally wouldn't be able to. I put them on while I'm in the shower and then getting ready for work. I need to work on getting a new speaker for the bathroom though, because it can be a little hard to hear.

I wish I could say that I did this one often. Since I moved home from college, moved into an apartment in one town, and am now moving to one in a different time, it's been hard to go to the gym. I'm NOT an athletic or fitness-oriented person, but I have gone to the gym in the past. My new apartment complex has a gym inside it, so I'm really hoping to get going there. I like reading while on the elliptical or treadmill – this is where a Kind comes in handy!

Hold your shock, but I don't actually like the beach. I hate being sweaty and sandy and covered in sunscreen and the fact that you don't normally shower before going and the cold water — the list goes on. However, when I am forced go to the beach, you'll find me under the shade of an umbrella reading a book.

Our new place has a patio and I'm SO excited. Reading outside is great and I plan on using that porch until the snow starts coming down. I would always sit on the back porch of my parents' house to read, too.
Another great place for audiobooks! I'm one of those annoying people that complains about the radio and popular music too much, so I tend to prefer listening to music on my phone or books. Lately I've been using my audibook in the morning before work and carrying it into the car for my morning commute (and sometimes my afternoon one, too). I prefer music from the 70s or 90s, so it's hard to find that on the radio a lot of the time, and the stuff they do play is played too often…so I'll stick with my books!
I say anywhere outside because I mean it. I love reading outdoors. When Chris skateboards, I'll sit on the grass and read. I even bought a hammock to hang between the trees. (That's actually not a very comfortable place to read – too squished.)  Regardless, give me some grass or a blanket and I'll read outside under a tree all summer long.
Some days I'm able to force myself awake a little earlier and can read in bed. I especially enjoy this with a coffee in hand. I'm not a fan of leaving my bed…ever. In college, I was pretty much in my bed 90% of the time I wasn't in class. Of course, this is a natural place for me to read a little bit every day. My boyfriend goes to bed earlier than me and wakes up earlier, so I tend to read in bed while he sleeps.

I only got to do this once this year and I'm sad. Walking around in the pool with a book held high above the water is my favorite place to read. I like getting some exercise and cooling off. My mom and I used to roam around the pool holding our books and sometimes inadvertently created whirlpools. I have good memories of spending time with her there. I wish it was an indoor pool so I could do it every season!
Where do you like to read? Tell me!
Related Posts