Ten Reasons I Love the Library
This weeks topic is: Ten Reasons I Love X — could be a certain book, character, author, your indie bookstore, a fandom, a tv show, reading, a hobby, a genre. Honestly anything you want to gush about.
Top Ten Tuesdays are hosted by The Broke and the Bookish, where we make lists of our top ten books (or something else!) based on that week's prompt. The topics are provided ahead of time and can be found here. Book links bring you to Goodreads or my review.
As you know, I recently did a Library Love post to share the books I currently had checked out from the library. I wanted to talk today about why I love the library in general! I feel like I've done a similar post before but honestly I can't find it, so whatever. Enjoy the library goodness!
---

(1) Free books, obviously!
This is the clear reason the library is the best. At mine, the slip prints out and tells you how much money you saved by using the library. I love knowing that I got FREE books to read. I've been much better about my book buying habits lately: I generally only buy ebooks on sale, I typically read a book first then buy it, and I don't aimlessly browse and buy books anymore. I've been cutting back on my spending in general so I don't want to cut corners with books either. Obviously there's nothing better than buying a book, but there's something nice about not buying one. More on that in a hot sec…
(2) Risk-free reading
Why spend money on something you're not sure you're going to like? There's literally no better feeling than knowing you didn't waste your money on a book. There are countless books I THINK I'm going to love and then they end up just okay for me… or worse, they're terrible. I hate the feeling of regret when you buy a book. I know there are ways to sell or donate books, but I prefer not having to go through that. With the library, you can happily DNF if you need to! No hard feelings at all. Returning a shitty book to the library instead of wasting your personal shelf space is great. I only buy books from favorite authors, within series I've started, or if they're super cheap and I can justify it. Otherwise, the library it is!

(3) Interlibrary loan
I'm a spoiled, lucky person here in Connecticut when it comes to libraries. We have two library systems in our state (even though it's super small!) and I access both of them with my library card. I frequent the library in my hometown and another in the town where I work. The entire library system of CT is at my fingertips. I can request books through interlibrary loan through either system, so there's a huuuuuge chance the book I'm looking for is SOMEWHERE out there. It's a great feeling! I love being able to request and read books from other libraries; it just completely opens the door to all the books.
(4) Audiobooks and ebooks
I've become utterly obsessed with Hoopla. It has so many audiobooks available! My library also recently added ebooks to their Hoopla database as well. I've been reading graphic novels through it, listened to The Selection series as audiobooks (which is great because I'd never spend money on those books…), and even could watch movies if I wanted. Our Hoopla selection is amazing and our Overdrive selection is terrible. I certainly gravitate towards Hoopla 99% of the time and I love having that available for me.

(5) Books on e-v-e-r-y-t-h-i-n-g
I don't have much of a reason to do research now that I'm out of school, but I love the idea that you can get books out on just about anything. I've been hoping to get craftier lately and don't want to spend money on a book about crocheting when I have no idea how I'll do with it. It's nice to have (again) the low-risk reading! If I decide it's not something to keep up with, I just return the book. No harm, no foul.
(6) Literally lifelong benefits
It doesn't matter how old you are – there's a benefit for using the library. When I was a kid, my mom would take me constantly. (To this day, that woman does not buy books. I don't know the last time she purchased a book and she reads at least one book per week!) I went to my college library constantly to do my homework and study. Now that I've graduated, I use it for personal reading and book-checking-out. There are business benefits because a lot of libraries have subscriptions to Hoovers and business journals. I've noticed a lot of seniors at my local libraries hanging out, reading newspapers, and looking at books. I just feel like there are SO many ways to use the library during all stages of life!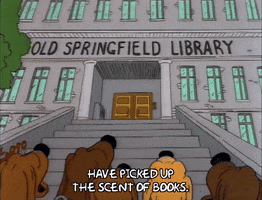 (7) Quiet place to read
I haven't sat down and read a book at the library in a long ass time. I used to love going there after school in middle school and just reading until my mom picked me up. It's great to have that safe, quiet space when you need it. I hope to get back into reading at the library sometime soon. Our apartment complex can get noisy, especially in the summer, so this could be a great escape.
(8) Non-book benefits
During our Marvel rewatch and current X-Men binge, we've checked out all of those DVDs from the library. I love having other non-book resources to check out too. They have multiple TV show seasons there too, so I hope to explore that area. I like browsing for movies when we're not in the mood to spend money, or want an older release that Redbox doesn't have. Free movie rentals, guys! Come on!
(9) Library events and sales
I've found so many books in the library basement book sale. I love going down there and seeing what they have! I haven't really participated in any events but their movie nights are super tempting. They have showings of recent releases on certain nights each month. I'm sure all local libraries are different, but I know that there are countless events for people of all ages, with interests of all kinds.
(10) Smart as hell librarians
I'm going to be straight up honest – some librarians that I've recently encountered are so rude and unhelpful. But there are also SO many badass, excellent librarians out there too. At college, they would always help me with my research papers. I loved meeting with them and getting their insights about how to gather information. Most of them are really helpful, smart, and eager to work with you.
Related Posts