Back to School Freebie: Required Reading
Top Ten Tuesdays are hosted by The Broke and the Bookish, where we make lists of our top ten books (or something else!) based on that week's prompt. The topics are provided ahead of time and can be found here. Book links bring you to Goodreads or my review.

This week's TTT is a Back To School Freebie — anything "back to school" related like 10 favorite books I read in school, books I think should be required reading, required reading for all fantasy fans, required reading for every college freshman, books to pair with classics or books to complement a history lesson, books that would be on my classroom shelf if I were a teacher. WAY too many great options for this TTT! It took me a while but I decided to do a mix of a couple of these and make a "required reading" umbrella post.
---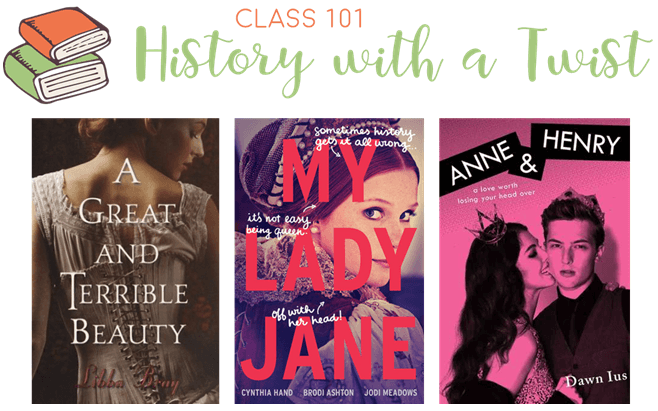 Course catalog entry: Explore history in a new way! Learn about past historical figures through present-day retellings and explore historical fiction with a magical twist. This course will cover figures such as Lady Jane Grey and Anne Boleyn, while also exploring other time periods of history.
Required reading:
A Great and Terrible Beauty by Libba Bray • 1800s + magic
My Lady Jane by Cynthia Hand, Brodi Ashton, and Jodi Meadows • Tudors + magic
Anne & Henry by Dawn Ius • Present-day version of Anne Boleyn
---
Course catalog entry: Learn about the great YA Contemporary genre through some of the industry's best. This course will feature the perfect tales to get you started in the genre. The stories will feature a range of popular contemporary topics: romance, family issues and dynamics, international travel, grief, loss, and friendship.
Required reading:
To All the Boys I've Loved Before by Jenny Han • family and first romance
Anna and the French Kiss by Stephanie Perkins • international travel and fluff
Second Chance Summer by Morgan Matson • loss and grief
The Start of Me and You by Emery Lord • grief, friendship, and conquering fears
---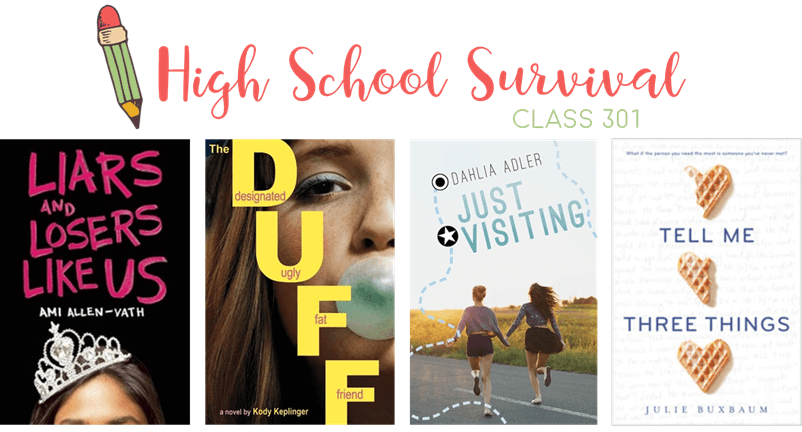 Course catalog entry: No one said high school was easy! These fictional stories will uncover different, difficult aspects of high school. From college to prom to moving, these books cover it all with realistic main character voices. I'm sure all teens will find someone to relate to between these.
Required reading:
Liars and Losers Like Us by Ami Allen-Vath • prom and mean girls
The DUFF by Kody Keplinger • insecurity and sex positivity
Just Visiting by Dahlia Adler • friendship through the college decision process
Tell Me Three Things by Julie Buxbaum • moving and stepfamilies
---
Course catalog entry: Learn how different types of storytelling can enhance YOUR story! Between letters, instant messaging dialogue, poetry, drawings, and various other types of communication, you can add something special to your writing. Learn do's and don'ts of this format while working on your own piece of fiction.
Required reading:
Hello? by Liza Weimer • poetry, screenplay, narration, and drawings
Illuminae by Amie Kaufman and Jay Kristoff • transcripts, IMs, diagrams, etc.
Everything Everything by Nicola Yoon • doodles, drawings, and journal entries
---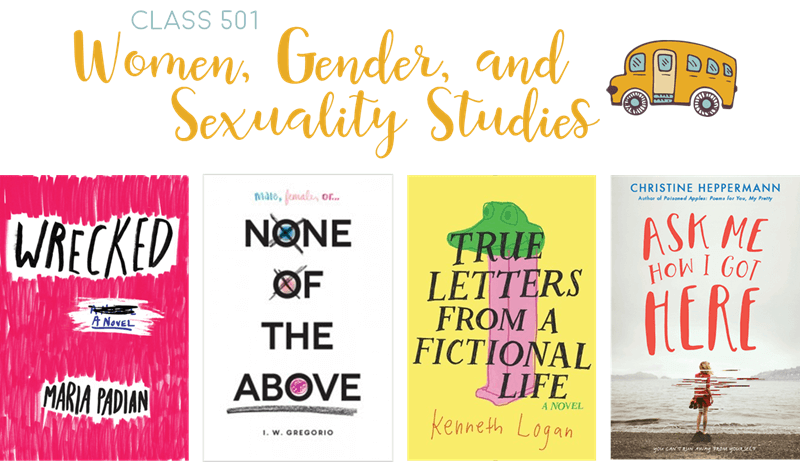 Course catalog entry: Get a jump-start on your college credits with WGS 501. Through this course, you'll learn about the diversity of human experience. We'll study fictional works that cover women's issues, abortion, feminism, LGBT+ issues, sexual assault, coming out stories, and other gender/sexuality-related topics of conversation. If you're not a feminist by the end of this course, then we can't help you!
Required reading:
Wrecked by Maria Padian • sexual assault on a college campus
None of the Above by I.W. Gregorio • intersex
True Letters from a Fictional Life by Kenneth Logan • homosexuality, coming out
Ask Me How I Got Here by Christine Heppermann • abortion and related issues
---
Would you be interested in any of my courses?
Related Posts