I circled back through my Lauren Lately posts to round up some of my favorite new products, purchases, etc. from 2018. As you'll see, it's mostly makeup and healthy/beauty related because that's where most of my money goes. Sorry, not sorry. [Links will be mostly to where I bought the item, or on Amazon if it makes more sense.]
Skincare / Body / Hair
Body Anti-Chafe Balm | This was great when I went to NYC for a weekend and walked everywhere! I'm not a city gal and don't often walk around, but when I visit cities in the summer? This will be my go-to from now on. I love wearing shorts or breezy dresses to keep cool during those months, but walking 20,000+ steps around a city requires some kind of anti-chafing system. This worked well and I didn't even notice it was there! Keep it in your purse if you have to reapply.
Thayer's Witch Hazel | This stuff just feels so nice on my skin. I learned that witch hazel makes a good toner and this is the one I use during the daytime. It's light and doesn't feel like anything, but refreshes my skin. I don't massage it in with a cotton pad – I just kind of let it absorb and apply the COSRX liquid (below) right after.
Revlon One-Step Hair Dryer and Volumizer | I know I just talked about these in my last Lauren Lately but they're both already favorite purchases this year. I love being able to QUICKLY dry most of my hair before leaving for work. Air drying it in the car is fine but it ends up super flat. This is great for adding volume and making sure I don't look like a wet dog.
COSRX Poreless Power Liquid | Again, not 100% sure if this is what makes my skin feel so good or not, but I'm really enjoying it. I used it without the Glossier Solution for a while and I think it did some work on its own… but I can never know when I try too many things at once. My pores have been feeling a bit smaller in general so I'll thank this guy.
Murad Oil-Control Mattifier | I love this moisturizer for my oily skin. I use it during the day under my makeup so I don't get super shiny, but use another one at night for hydrating my skin better. It works pretty well but I am definitely curious to explore some more options in 2019.
Glossier Solution | I can't determine if this really works for me or not but I used the entire bottle with decent results. I'm switching to the Pixi Glow Tonic this month so I'll keep you guys posted about which is better. I like that it seems to genuinely clean my skin but I think it caused some little red bumps on my forehead?
Ice roller and jade roller | I bought one of each – one for the night and one for the morning. I always forget to use them so I should probably not include them but I love the feeling!
Makeup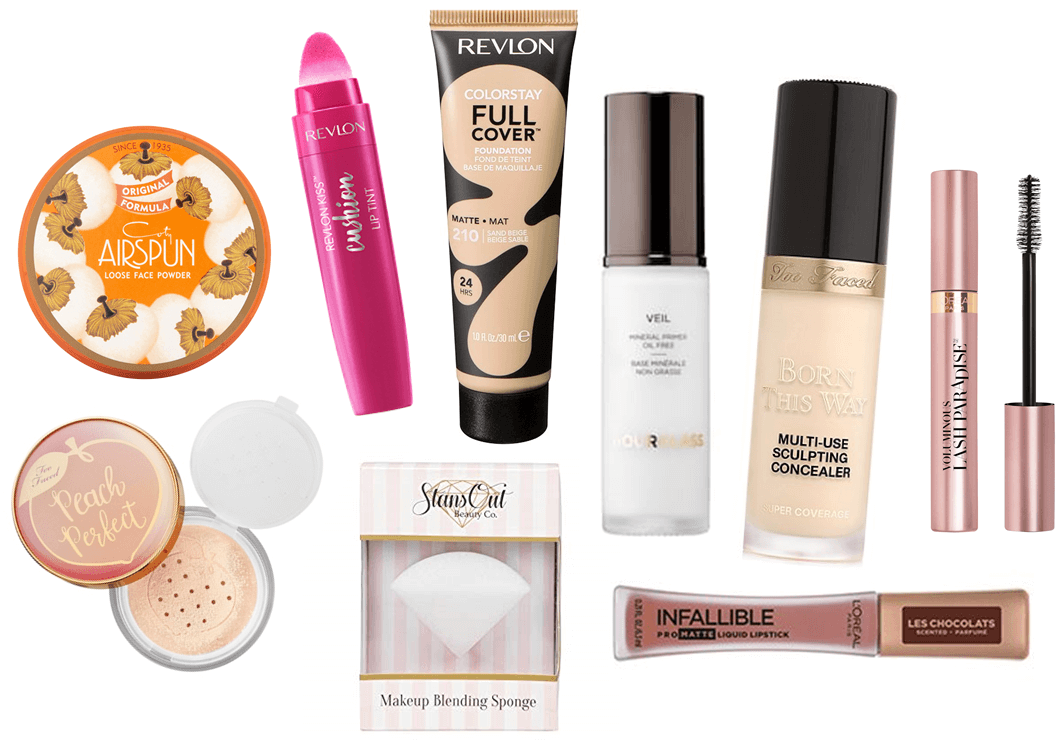 L'Oreal Voluminous Lash Paradise | HOLY GRAIL MASCARA. It can be a little dry but I don't have too many issues with flaking or crumbs on my face. I love how my lashes look with this and it's worth it. I use a different one on my lower lashes because the wand is huge, but it's great for my top lashes.
L'Oreal Pro-Matte Infallable Liquid Lipstick: Les Chocolats | I'll talk more about lip products in a second but this shit seriously lasts all day and appears to be SUPER transfer-proof. I don't love the shades with my pale-ass skin but the lightest shade works for me overall.
Coty Airspun Powder | I was using this as my usual powder for a while but it's too cakey for me with the other makeup I use. However, this has been my FAVORITE powder to bake with! I put it all over the sections of my face I want to brighten and it genuinely makes a difference in my skin, especially with keeping it matte.
StansOut Makeup Blending Sponge | I'm an affiliate for StansOut (link to the left is an affiliate link) because I love these sponges so much. They have such a nice finish on the skin and work better than other sponges. I love that the product doesn't absorb too much, you don't need to wet it first, and you can wash it quickly each week in the shower.
Revlon Cushion Lip Tint | Lipstick and anything too thick on my lips just doesn't work. I am the worst at maintaining lip color because I smack my lips, eat and drink all day, etc. I can't be stopped. There are a few actual lipsticks that work for me because they work all day, but these lip tints are WONDERFUL for just adding a bit of color in your lips without looking like you have on lipstick.
Revlon Full Cover Foundation | This is a game-changer. It works better at keeping me matte than the Estee Lauder Doublewear… I can't believe I'd EVER say that. It actually isn't as full coverage as it implies, I think, because my redness still comes through, but it's not terrible at all. I use concealer all over my face so the red goes away then.
Too Faced Peach Perfect Powder | I love this powder so much. I was using the Urban Decay Velvetizer and liked it a bit, but this takes the cake. It works so well with the concealer below, like they were literally made for each other.
Too Faced Born This Way Concealer | I think this, combined with the previous powder I mentioned, would collectively be my favorite makeup items of the year. They just make my skin look SO NICE and oil-free for the vast majority of the day. I love this stuff. My only complaint is that neither of the two lightest shades match me super well. I make it work though.
Hourglass Mineral Veil | I keep trying to find suitable products to swap in for this one (it's SO EXPENSIVE) but I just can't. It seems like I went through the mini bottle every 2-3 months so at least the huge bottle I finally invested in should literally last me over a year (close to 1.5, I think!). IT'S JUST SO SOFT AND SILKY.
Clothing / Accessories / Misc.
Plain Flowy Tees | I bought a few of these from Amazon and they're lifesavers. I have some patterned leggings and colorful sweaters that always need plain shirts. I think I'll have to buy new ones soon because they're a little big now, but they're so easy to toss on and look cute.
Dr. Bronner's Pure Castile Soap | I bought this originally for a failed skincare routine I tried, but now I use it as dish soap. You only need 1 part soap to 4 parts water in order to clean your dishes, so it really does a nice job on the cheap. We bought our bottle at the beginning of the year, don't have a dishwasher (meaning we wash all dishes by hand), and it JUST ran out last month. For $11 you get dish soap for the entire year, basically.
SUNGAIT Vintage Round Sunglasses | My friend had this at a bachelorette party and lent them to me when I forgot some. Everyone said they looked SO good on me and really flattered my face, so I bought a pair! I actually don't like sunglasses because they always wipe my makeup off, but these are my favorite things when I DO wear sunglasses.
Related Posts