My new Spotlight feature highlights anything within the bookish world that I feel deserves a spotlight for a few minutes – publishers (or more specifically, imprints!), new or old favorite authors, bookish people/bloggers, covers or cover trends, topics/genres within books, and anything else that should be on your radar.
Young Adult Anthologies
My first Spotlight feature that came out recently highlighted a favorite publishing imprint, so this next installment will show another kind of ~thing~ I plan on focusing on – bookish trends and types of books! I've always been a sucker for short story collections, especially holiday ones like Let It Snow, Mistletoe, and Snow In Love. These have 3-4 stories, so I'm not going to talk about them here. I'm talking about big anthologies that have upwards of 10-15 stories in them, from prominent YA authors, centered around specific topics. I've noticed SO many more anthologies being announced lately, so I thought it'd be a fun list to round up. I'll be ranking my favorite anthologies and talking about some I'm excited about.
---
Anthologies I've Read, Ranked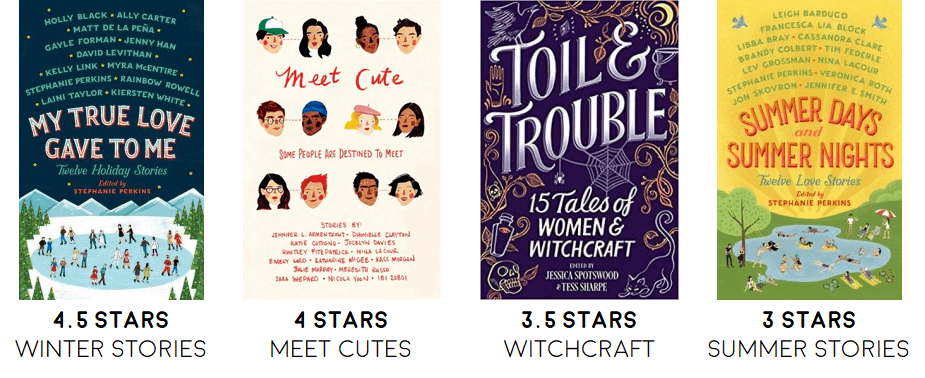 While I tend to look back on BOTH Perkins anthologies with rose-colored glasses, only one of them was really that great. I loved the stories in My True Love Gave to Me and found them to be such perfect cozy holiday stories. I love that Summer Days and Summer Nights has the same adorable cover style, but the stories themselves were very meh for me, for the most part. The Meet Cute anthology had a TON of great stories, with very few getting low-ish ratings from me. Toil & Trouble was a witchy anthology with some intriguing stories. I didn't understand some of them, which was my bigger problem, but there were quite a few GREAT ones in there to balance it out.
Some to Read Still
Like I mentioned, most anthologies will center around a singular topic, theme, location, genre, or event. These can include sexuality and romance, specific kinds of retellings, major cultural events, or just straight-up genre-based anthologies. I've had all of these on my TBR for a while and you can see what they discuss below each cover.
Unreleased 2019-2020
Not gonna lie, all of these sound amazing. Three come out this year (thank goodness) and the final one is next fall. (Can you believe 2020 is NEXT YEAR SOMEHOW?) Hungry Hearts focuses on the intersection of family, food, culture, and love. It sounds AMAZING and I get hungry whenever I look at that cover. His Hideous Heart involves retellings of classic Edgar Allen Poe stories, which is so intriguing to me. I can't wait to see what they do with them! It's a Whole Spiel has Jewish main characters/stories, written by Jewish authors. Exploring books centered on faith is not a favorite pastime of mine, but I have to admit – I'm always curious about books centered around Jewish protagonists instead of Christian/Catholic/etc. ones. And finally, Vampires Never Get Old is bringing vampires back into our lives, and I'm here for it.
---
Have you enjoyed the new ~trend~ of YA anthologies or compilations
of short stories? Read any of these? Let me know your thoughts!
Related Posts