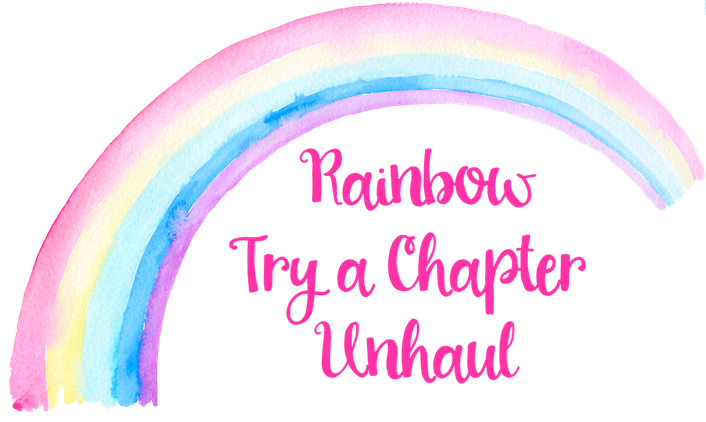 I know that I usually talk about my upcoming year-long challenges in one big post, but I'm inventing this one for myself and wanted to give my idea a full post! Inspired by the following lovely bookish people:
RAINBOW READING: Chelsea @ Chelsea Dolling Reads has been doing a rainbow challenge each month, where she spends a week reading books off of her shelves from a specific color family. It's way for her to read from her physical TBR and get some focused reading time in.

TRY A CHAPTER: I originally saw the idea for a "try a chapter" tag or unahul at Bekka @ Lock and Rose. There's also a Bustle article about linking the original creator (Book Paradise, who appears to be inactive on their YouTube channel). This "try a chapter" thing is a way to read the first chapter of a book on your shelves. If it doesn't grab you right away, you unhaul the book and move on.
For 2020, I'll be combining some of the ideas above into my own unhaul / reading from my shelves challenge. The idea is that each month I will have a specific color that I use to pull books from my shelves. Once the books are pulled, I will read the first chapter in each one and decide if I want to keep it or unhaul it. The idea is that if the chapter DOES pull me in, I will continue reading that book immediately. I can't just decide I want to keep it for later based on the chapter. Despite this not necessarily being an official challenge, I'll be including my progress in my monthly reading wrap-ups in the challenge section (sort of like I did with the Picky Pledge).
Rules / Process
Each month will have a specific color assigned to it based on the rainbow (and a few other shades of the rainbow colors, since I need 12 colors!). This reading week will happen around the start of the second week of the month. I say "around" because I want to finish up whatever physical copy I'm currently reading, which may not happen precisely at the start of week two. It'll be somewhere around the 10th, I'd say. I'll then pull 2-3 books from my shelves that fit in this color scheme. The books are selected in the moment based on my mood and not predetermined. I'll read the chapter of the first book. If it pulls me in, I have to keep reading it and finish it like I would the next book on my TBR. If it doesn't pull me in, I will unhaul it and try the chapter of the second book. I'll then continue this process until all books are either read or unhauled. I'm assuming this will take somewhere between a day and two weeks. If all of the books don't catch my interest, it'll probably take an hour! If all of the books DO, I have to read them in succession and that'll probably take a couple of weeks (mixed in with the other books I'm reading via audio/ebook, surely). If I DNF the book further than one chapter in, that's fine – just unhaul it.
Monthly Colors
The color scheme for each month, unlike the books themselves, IS predetermined. I decided to do it in the same way I picked marker colors for my bullet journal. The colors match the month based on its season, holiday, or other association in my personal life.
JANUARY || White (for the color of snow and wintertime)
FEBRUARY || Light pink (for Valentines Day)
MARCH || Green (for St. Patrick's Day and greenery in springtime)
APRIL || Darker blue (for mom's birthday month and favorite color)
MAY || Purple (for purple May flowers)
JUNE || Yellow (for the sun for the start of summertime)
JULY || Orange (another color that reminds me of the sun/summer)
AUGUST || Light blue (for the color of the sky for the end of summer)
SEPTEMBER || Darker pink (for my favorite color in my birthday month!)
OCTOBER || Black (for Halloween and spooky times)
NOVEMBER || Brown (for fall leaves)
DECEMBER || Red (for one half of the Christmas colors)
---
That's really it, folks! I'm hoping this will be a fun way to read books from my shelves and really cull my personal library. I just have SO many backlist books that I'll never read unless I'm motivated to do so with a challenge.
Related Posts