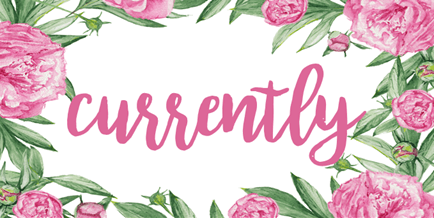 Currently is hosted by Anne in Residence, where we link up and discuss what we're currently doing, feeling, etc.! The topics change each month and this post is about what we're loving, embracing, tasting, wearing, and preparing. I like to link up on things like this occasionally and have done my own "currently" posts in the past as well.
---
Currently loving…
Our new TV: We knew we wanted to get a new television around the Super Bowl because that's when the best deals happen for them (correct, not Black Friday!). My dad called me in late January (the day of the Royal Rumble) to tell me the sales were kicking off at places like PC Richards and Target, so we spent the whole day looking at the screens and finalizing our choice. We're SO happy with the one we selected! We also bought a new TV stand for underneath since our old one was super small (just like the TV was lol). We managed to shop around, buy both the stand and TV, and set everything up JUST in time for the Rumble to start! We were excited to host Chris's sister and her husband for the Superbowl this weekend too.
Tati Beauty's Blendiful: So there have been some mixed comments and reviews on this one so far but I genuinely adore it. Before I get into that stuff, let me explain: Tati came out with this new sponge/puff sort of duo that you can apply your entire face with. I used it (the first two times) for primer, foundation, concealer, loose setting powder, powder blush, powder bronzer, and powder highlighter. Yep. All of them. My whole face minus mascara and eyebrows. My review overall is that I LOVE using it for my liquid products (foundation and concealer) and setting/loose powder. It works well with the other pressed powders but I prefer my brushes for blush, bronzer, and highlighter, especially when I'm home and have them all. However, if I were going away for a night or two on a trip, I would 100% just take these puffs and do my whole face with it and skip the brushes. I keep the small heart-shaped one in my purse for blotting my face throughout the day and I LOVE it. As far as the issues go, I've seen people have problems with washing it. I don't think brush shampoo works that well to remove the liquids from the fabric but bar soap worked super well. I tried washing it in the machine but the inside stuffing got a little warped inside the outer shell so I decided to only wash by hand maybe 1-2 times per week (I don't do a full face of makeup as often anymore since my office consists of three people including myself and it's just not necessary when I don't have plans after work!). I think this thing could honestly last and remain hygienic FAR longer than sponges… like maybe 6 months. So, for the same price as a Beauty Blender, you get TWO puffs that do ALL your makeup, and last twice as long before needing to be replaced.
Currently embracing…
Connecticut's beer/brewery and cider scene: For such a small state, we have a looooot of breweries, cideries, and wineries! It's really nice because it's something easy and relatively cheap to do to get out of the house in all kinds of weather. If it's cold, we can hang inside Ellicit Brewing and play video games, eat food, and drink beer. In the warmer weather, they all have cornhole and outdoor seating. We enjoy Connecticut Valley Brewing and Ellicit the most lately, but we tried out Hogan's Cider Mill randomly a few weeks ago too. My issue with cider, a lot of the time, is that it ends up tasting a bit too much like wine. We mostly enjoyed a few of our samples but some were definitely not up our alley! haha. It was still fun to check out a super random spot like this and spend a day in beautiful Litchfield county.
Currently tasting…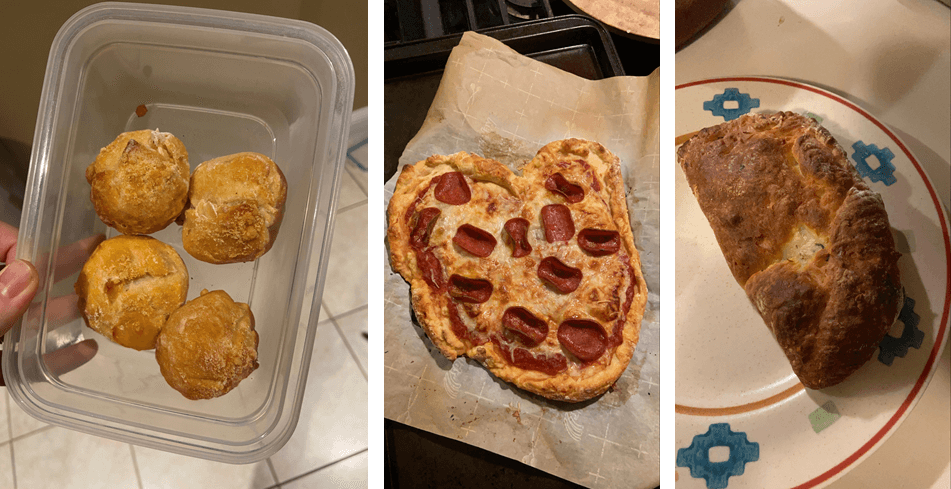 Two ingredient dough recipes: I recently decided to finally take the plunge and buy self-rising flour to make two-ingredient dough. It's a popular WW recipe where you mix equal parts (about one cup each) of self-rising flour with plain Greek yogurt and form a dough with it. People use it for anything from soft pretzels, calzones, pizza, and even cinnamon rolls. I started with pizza, which was amazing and genuinely tasted like normal pizza crust, and then made calzones next. I used the dough to make pretzel bites and pizza bombs (the dough folded around pepperoni and cheese, to be dipped in marinara sauce). All successful and so tasty!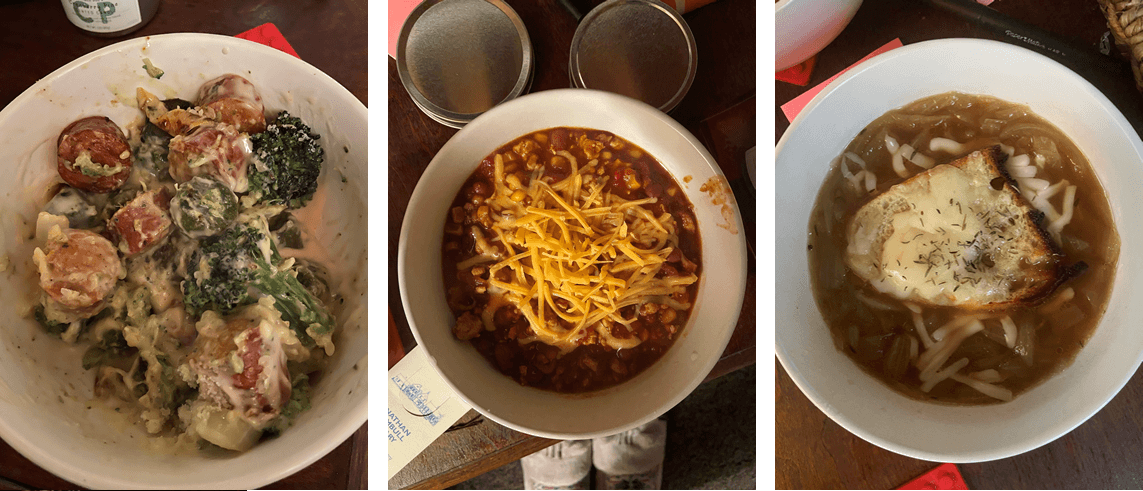 Winter foods and soups: I noticed when scrolling through my camera roll that I've been making a lot of soups or pasta-based dishes this winter so far. I usually love a good chili or soup but the pasta thing is somewhat new for me. I made a zero-point marinara sauce so that's probably part of it! lol. I've gotten some cauliflower-based alfredo sauce and that's been nice too. We tried TJ's kale gnocchi with some sausage and veggies with that. ?? I also made French onion soup finally!
Easy healthy breakfasts: I recently made a third Instagram account that I use just to follow various celebrities and, more recently, people who post healthy recipes or WW-related things! I like that these don't clog up my usual feed and I can easily bookmark recipes to come back to. Some of my favorite accounts are whatninaate, healthymoodsf, theskinnyishdish, nikki_booch, sara.haven, and cookingbykylie. I made these two-ingredient (or more if you add fruit/nuts/chocolate chips) breakfast cookies and they were suuuuuper easy and tasty (via Buzzfeed Tasty but I adjusted the recipe).
Currently wearing…
Boutique clothes: I seriously need to stop buying clothes when I have a wedding to pay for. Sezzle is my best friend and worst enemy, y'all. I shop a lot at online boutiques via Facebook groups, apps, and websites. I've been buying mostly from Jennaration, The Change Co (someone local to me! I've been shopping with her since her Lularoe days), and Silver and Lace. It can be hard if you're an in-store shopper because you vary in sizes, but I've found most sizing to be consistent and accurate according to descriptions on items in their shops! They all have VIP Facebook groups that I recommend as well. I also got an Old Navy gift card for Christmas that I used on some great clearance sweaters and other items.
Currently preparing…
In an effort to use all the food I forget about in my pantry/freezer in February, I'm limiting my grocery budget to $20 a week (!!) for our us. I'll use it to replenish meats and fresh produce things when needed and you better believe we'll have some Meatless Mondays on deck lol

— Lauren (@bookmarklit) January 31, 2020
For my February grocery challenge: I didn't do an introduction post for this because I thought it would be more fun to post about it at the end of the month, so here's my plan. I realized in January how I spend SO much money on groceries. I only grocery shop during my lunch break because I'm in a town with way more options (Trader Joe's!) than the town I live in. I tend to buy smaller bits of groceries throughout the week but sometimes find myself going WAY over budget because of so many small trips to different stores. Can't get Velveeta for the Superbowl at Trader Joe's? Guess I'll also stop at Stop & Shop and oh wait they have all these other things I may need sometime soonish! – me all the damn time. Believe me, it's good for my computer-facing eyeballs to leave the office at lunch (and during the warm weather I love to just read a book outside!), but I don't need to go to a STORE multiple times each week. So, here are the rules for my plan (kind of following Paige's #Shelftember idea):
Grocery budget of $20 per week (maybe allowing $25 in the week if I need more than one meat?)
Meatless Mondays on the 6th, 13th, 20th, and 27th of the month to save money on meat
Use meat and fish from the freezer!
Use canned items, boxed items, sauces, and other items from the pantry and freezer!
Utilize allrecipes.com ingredient-based recipe search to use up what I have and get new ideas, as well as follow various websites/pins on Pinterest for simple and cheap meals (Budget Savvy Diva and Budget Bytes are two of my favorites)
Get back to simple meals that don't call for as many ingredients
Only buy what I genuinely need and not just "I'll get this while I'm here since I don't know the next time I'll be at X store"
Attempt to follow a weekly schedule for meals
To expand a little for now, I just want to use up ALLLL of the pantry and freezer items I keep forgetting about, save some money, and better inventory my life. I always tell Chris that I constantly stress myself out about always trying NEW recipes. While they're all easy, a lot of them require a number of ingredients, which means I sometimes pop into the store for "just a few things" that turns into more and more. I hope this will also be an exercise in creating simple meals with basic ingredients, plus a fun sauce/marinade since I always have them. For example, just marinating some chicken I pull from the freezer with a side of broccoli and cup of brown rice is a meal. I don't need to make crazy chicken bowls with four different vegetables on top of the rice with a new sauce from TJ's. In any case, I'll be back in early March with a recap and more details on my approach!
Related Posts