Five on Friday displays the the top five things that have been on my mind this week! It could be book-related, but it may be music, movies, TV, personal life, food, etc. I'll generally be posting these biweekly and linking up with Friday Favorites (hosted by A Little Bit of Everything, Grace and Love, and Momfessionals). Previous posts can be found here!
---

Aldi Finds
I've been using Instacart still for grocery delivery and pickup. I'm not into being in enclosed places with a lot of people for an extended period of time, so most of my in-person shopping is to Petco or Home Depot – quick spots where the pup can come too. There's an Aldi in the next town over that I still haven't been inside, but I'm loving their delivery or pickup. I'm genuinely addicted to their Mexicali dip with tortilla chips. Chris and I usually eat the whole container in one snacking session. I'm also loving the Street Corn dip but it was sold out last time. There are lots of other great inexpensive food items and dupes from Aldi.
---

Spin Bike
I went ahead and followed the at-home workout trend… a million months into quarantine lol. I have no interest in going back to my gym for a few reasons. First, there are too many people for me to feel good about going in there. Second, it's near my office (aka 30 minutes from my house) and not worth the trip. I'm hoping to get more active around here when the dog naps and I think this spin bike is a great way! I investigated a few apps with classes but it seems like Peleton is my best option as of right now, especially because they have a month-long free trial.
---

Meal Planning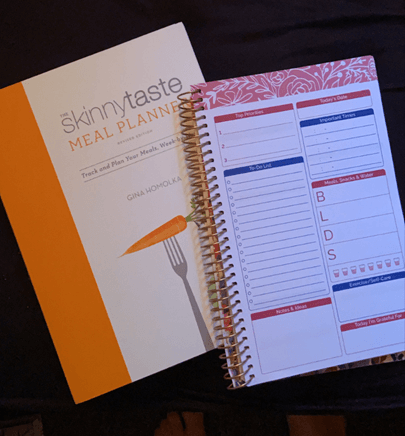 I haven't used any paper planning tools since we got the dog. It's kind of wild how much time, energy, and attention a puppy takes up! It's impossible to sit down and plan anything while he's awake, and when he's napping I have to get work done. Now that he's a little more settled and my work is flexible (I can do a lot of things when he's awake as long as he has something to chew or I can throw a toy for him a few times!), I want to get back into planning! I whipped out my previous day planner I bought and my new Skinnytaste meal planner. It was so nice to sit on my bed with my cookbooks and plan out meals again. The Skinnytaste One and Done cookbook is so helpful right now because I don't have as much time to make fifty different things for dinner.
---

Skinnytaste One and Done

I've talked about this before (and obviously right above within this post) but never got around to doing a full review and roundup like I did for the Cravings cookbooks. I just haven't had motivation or time to blog recently. I thought I would include some of the recipes we've made and loved, from left to right: broccoli cheddar soup, carne asada steak fries, fried chicken sandwich, and philly cheesesteak egg rolls. Would 100% make all these again.
---

Currently Watching
We've been alternating between King of the Hill when we need something quick and easy (either right before bed or when wrangling the dog during his evening witching hour) and Upload for when we have more attention. Loving both a lot! We also tuned in to each night of the Democratic National Convention. Boy were there some powerful speeches! Damn.
I told Chris I really want to get back into and/or restart Brooklyn Nine-Nine and Community. We stopped B99 after a season and a half (not sure why). Chris actually watched Community after I recommended it to him, then I was going to wait and watch the final season with him when he got there. He took a break from it and we don't remember where he left off AND it's been years since I've seen it, so we're just going to watch it all over again together. There are a lot of movies I want to watch soon too but Chris has had trouble staying awake for movies lately haha.
Related Posts