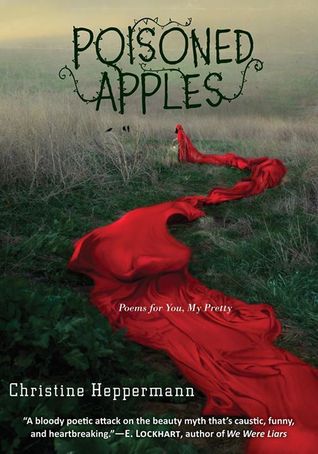 Poisoned Apples: Poems for You, My Pretty
on September 23rd 2014
Format:
Hardcover
(128 pages) •
Goodreads
•

Every little girl goes through her princess phase, whether she wants to be Snow White or Cinderella, Belle or Ariel. But then we grow up. And life is not a fairy tale.

Christine Heppermann's collection of fifty poems puts the ideals of fairy tales right beside the life of the modern teenage girl. With piercing truths reminiscent of Laurie Halse Anderson and Ellen Hopkins, this is a powerful and provocative book for every young woman. E. Lockhart, author of We Were Liars, calls it "a bloody poetic attack on the beauty myth that's caustic, funny, and heartbreaking."

Cruelties come not just from wicked stepmothers, but also from ourselves. There are expectations, pressures, judgment, and criticism. Self-doubt and self-confidence. But there are also friends, and sisters, and a whole hell of a lot of power there for the taking. In fifty poems, Christine Heppermann confronts society head on. Using fairy tale characters and tropes, Poisoned Apples explores how girls are taught to think about themselves, their bodies, and their friends. The poems range from contemporary retellings to first-person accounts set within the original tales, and from deadly funny to deadly serious. Complemented throughout with black-and-white photographs from up-and-coming artists, this is a stunning and sophisticated book to be treasured, shared, and paged through again and again.

So when I was in college, I did a Directed Study course for my minor (Literary and Cultural Studies). It basically meant that I joined up with one of my LCS teachers and wrote out a semester-long research paper about a topic of my choosing. Because this teacher was one of two that taught me everything I needed to know about being a feminist, I knew I needed to work with her. She taught the art history-related courses at my school, which was a big time business university, so she was more than happy to work one-on-one with someone who was actually interested in her expertise and wasn't just taking her courses because they needed the credit. ANYWAYS this book is pretty much exactly in line with what I wrote my paper on. I wish this was published two years ago. My paper was basically about feminist artists whose work depict and work against gendered stereotypes, fairy tales, and expectations. SOO in summary, you can see why I was super excited about this book. I went out to the store and bought the physical copy because 1) I knew I needed it on my shelf and 2) I heard the illustrations were gorgeous and didn't think my Kindle screen would do them justice.
Overall, this book did not disappoint! It's difficult for me to rate poetry or say if it was "good" or "bad," because that's all up to interpretation. For someone who is way more interested in this subject than others likely are, this little anthology was really awesome. There were so many great poems (as well as so many that went right over my head). I really enjoyed that she was able to use all aspects of being a young girl growing up; it was extremely relatable. I definitely expected this to be 100% fairy tale "retellings" and appropriations, but there were a lot that were just about being a young girl. Not a dealbreaker, just not what I expected. The poems were intermixed nicely: there were some serious and heavy ones as well as some humorous ones.
Here are some of my favorites, if you happen to get a chance to check this book out. I won't analyze them and pretend I'm a poetry expert, but I thought I would share:
The Woods

: about losing your way

The Never-Ending Story

: losing the battle with anorexia

Sleeping Beauty's Wedding Day

: about beauty standards and "beauty rest"

Photoshopped Poem

: about photoshopping

Prince Charming

: the modern day prince that charms the family and degrades the girl

A Shape Magazine Fairy Tale

: using headlines from Shape magazine

BFF

: dealing with frenemies

"Sweet Nothings"

: about boobs and bras

Thumbelina's Get-Tiny Cleanse – Tested

: appropriating the cleanse trend

The Little Mermaid

: life after she gets the prince

Health Class

: trying to ask real questions in health class

Nature Lesson

: I don't remember what this one was about but my notes say "YESSS" next to the title, soo..

Big Bad Spa Treatment

: comparing humans to meat while getting spa treatments
All in all, this anthology really took on a LOT of issues involving beauty standards and growing up. I can see myself revisiting this one many, many times. I wish there was more to say but I would rather let you dive in yourself!
Related Posts