Like many people, I was starting to feel the Harry Potter burnout. It's hard when the world is EVERYWHERE, with new movies and books and plays still coming out. Half of me feels so excited to experience that world again, but the other half of me wonders when enough will be enough. Regardless of those mixed feelings, I embarked on the three novellas JK Rowling originally published on Pottermore. I decided to binge them during Bout of Books to kick my reading year off and get ahead on my Goodreads challenge.
---
Short Stories from Hogwarts of Heroism,
Hardship, and Dangerous Hobbies

This little collection of stories and bits of information was really fun! McGonagall and Lupin are two of my very favorite Harry Potter characters, so I absolutely welcomed more information about them! I felt like neither were explored as deeply as I would have liked during the books. It was cool to read about their pasts with their parents, childhoods, heartbreaks, and careers. I loved it so much. The extra information about being a werewolf or an animagus was really cool.
The other two stories – a little bit on Trelawney and Kettleburn – didn't seem as necessary. Trelawney was definitely an enigma during the books, but these stories didn't do anything to clear that up really. Rowling didn't give her as much of a history as I would have liked. Same goes for Kettleburn, but at least I knew who Trelawney was before reading this novella! These parts didn't ruin anything for me, of course, but I just wonder why they were included.
The little message about heroes coming in all shapes and sizes was really sweet. I can see why those two other characters were there because of that specific moral, but still wish they were more fleshed out.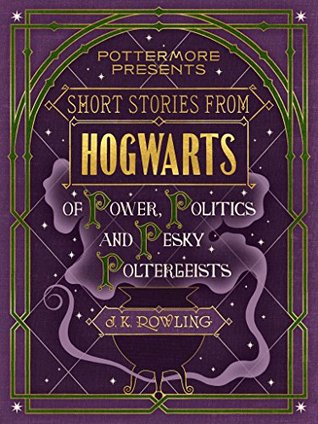 Short Stories from Hogwarts of Power,
Politics, and Pesky Poltergeists

Even though this set of stories has the same rating as the previous, I have to say that I liked #1 more. This collection was interesting because it focused on some of the ~bad people~ from the Harry Potter world. It was cool to learn more about Umbridge and Quirrell, because no one really knew their history during the series.
The other sections on poltergeists, potions, and Azkaban were pretty interesting too. I never realized Azkaban had such a controversial history. Along with all of the general information about these topics, Rowling included why she named people or potions certain things. I loved knowing that she didn't just make random stuff up off the top of her head; there was a rhyme or reason to it!
It's odd that these books are called "stories" though. I was expecting legitimate stories with plotlines, but they're really just bits of information about people and things in the Wizarding World. Don't get me wrong – I like these. I just feel like it's basically reading a textbook or small biography instead of a story.
Hogwarts: An Incomplete and Unreliable Guide

This was definitely my favorite volume! I loved learning about the many aspects of Hogwarts – everything from items inside the castle to places on its grounds to how you arrive there. JK Rowling really went into the history of countless things.
THIS was the perfect installment to read like a history book. I felt like I was reading Hogwarts: A History like the students or something. The other books should have been more story-oriented, instead of textbook-like, but this book worked perfectly for that. Learning the history of objects in and around the castle was fascinating.
I loved learning about the Mirror of Erised, the Hogwarts Express, Platform 9¾, and the portraits. There were many things I didn't know beforehand. Overall, I learned a lot from this volume and definitely found it to be the most interesting of the three!
Related Posts