You may remember my read-bait series from a long time ago, where I talked about certain keywords, phrases, and tropes that call my name. I planned to keep going with these posts because there are many, many topics that suck me right in. My recent posts discussed reunions, memory loss, and boarding school, then fake dating, bucket lists, and family drama, then carnivals, disappearances, and rich people/winning the lottery. Here I am today to talk about recent words that have grabbed me…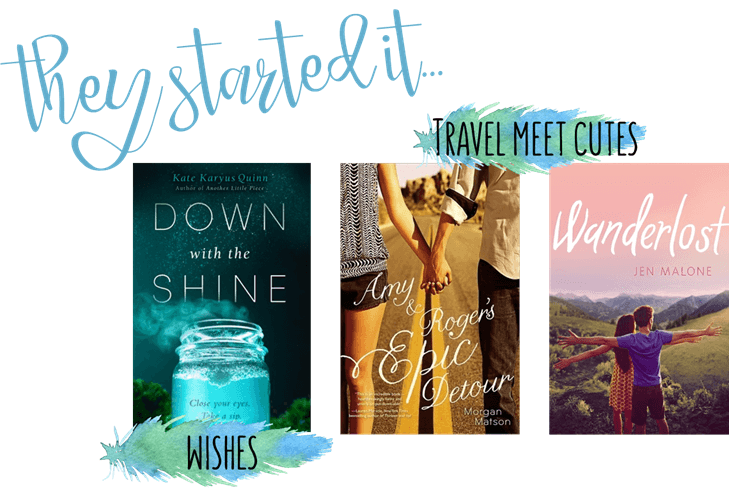 This post is just about two read-bait topics for once, primarily because I was eager to post another one of these. The first topic is about "wishes" in some way, shape, or form. I love books involving wishes being granted or people being able to grant wishes for other people. I read Down with the Shine by Kate Karyus Quinn last year and was pleasantly surprised at how much I loved it. This book involved magical moonshine that grants wishes for the people who drink it, so the main character had to track everyone down to reverse them. The concept was an incredibly unique take on the wish topic and led me to add so many others to my TBR. Next, one of my favorite tropes in books is when people meet while traveling (especially internationally, since ya girl doesn't even have a passport yet…). Books like Wanderlost by Jen Malone and Amy & Roger's Epic Detour by Morgan Matson got me thinking about characters encountering "travel-related meet cutes" with the love interest. I love a good meet cute anyways, but putting them in some kind of situation where they're traveling or stuck somewhere while traveling is even better. The books on my TBR involve people getting snowed in (something I always love) somewhere, traveling to another country and meeting someone along the way, being stuck in an airport, etc. – the list goes on. Without further ado, here are some books coming up inspired by these two favorite topics and tropes!
Recent TBR Additions
Make a Christmas Wish by Julia Williams // The Christmas element here is incredibly appealing to me, for obvious reasons if you've read my blog at all in the past few holiday seasons. It also adds in ANOTHER trope I love, where the person is kind of in that weird place between being alive and dead.
The Secret Ingredient of Wishes by Susan Bishop Crispell // This one intrigues me because it involves a girl starting over somewhere new, after some of her wish-granting gets out of hand. She somehow happens to meet another person who can grant wishes through pies? Not sure what this would be like but I'm interested!
As You Wish by Chelsea Sedoti | Her first book was VERY weird and I have a feeling this might be more of the same. However, I'm definitely going to give it a try! In one town, everyone gets ONE wish that will be granted. Of course there are the usual wish-related fallouts so the main character is hesitant.
Love & Other Train Wrecks by Leah Konen // This one has so many elements I'll love, so here's the beginning of the synopsis that immediately grabbed me: "a twenty-four-hour romance about two teens who meet—and perhaps change their minds about love—on a train ride to Upstate New York in the middle of a snowstorm."
Airports, Exes, and Other Things I'm Over by Shani Petroff // I loved the concept of The Statistical Probability of Love at First Sight, which happened to take place at an airport, but I hope this one is even better. The "ex" factor (ha ha) adds another layer of intrigue for me.
The Last True Love Story by Brendan Kiely // I don't know if this one will hit the mark for me based on some other reviews, but we'll see. This is more of a road trip book so again not even sure if it matches up with the "travel meet cute" thing, but let's go with it.
Are you also interested in this topic? If so…
I have another blog post coming up about random connections between people or what happens when peoples' lives are inexplicably intertwined. This also involves chance meetings while traveling (like above), being stuck with someone (snowed in maybe, or in an airport, or on a train, etc.), and other more ~random~ meet cutes. I love books in interesting settings. I'm working on this post as we speak, but just know there's more!
Related Posts