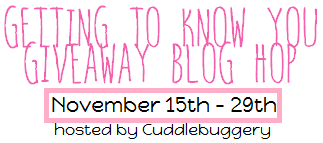 The lovely ladies over at Cuddlebuggery got a beautiful new look for their blog, came back from hiatus, and started up the GETTING TO KNOW YOU Blog Hop! This blog hop is specifically to get to know bloggers and help build a strong community.
"This blog hop is to let people know a little about yourself and who you are and to get your name out there! Post ideas include other hobbies you enjoy, favorite movies or music, why you decided to start blogging/writing or anything else you feel comfortable sharing. And since this is a bookish community, please share a book or series that's special to you."
This post is one of three that I'll be having over the course of the Blog Hop! I don't post too much personal information, and since my blog is fairly new, maybe some of you would like a chance to get to know me better. Here's my schedule of the posts and what info they'll be featuring:
11/15 – Getting to Know You: Introduction and Special Book Series
11/20 – Getting to Know You: Why I Blog and Other Hobbies
11/27 – Getting to Know You: Favorite Movies and Music
---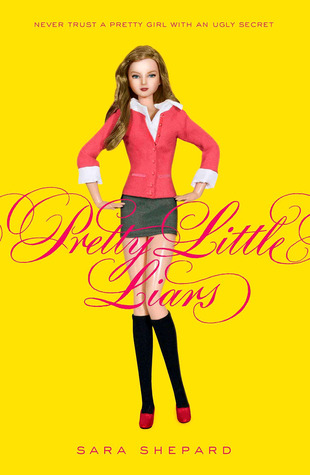 I've talked before about how the Pretty Little Liars series by Sara Shepard is incredibly special to me. I read a lot of books in middle school and early high school, but very few hooked me quite like PLL did. Remember, this was LONG before there was a TV show. Each time one of the books would come out, I'd run to the store and buy it. This was when very few of my friends read books for pleasure. Luckily I never felt like I was looked at funny for enjoying books; I never had to hide it to avoid being called a nerd.
This series is still one I anxiously await for the new books to come out. The final book in the series is coming in December, and it truly feels like the end of an era. During my reading dark ages of college, this series was the ONE series that I continued with. I would still get the book within the first day or two of its release… and then immediately finish it within another couple of days.
The Pretty Little Liars series enabled me to read during a time when I had no friends to discuss books with. It helped me continue reading even when I had no time or energy to do so. I now watch the show religiously (even though it doesn't match up with the books) and follow Sara Shepard's new releases like a crazy person.
---
You can win one of the books from the following list. These are some of my favorite books that I read between July and October. They can be in Kindle format or physical copies if you prefer! (Click the Rafflecopter button at the bottom on the post)
Catching Jordan by Miranda Kenneally
The Perfectionists by Sara Shepard
Dissonance by Erica O'Rourke
Ask Again Later by Liz Czukas
Damsel Distressed by Kelsey Macke
Trial By Fire by Josephine Angelini
Just Like Fate by Kat Patrick and Suzanne Young
Second Chance Summer by Morgan Matson
Breathe, Annie, Breathe by Miranda Kenneally
Eleanor & Park by Rainbow Rowell
Open Road Summer by Emery Lord
Twenty Boy Summer by Sarah Ockler
The Beginning of Everything by Robyn Schneider
To All the Boys I've Loved Before by Jenny Han
Dangerous Boys by Abigail Haas
Anna and the French Kiss by Stephanie Perkins
Lola and the Boy Next Door by Stephanie Perkins
Isla and the Happily Ever After by Stephanie Perkins
All Our Yesterdays by Crisin Terrill
The Distance Between Us by Kasie West
Since You've Been Gone by Morgan Matson
Aspen by Rebekah Crane
Can't Look Away by Donna Cooner
Shadowlands by Kate Brian
Before I Fall by Lauren Oliver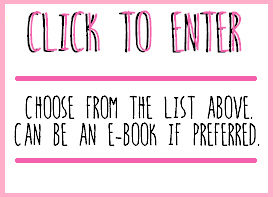 Check out some of the other bloggers in the hop too!
Related Posts