As promised in my Bookmark Lit Bulletin, here's a big ol' recap of my vacation! I wanted to share some pictures and a bit about what we did. Hopefully it will entice you to head there on your next vacation 😉
Wednesday May 25th
We suffered through work on Wednesday and left around 6:30 Wednesday night. We made a couple of stops but basically drove the 7+ hours straight to Harrisonburg, VA, where we stayed for the first night. Nothing too fancy – just a Motel 6 arrival at 2:00 AM! I drove the whole way down for the first day.
Thursday May 26th
The next morning, we grabbed some McDonald's breakfast and hit the road around 9:30 for the rest of the trip. I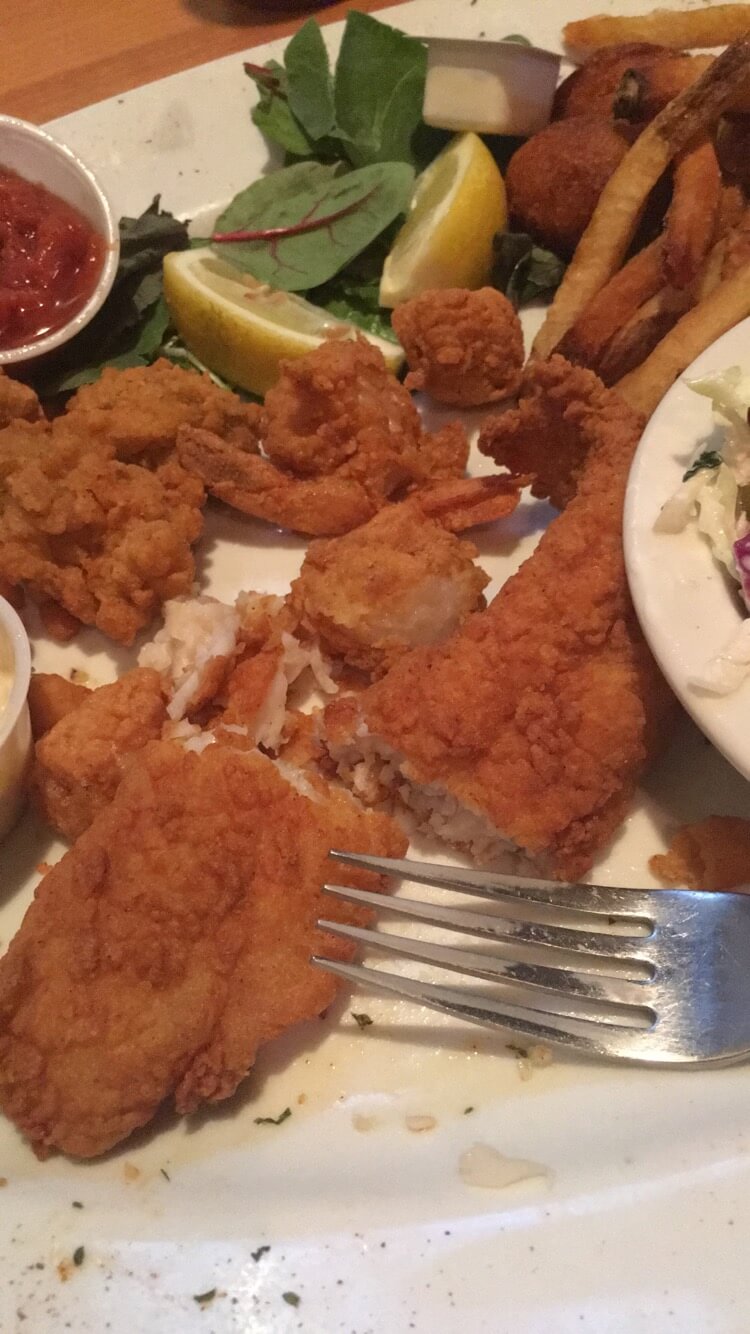 made the boys drive on Thursday because I wasn't in the mood to at that point. Chris
went for about 5 hours and Kris finished up the trip for the last 3 hours. We finally arrived on Hilton Head Island around 5:30 PM! It was amazing to drive up and see palm trees. It's been soooo many years since I have!
Once we arrived, we settled into the hotel and left in search of food. We went to Dry Dock Seafood and Spirits because we wanted to kick off our vacation with some seafood right away. I asked for the Seafood Sliders (little sandwiches with seafood on each one) and she ended up bringing me a Seafood Platter. I ate it without complaints but told her the mistake beforehand. She insisted I said "platters" not "sliders," which led to a fun joke for the rest of the trip. (PlatterS? Multiple ones? Then where are the rest? Why would I say platterS?) After finishing dinner, it was already dark and we went to Palmetto Dunes, a resort where the boys had stayed in the past. It's right on the beach so it ended up being our go-to beach and general place for activities for the week. It was unbelievable to stand on the SOFTEST SAND EVER and think "I'm finally here!" We walked back to the hotel with big plans for the following day, even though I made the mistake of wearing a dress and my thighs were killing me!
Friday May 27th
Our friend, Kris, who came along with us had his birthday on the first full day there, so we made sure to fill the day with lots of fun stuff. We woke up early and went to grab 
breakfast at the infamous Stacks Pancakes. They're known for their banana pancakes and creme brulee french toast… so I ended up with a combo of both and ordered the bananas foster french toast! It was unreal how delicious this w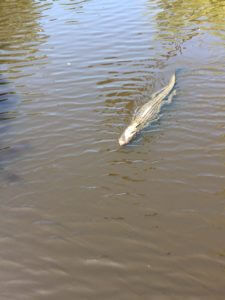 as. I can't stop thinking about it right now. After breakfast, we got ready to head to Palmetto Dunes. We rented bikes to use around the island because it's incredibly bike-friendly. In fact, I'd say they're a necessity! We absolutely loved riding around and exploring with them. There's a little pond known for having an alligator or two living in it s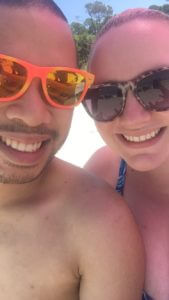 o we biked over there before hitting the beach. I can't believe it but one of them swam right under the bridge we were standing on. It was pretty damn insane to see what up so close to us.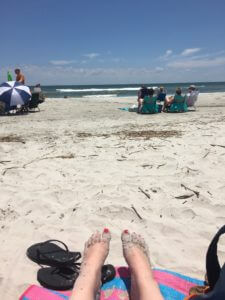 By the time it was mid-afternoon, we were ready to sit in the sand for a while. We went over to the beach on Palmetto Dunes for a few hours to relax. I read a little bit of my book, but we mostly chilled in the water. It was GORGEOUS and just the right temperature! I'm used to the ocean in Maine, which is ridiculously cold. After leaving there, we creeped around more animals (like turtles and ducks in the water near some of the villas) before heading back to the hotel to freshen up for the rest of the day and night.
There's a shopping area called Coligny Plaza that has a bunch of restaurants and a beach across the street, so we decided to bike down there. It was the farthest place we biked and it still only took about 20 minutes or less to get there! We had Kris pick the dinner location and when we pulled
up, we knew it'd be perfect. Bomboras Grill had some really great seafood items on the menu and everything just felt fresh. I tried some of Chris's AMAZING lowcountry boil and will definitely be making this at home! I needed something less fried and went for a grilled shrimp caesar salad. It was amazing and completely hit the spot. After dinner, we did a bit of celebrating and shopping. There's an awesome bar down there called the Frosty Frog Cafe, which has a bunch of slurpee machines (essentially) with alcoholic frozen drinks in them. There's some preeeetty strong alcohol inside so you really only need one to feel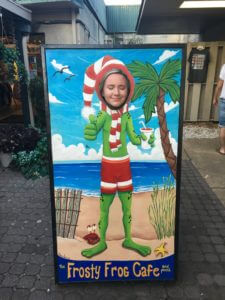 something! I tried the Tidal Wave, which tasted like a blue raspberry jello shot and definitely had an alcohol-y flavor unfortunately. After about half of it I didn't mind though 😉 It had 190 proof alcohol! Chris had an Incredible Hulk, which tasted like strawberry kiwi and was delicious, and Kris had something that tasted like a banana coffee almost. Both were soooo great and I was pretty jealous. The best part? They give you the drinks in styrofoam cups so you can leave the bar with them and shop! We got some souvenirs for ourselves and our families that night too, including fun Frosty Frog shirts and cups.
At night, we headed to the beach again to relax. It was super nice. We also hit up the Hilton Head Diner at midnight because we were craving some more food. I mean, that's what happens when you have big ass drinks – you need late night food! 😉 Overall, I think Kris had a great birthday. It was probably my favorite day there.
Saturday May 28th
In the first of two rainy days on the island, we had to do some non-beach-related activities (for the most part!). In the morning, it was actually not too bad out. We went to our new-instant-favorite breakfast place, Island Bagel Company, to have some bagels before starting the day. I got my usual mix (asiago bagel with veggie cream cheese) and looooved it. We heard that there was an art festival happening at a nearby resort (Shelter Cove), so we had to stop by.
We rode bikes there and had about a half hour before it started to rain. It was really just drizzling, so we weren't stuck in a downpour or anything. We ended up grabbing margaritas from one of the stands and it was one of my all-time favorite margs… and I've had a lot of them 😉 It was really pretty to check out the marina with all of the boats and rich people restaurants. Overall, even though it was raining, it was a nice afternoon!
We went back to the hotel and relaxed for a couple of hours before deciding to head out for dinner. Kris had previously gone to Giuseppi's Pizza & Pasta and said they had great food, so we went for it. There was an HOUR wait even though it was like 8:00 PM, so we roamed around the TJ Maxx next door. The pizza was worth the wait! Seriously delicious. We got a nice take-home glass from the 20 oz. beer, so that was great. After our late dinner, the boys decided to go out and ride bikes in the rain. They had fun while I enjoyed the comfy hotel room, lol.
Sunday May 29th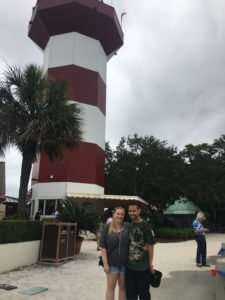 Sunday was another rainy one, so that was annoying. Again, totally could have been worse! We got our Island Bagel for breakfast (I tried a jalapeno bagel with garlic and herb cream cheese, which wasn't bad). After eating, we went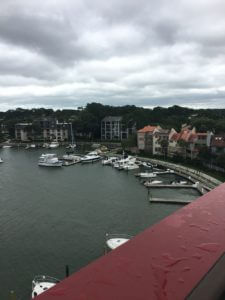 down to the Harbour Town area of the island, which is down by the Sea Pines area. I dunno, they were all the same to me 😉  We did some brief browsing of all of the little surf shops before heading to the main attraction. This area is known for the red and white Harbour Town lighthouse that I mentioned in my intro post. It was awesome because we got to go up to the top! It was gorgeous up there – we could see the whole marina, beach, and golf course. There are 114 steps or something like that and it actually went by pretty quickly and easily. After our visit to the lighthouse, we went to The Crazy Crab for lunch. The food there was decent but we loved our waitress! I got crab cakes and they were so tiny and not worth the price. Chr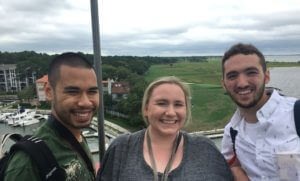 is got a seafood mix that was probably a better idea. In any case, we were glad we went by there. The rainy day was perfect for checking out the lighthouse and other parts of the island.
When we got home, we put our bathing suits on and rode bikes to the beach in the rain. It was quite an experience! Luckily the weather was still warm even though it was raining, so we didn't have any issues with getting sick afterwards. We even saw two dolphins swimming by while we were there! It was unreal; they were so close to the shore. I wish I was in the water at that time. Once we finished at the beach, we chilled at the apartment and prepared for dinner. I randomly came across One Hot Mama's American Grille, which had some good-looking barbecue food. We LOVED it. I got chicken wings (some sriracha and some regular BBQ) and could have eaten a billion of them. It was right down the road from us in a plaza with a lot of restaurants, so it was weird that we didn't come across that section earlier!
Monday May 30th
The sun returned on Monday, so we did our usual Island Bagel for breakfast (I tried a different bagel but don't even remember what it was, plus my veggie cream cheese) and then went to the beach. It was a wonderful beach day. We got one of those cool water balls that bounce on the surface of the water/ocean, so we spent a lot of time tossing that around. Because it's vacation and it's 5 o'clock everywhere, we got some drinks to chill with too.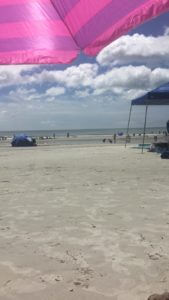 After the beach, we went back to the hotel and got ready for the day. We honestly weren't sure what to do with ourselves because we weren't used to nice weather! The boys wanted to go to the skate park nearby even though it was a million degrees. I hung out and watched them skate and can't believe I forgot a book! It was kind of boring for me honestly, but oh well.
I was pretty hungry, exhausted, and hot by the time they finished. On Saturday night we had wanted to go to a restaurant that had this singer playing outside but she got rained out. We decided to try the restaurant (Chow Daddy's) anyways on Monday night. I'm so glad we did! It was one of my favorite meals. They had a lot of hipster-y foods but they all tasted amazing. They specialized in these bowls that had different meats or fish and starches. I got a pulled pork + sweet potato bowl (and just bought these ingredients from the store to try them out at home soon!), Kris got a grilled shrimp + rice bowl, and Chris got a blackened fish + rice bowl. We all loved our meals, then tried their cookie ice cream sandwiches for dessert. Overall, a great night of food there despite the kind of weird environment.
Tuesday May 31st
For our last day on the island, we wanted to make the most of our time! We went to the beach first thing in the
morning after having some of the "continental breakfast" (terrible) at our hotel. We just hung around for about an hour so we could get back to check out in time. We got back from the beach, packed up, and checked out of the hotel to finish up the day.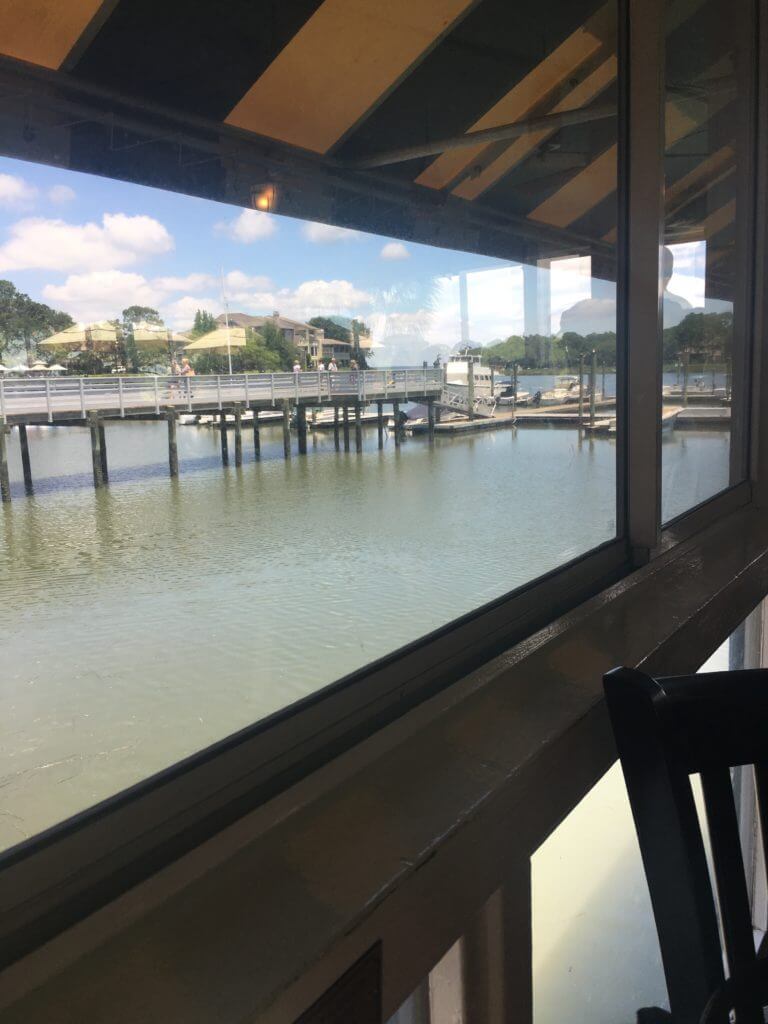 Kris had to do some laundry (yes, the day before we left…), so we did that first.
We took another drive to the Sea Pines area to have lunch at the Salty Dog Cafe, which is a huge tourist attraction on the island. We saw countless people wearing shirts from their tee shirt company throughout the trip. Th
e waiter we had was weird, but the food was great! Apparently they're big on pimento cheese down there (?!) so I got a grilled shrimp sandwich with pimento cheese and veggies. Damn, it was good. The boys got a burger and shrimp po'boy, respectively. After roaming a little and checking out the tee shirt shop, we headed back to "our area" of the island to get everything taken care of. We had the annoying task of returning the bikes to deal with. We rode them down to Palmetto Dunes, returned them, and walked back. We should have done it in the morning but oh well. It was soooo hot and terrible. At that point, we had no desire to mini golf anymore even though that was the original plan. We went back down to Coligny for final souvenir shopping. I got my mom her shot glass, as well as one for Chris's sister, plus a few other things I had my eye on. It was nice to get all of that done and chill. We stopped at the Piggly Wiggly grocery store to get stuff for our ride home, plus a few shirts! (They're too cute to pass up honestly.)
We departed the island around 5:30 PM and drove straight to Christiansburg, VA, which is right near Virginia Tech. We got there at midnight, which wasn't too bad! Also as a sidenote – we loved driving through Charlotte both ways during the journey! It was fun to see my Panthers stadium, both during the day and at night.
Wednesday June 1st
I originally wanted to leave no later than 7… then pushed it to 8… then it ended up being 9:30 AM. The boys were dilly-dallying all morning. We had a 9 hour drive ahead and I tackled the whole thing myself. Once I got going, I just didn't want to stop until we got home. We finally made it there at 8:00 PM and were able to avoid some traffic by getting off and on the highway, which was nice. It felt simultaneously crappy and amazing to be home. There's really no place quite like it, even if it means vacation is over!
Think you'd like HHI? Any plans to go?!
Related Posts