The Bookmark Lit Bulletin is a bi-monthly feature where I look back on everything I did and everything I plan to do next. Instead of participating in the weekly Stacking the Shelves or Sunday Post memes, I combine it all into two bulletins per month: one at the mid-month mark and one on the final day of the month. You can learn more and see past Bookmark Lit bulletins here!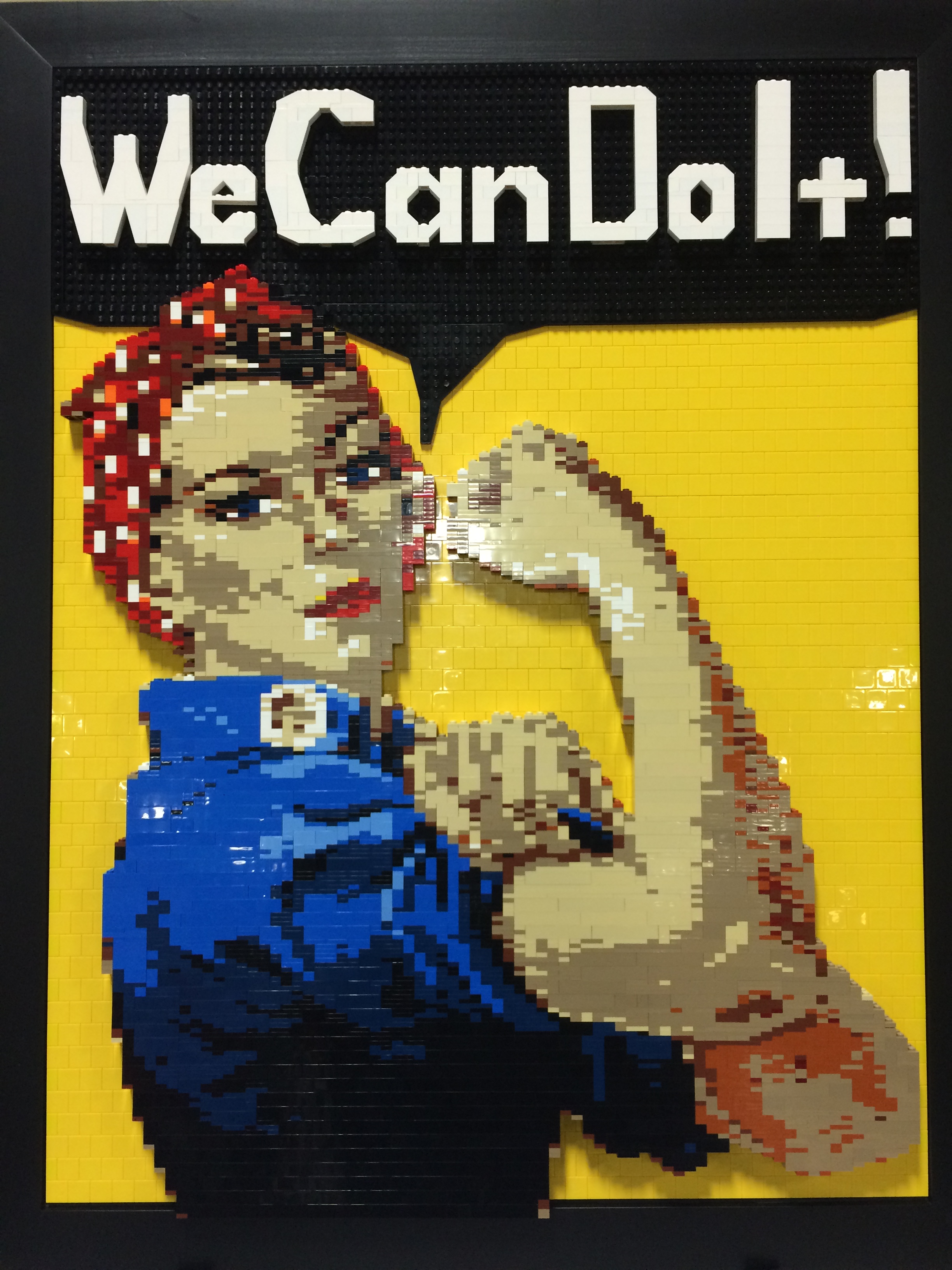 November has been fairly laid back so far, considering how busy I was through September and October. The first weekend was spent down in New Jersey for BrickFair 2014. We stayed with some friends and attended the Lego convention that weekend. It was a lot of fun seeing everyone's creations. It inspired us to get a little more creative with our Lego collection; instead of just building existing sets, we're hoping to design some of our own things soon. I love the mosaic style pieces, where the bricks can create an image. The Rosie the Riveter one impressed me the most! I remain obsessed with Taylor Swift's new CD, 1989. I finally reached the point where I have a few favorite songs that I can't stop listening to. "Blank Space" is my favorite, and I also LOVE "Style," "All You Had to Do Was Stay," "Out of the Woods," and "That's How You Get the Girl." I'm also (unnecessarily) getting hyped up on Christmas stuff and have officially abandoned pumpkin spice for the season. That's right – it's way before Thanksgiving and I'm ready for the good stuff of December. NOT ready for snow, but definitely ready for Christmas and related fun things. I didn't go out and do that much this month, but I've been thinking a lot about rereading books and have been making my list of books to start with. This month has been a HUGE four star read month! I can't get over how many books I've read that are consistently four stars. It actually makes me feel kind of stupid for some reason, but oh well – I can't control how the book ends up working for me.

My post about book ratings got a lot of comments! I loved reading people's comments. I think it's important to note that all bloggers have a voice that deserves to be heard. Just because your reviews are less critical, or you give higher ratings than other people, doesn't mean their opinion is less valuable. Lots of people seemed to enjoy my post about HOLIDAY THINGS! Yes, all caps are necessary. In this one, I shared the various holiday swaps, secret santas, readathons, and reviews I'll be posting on the blog. Hopefully people found it useful and joined me in some swaps! I already know my partner for the 12 Days of Christmas Swap and she is going to be very easy to shop for I think 😉 I also shared a discussion about trusting your bookish gut vs. taking risks. I get caught up in the blogger hype a lot, and talk about it on my blog a lot, but I was curious about other peoples' opinions that go beyond hype. If a book doesn't sound good to you but everyone else loved it, do you give it a try? Or do you trust your instincts? Some more recent posts, like the Top Ten Tuesday about characters I want to have their own books got a lot of love too. I broke it down into three categories: side characters I LOVED and want some more of, characters I want spin-off books about because I want to know what happens next, and characters I may not have loved but would be really interested in learning more about. Along the same holiday lines, people also checked out my page about the Ho-Ho-Ho Holiday Readathon! It was kind of a fail, since I read one book, but that DID actually meet my goal!
Challenges
Series-a-Month Challenge – Check out my post here. I'll be reading one series per month to help clear some of them off of my TBR list. You can keep up with my progress on this page. November's series has bee The Maze Runner! So far so good.
Ho-Ho-Ho Holiday Readathon – I only read one book for this, but that's okay! My goal was to do 1-2 books. I felt better finishing one holiday book early so I could schedule a review for December 🙂
Holiday Bingo – Between now and the end of the year, I'll be checking off boxes on my Holiday Bingo card. I completed three books in October for the challenge and so far only one for November.

Reread – I'd Tell You I Love You But Then I'd Have To Kill You by Ally Carter
Romance – Just Like the Movies by Kelly Fiore
Witches – Trial by Fire by Josephine Angelini
Set during Christmastime – Dash & Lily's Book of Dares by Rachel Cohn and David Levithan


Physical Books:
Let It Snow by John Green, Maureen Johnson, and Lauren Myracle
Aristotle and Dante Discover the Secrets of the Universe by Benjamin Alire Saenz
Percy Jackson books 1, 2, and 4 by Rick Riordan (borrowed from my little sister!)
Kindle Books:
Ignite by Lily Paradis
Percy Jackson book 3 by Rick Riordan (for my sister because she somehow didn't have this one; I let her borrow my old Kindle like a nice sibling would do)
The Theory of Opposites by Allison Winn Scotch
My True Love Gave to Me by Stephanie Perkins (WON in the Ho-Ho-Ho Holiday Readathon Giveaway!!)
Audiobooks:
The Maze Runner books 1-3 by James Dashner (from my boyfriend)
Library Books and Audio:
Only the Good Spy Young by Ally Carter – audio
Out of Sight, Out of Time by Ally Carter – audio
Tumble and Fall by Alexandra Coutts – physical


Not sure what'll be happening the rest of November! I have a few things I may be doing with friends at one point or another, but nothing is set in stone. I'm slowly compiling gifts for my swaps and secret santas too; I already have four things for my 12 Days of Christmas Swap partner. I also need to get going on Christmas gifts for family members! For bookish things, I have my Book Buddies review coming up with Kaitlin at the end of the month; we'll be reviewing Shadow and Bone by Leigh Bardugo. I just started it this week and so far so good. Otherwise, I am hoping to crank through some of the books on my Holiday Bingo card. I really need to whittle down my TBR so I know exactly what books I want to read by the end of the year. As you saw on my holiday post, I have a bit of things going on around the blog for December, starting with my Holiday Reads segment! You'll see holiday book reviews every Monday and Friday throughout December. There will be one review ON Christmas, which is my Book Buddies read of My True Love Gave to Me with Cristina. Later today you'll see my Getting to Know You Blog Hop Giveaway post also! 😉


By the end of the year, I have some major bookish goals to achieve. I plan to:
Finish the Private series (hopefully/finally)
Start and finish two series by the end of the year for the Series-a-Month challenge
Have a strict book buying ban: only library books and books I currently own between now and the end of the year! I have to spend money on friends and family instead of myself
Finish my Gallagher Girls reread via audio
Related Posts