Books Gifts I Hope to Find Under My Tree
Top Ten Tuesdays were started by The Broke and the Bookish and are now hosted by That Artsy Reader Girl, where we make lists of our top ten books (or something else!) based on that week's prompt. The topics are provided ahead of time and can be found here. Book links bring you to Goodreads or my review.
I actually didn't ask for many books this Christmas, so I thought I would do what I usually do – here's what I hope to find under my tree in general. I had different wishlists for my dad, mom, and Chris, so this will be from my Amazon wishlist for dad 😉
---
Clothing
Leopard print tee shirt | Colorblock sweater | Joggers
I've been following a lot more lifestyle/fashion-ish people on YouTube lately and many of them swear by these tops! I also randomly found the joggers while browsing and I need some new pairs.
---
Household
Pasta cooker | Oven mitt set | Macrame decoration
My friend has the microwave pasta cooker and I've been thinking about it ever since. I want to make more pasta; the number one reason I avoid it is because I hate waiting for the water to boil and cook it haha. I also want a Panthers oven mitt set and little macrame decor item.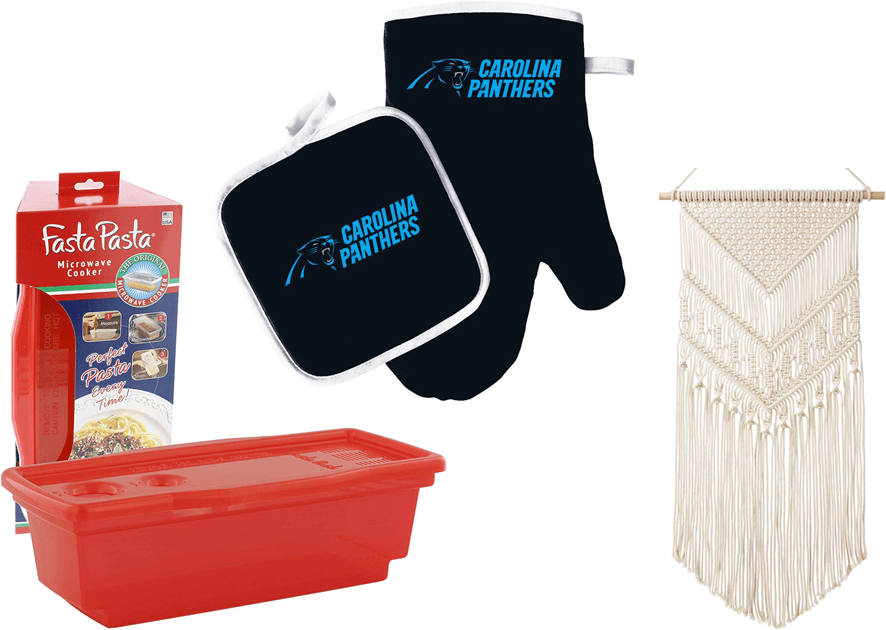 ---
Books and Bags
Structured bag | Panthers insulated tote | SIGHTWITCH | STRANGE PLANET
I have two bags on my list and two books. I still need a physical copy of SIGHTWITCH and definitely want the cute coffee table book from Nathan Pyle's comics on Instagram. For bags, I want a large kind of structured tote. I always lug things in and out of my office and struggle with fifty bags, so hopefully I can carry everything I need in this one. I want the insulated tote for groceries and bringing food items to parties – bonus that the Panthers logo is on there 😉
Related Posts