Five on Friday displays the the top five things that have been on my mind this week! It could be book-related, but it may be music, movies, TV, personal life, food, etc. Previous posts can be found here!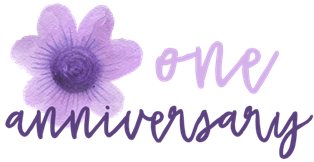 As of September 16th, Chris and I have been together for three years. It honestly feels like forever while also feeling like no time at all. Does that make sense? He and I definitely get caught up in the routine from time to time; we spend time together without actually spending ~time~ together. Sometimes we get into bed at night and I feel like I haven't really talked with him, even though we were together all night. It's nice to take some time to celebrate anniversaries and special occasions because it reminds you of how long you've been together, and not to take any of it for granted. We celebrated our anniversary by getting sushi at the restaurant we had dinner at for our very first date.
Of course, if you asked me at that time if that dinner was a "date" in my mind, I would have said no! I didn't exactly get the hint right away. Chris and I went to high school together and were friends there. He was even friends with my then-boyfriend and spent a good amount of time in our group. After graduating and being at college for three years, we hung out again because he was best friends with a girl I had been spending a lot of time with. We spent time together at a party, at her house, and then one-on-one. It happened slowly and quickly at the same time… again with the oxymoron but maybe you get what I mean. Either way, I'm so glad that I found him and that we have been together for this long. There's no one I'd rather spend my time with, even if we're both sitting in the living room doing different things. He makes me laugh more than anyone. (Is it just me or is he the only one who looks different in those pictures?! His hair changes more than mine does!)

Chris and I finally went on our long-overdue and well-deserved vacation to Charlotte, NC! Obviously Charlotte is the home of my Carolina Panthers, so we went down to see a game. Back in 2012, we went down for the first time to see the Panthers. I cried entering the stadium, during the play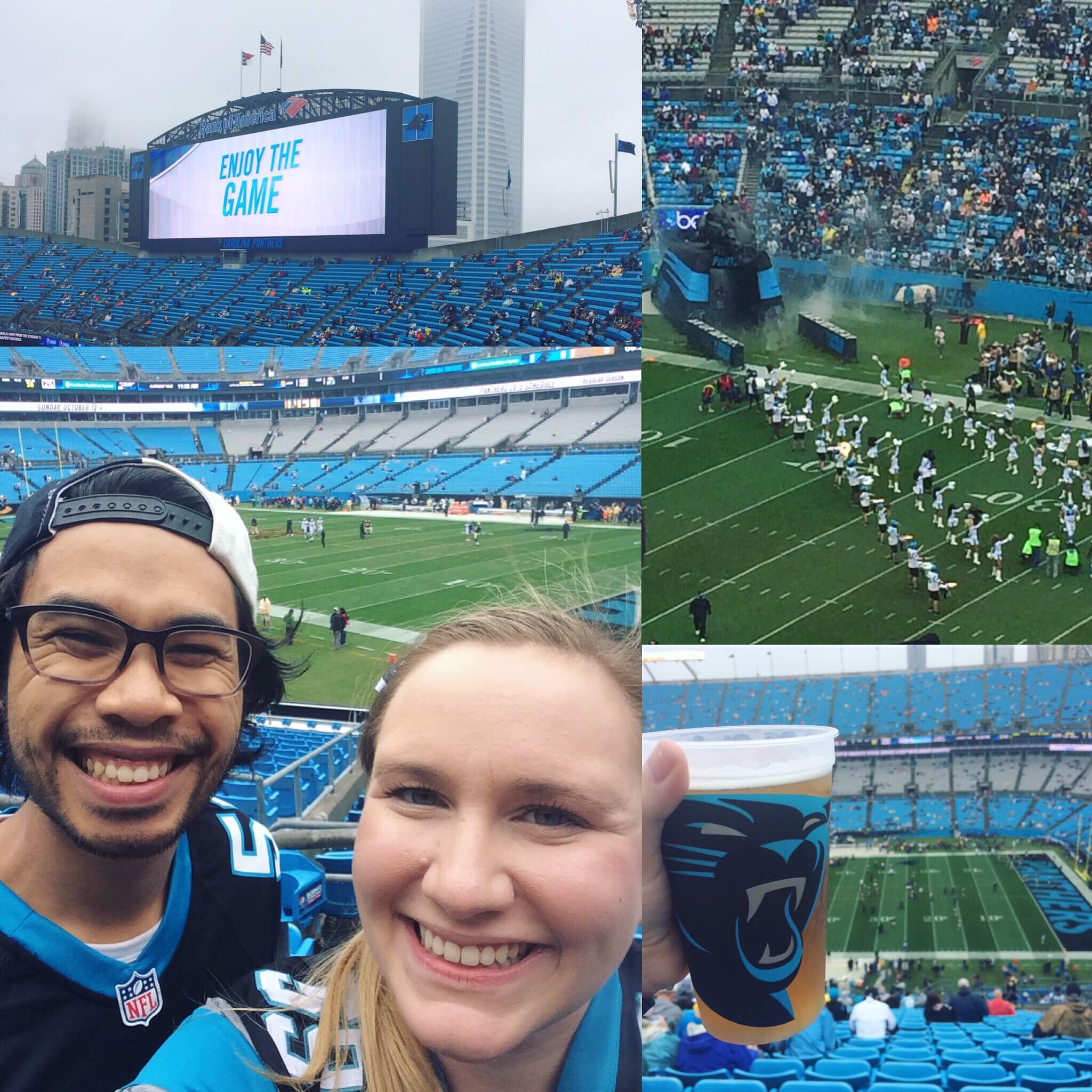 er introductions, and randomly throughout the game. I was hoping I would be able to reign in the tears for this visit, but I did cry a couple of times! It's just too emotional to be surrounded with all of my people and not worrying about a million Patriots fans surrounding me at all times. We arrived on Thursday in the morning and weren't able to check into our hotel until 3 or 4pm. We ended up walking around the city for hours and getting completely exhausted. We got 20,000 steps that day on our Fitbits! It was intense but pretty fun. We were so happy once we were able to lay down on the bed. We went to a little park, the Panthers team store, and had Firehouse Subs for lunch (soooo good). On Friday, we went to the modern art museum that we weren't able to check out during our first trip and spent some more time walking around the city. We had Queen City Q for dinner, which is definitely some of the best barbecue around. On Saturday, we went to the 7th stre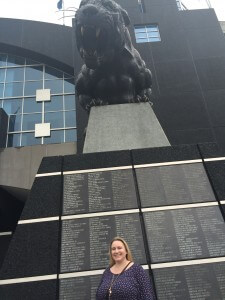 et market for lunch, which is full of little lunch shops and a lot of organic stuff we don't care about (lol). We got some sandwiches and went back to the hotel to relax. I've never walked so much in my entire life. Anyways, we ventured out to the NoDa area of Charlotte, which is a more artsy part of town, to have Bourdeaux's for dinner – amazing cajun food. I got some of the best fried chicken I've ever had and we both had some gumbo. Sunday was finally gameday! We had some breakfast and went straight to the stadium. Of course it was raining ALL weekend, but at least the dryest part was during the game! The Panthers won and it was a bit of a nail-biter, but we saw some amazing moments that we won't forget. After the game, we were soaking wet and went the wrong way out of the stadium. It was a pretty happy accident though because we ended up seeing some players walking out to their cars!! It was insane and I wish I got pictures. We were literally a few feet away from Luke Kuechly, my baby. Monday finally came and we had kind of run out of stuff to do! We had lunch, visited my friend's mom that lives there, and went to see a movie. It was one of those cool movie theaters that serves food, so I got a milkshake as we watched The Scorch Trials. The movie was good in general, and certainly action-packed, but OF COURSE it was nothing like the book. I try to keep the movies and books separate in my mind. We flew home that night around dinnertime and made it back to our apartment by 9:00, so we were able to catch some football and go to bed. We were VERY glad that we also took Tuesday off as a bonus day to relax at home and unpack. I seriously love Charlotte and have always wanted to live there, but Chris and I decided that city life is probably not for us. We like museums and restaurants as much as the next person, but we're not big on bars and other "going out" types of activities at night. We would be really boring city people if we ever moved there.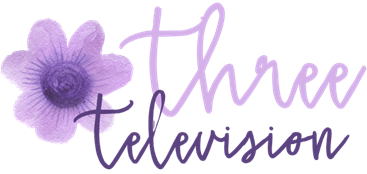 This category definitely explains the next one, because TV has become more of a staple in my life again! I have been CRAVING television shows and wanting to get back into binge-watching things. Because I've been blogging for over a year, I really haven't sat down with the TV as often as I used to. I like to read a lot more and would make myself feel bad for watching TV instead of reading. I've definitely stopped that (it helps to be 7+ books ahead on my reading challenge). I've been binge-watching Friday Night Lights in bed before work. I seriously have so many other shows to continue watching or finish the previous season, too! (Devious Maids, Chasing Life, and Finding Carter) Chris and I started Heroes Reborn, Wet Hot American Summer, Game of Thrones, Daredevil, Blindspot, Twinning, and The Muppets. We've also been watching the new seasons for Modern Family, Orange is the New Black and Fresh off the Boat. This doesn't even include all of the new shows we're thinking about watching (or I want to watch and have to see if I can convince him that he wants to watch too): Limitless, Blood & Oil, Grandfathered, Scream Queens, and Quantico. We watched the Coven season of American Horror Story but that's it; I really want to pick up again for the new season. Either way, I CLEARLY have more than enough shows on my plate right now… and I still feel like I'm missing some. I started using Sidereel to track shows I want to see, already watched, or am in the middle of. I was using the iShows app, which was okay, but I like Sidereel better. (If you use Sidereel and want to be friends, find me here!)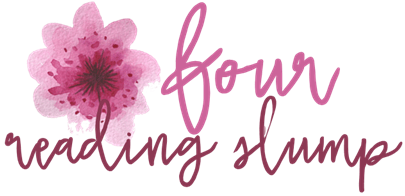 Part of the reason I'm in a readin
g slump is because of the previous item: television. At night, I would rather veg out in front of the TV with Chris and watch something. I don't feel like reading anymore, except right before bed. Even then, I don't do it as much. Another reason is that I'm fucking burnt out. I love reading and books and blogging more than anything, obviously, but I've been GO GO GO with this whole thing for a year straight. Don't get me wrong, it's all a lot of fun and I have absolutely zero thoughts of quitting this whole thing… but I just don't feel like reading right now. I've been "reading" Six of Crows for about a month now. It's pathetic because Leigh Bardugo is queen and I like it a lot, but I just have no motivation to read it. I got the audiobook the other day, so I think that will help. I plan to get to that one after I finish my current audio reread of Harry Potter and the Half-Blood Prince. I'm about halfway through, so I'll probably finish in a couple of weeks. I also had a book club choice (The Sacred Lies of Minnow Bly) that I really had NO desire to read. I powered through and liked it a good amount, but I just never wanted to read it. It didn't help that it was the book I brought with me on vacation and to read on the plane. Instead of reading in the hotel, we watched nonstop ESPN and NFL Network. I know I should cut myself some slack because September is obviously a busy month for me (between my birthday, friends visiting, our vacation, football starting up, etc.) – AND I still did read 10 books! It's nothing compared to the whopping 25 during July, but I think that's part of my problem. I need to read, enjoy the books, and let the rest goooo. (Plus, reading in the fall/winter is my favorite because of hot chocolate and cozy nights.)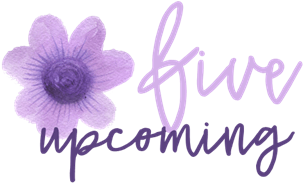 I talked about this a little in my wrap-up from last month, but there are some fun things coming up in October! I can't believe we're already in October, by the way. Good lord. Chris and I plan to go to New Jersey to stay with my friend for a night or two, because we're going to see The Room in theaters with the creator in the audience. I don't think I could ever explain the sheer brillance and terrible-ness that encompasses this movie, so try here. It's Chris's dream to see the movie in theaters – especially with Tommy Wiseau in the audience – so we knew we had to do it. Chris's birthday is coming up so we have some Lego-related plans (duh). I also want to build another blanket fort in our living room! We got a new entertainment center and got rid of a couch, so there may be an even better fort-environment this time around. I've been getting back into television, as I've mentioned a bunch, and will be trying to come up with some books to get me out of my slump. I also took a break from using my planners for… too long… so I'm back at it with my Erin Condren and my Foxy Dori! I bought some fun stickers to use in the planner for football season and October. I've been wanting to come up with some fun blog features too, so I hope to have some fresh ideas this month. Also, new month = new Secret Sister package to send and receive! Can't wait to plan.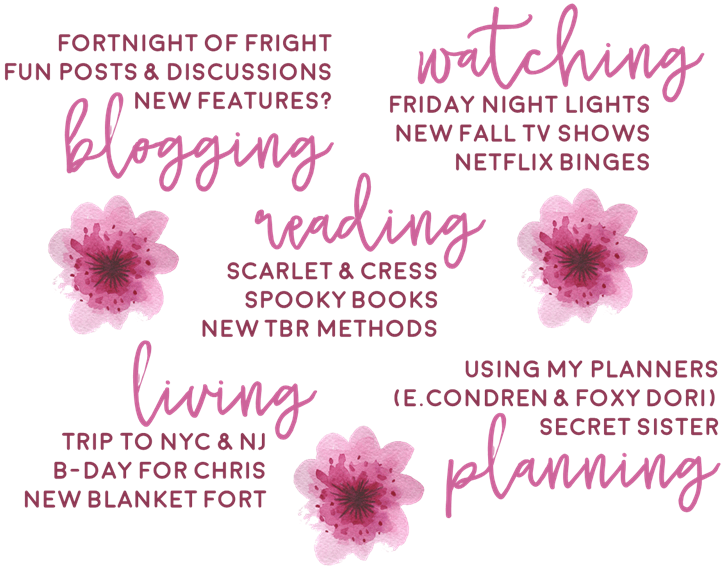 Related Posts