Today I'm introducing a "new" meme on Bookmark Lit. Friday Finds was getting to be too much work for me each week – I generally add a LOT of books to my TBR list each week. It took way too long to get the book images, create a post, link to the Goodreads, etc. If I only added a handful of books it wouldn't be an issue. Regardless, I've seen this sort of post on a number of blogs lately but none of them seem to be attached to a specific meme. (Just to give some credit where it could be due, I've seen this kind of thing on Hello, Chelly! and Rosie Reads). This meme will basically be the top five things that have been on my mind this week! It could be book-related, but it may be music, movies, TV, personal life, food, etc! Without further ado, here's the first Five on Friday!
I'
ll admit that I didn't like this song at first. I miss the old T.Swift with her country songs and long curly hair. However, once I went to my college for alumni weekend, my friends and I listened to it literally on repeat and I haven't been able to stop yet. It's now one of those songs that reminds me of a super fun weekend with friends. I tend to scream it and go crazy in the car when it comes on, just like my friends and I did. My boyfriend said he could just picture the three of us doing that all weekend. (I'm listening to it right now…CAN'T STOP WON'T STOP MOVINNN.)
I posted yesterday about my blogging schedule, which has been something I've been thinking about a lot this week. I tend to be a perfectionist when it comes to being organized and having everything planned out. Just ask my boyfriend – we can't do anything without me planning it out until it's not as fun and spontaneous as it could be. I've become pretty anal about scheduling posts and reading, but it's the only way I can keep everything organized! I started using Google Calendar to plan out my reviews, posts, memes, etc. – I color coded everything based on if it's complete or still needs to be worked on. It's much easier to see when I need to read certain books or make certain posts. Lately things have been crazy because I tend to overdo it when it comes to signing up for bookish things. I'm currently in two ARC tours (and a blog tour for one of the ARCs), so I've been reading all of my books around that schedule. I normally like to read casually and just enjoy it… I need to get back into that and stop putting so much pressure on myself! Library books can always be renewed and I will always own the books on my physical TBR shelf.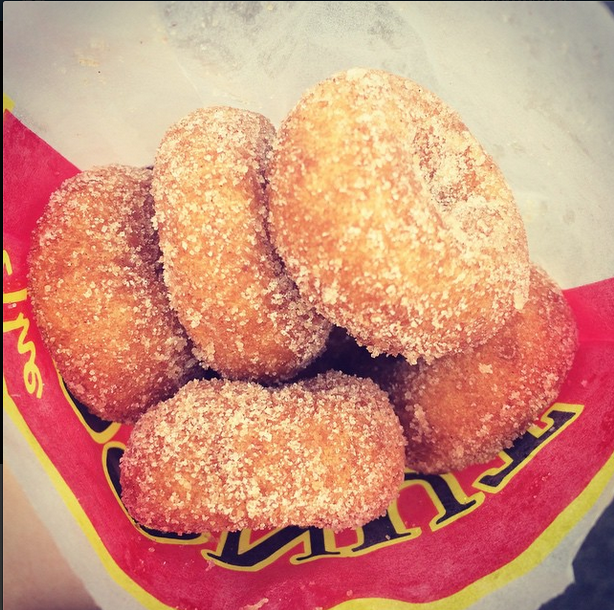 If you're not from New England (or maybe more specifically Connecticut or Massachusetts), you have no idea what this is. The Eastern States Exhibition – more commonly known as the Big E – is a HUGE fair that comes to Springfield, Mass. every September for about three weeks. It has all the gross fair food you could eat, as well as rides, tents full of clothes and crafts you don't need, and a whole building that has products that can only be described as "shit you could see on an infomercial." I normally go twice per year. My boyfriend actually asked me out at the Big E two years ago, so we've made that a tradition for our anniversary. My mom also likes to take off time from work to go with me once a year too. They have cool state buildings for Connecticut, Massachusetts, New Hampshire, Vermont, Maine, and Rhode Island, where stores/restaurants from those states come in and sell their stuff. It's such a fun outing for fall time. On the side you'll see a picture of my favorite thing of all time to eat at fairs – my mini donuts! <3 
THANK GOD FOR THIS UPDATE. I can't believe it's finally happened. Goodreads needed a major update to their app; I was so excited to see a major overhaul. The Updates feed was always impossible to read and never even showed the full book image or title. It was impossible to update progress in the book you were reading. They've made it so much easier to use for pretty much every feature! Of course, Goodreads still has a long way to go before bloggers fully enjoy it. (Ahem, half stars PLEASE!?)
My boyfriend is not a drinker at all. We used to never really keep beer in the fridge or casually drink them at night while watching TV. He's suddenly changed his attitude towards drinking now and we have been exploring the many flavors of my favorite beer: Shock Top. We have a variety pack in the fridge right now that has some great fall flavors. Our favorite is the Raspberry Wheat. It tastes amazing without adding an orange, but of course it's basically mandatory to add one to most Shock Top flavors (especially the original). The Honeycrisp Apple Wheat is pretty good, but it tastes more like a hard cider than a beer. We also have the Belgian White and Pumpkin Wheat in the variety pack, but haven't gotten a chance to try them yet because we both got sick and didn't think drinking would help (lol). Pumpkin beer is a must for me during the fall season, but I generally don't stray much from Shipyard Pumpkinhead. On my birthday I tried Leinenkugel Harvest Patch Shandy, which was by far the best pumpkin beer I've ever had, but I haven't been able to track it down anywhere in the store 🙁
Related Posts