It's no secret that one of my favorite features is Cover Snark at A Reader of Fictions. I usually add 90% of my unreleased books to my TBR from these posts. I don't want to take a page out of her book here (weird sort-of pun?) but I did want to share some recent book covers I've seen that I added to my "cover love" shelf. You've seen this post on my blog in one way or another for years, because you know how I feel about covers, but here are some unreleased books with covers I am looovin.
Covers I Already Love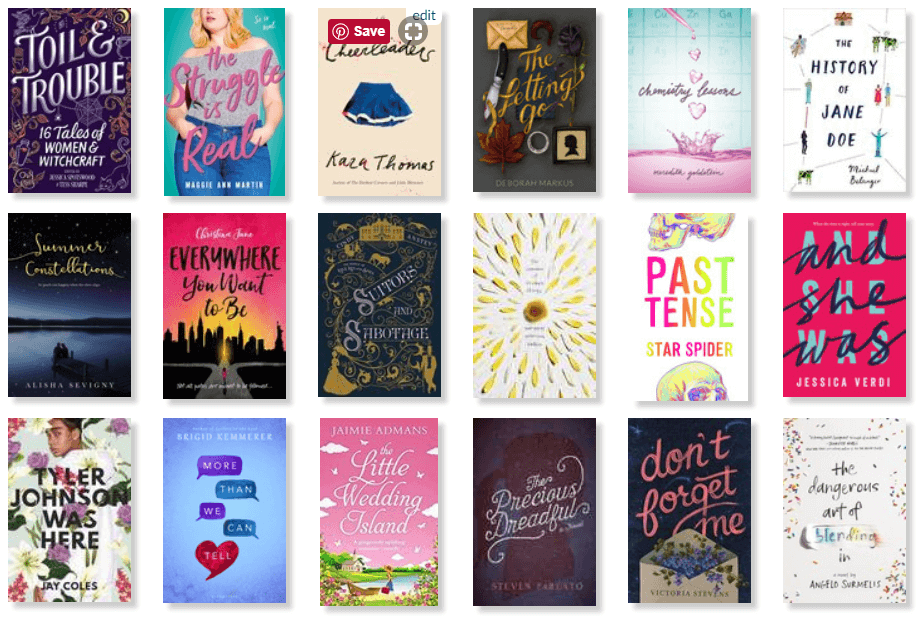 See all the books here.
---
Covers I Can't Wait to See
I always keep some books on my "jazzed up for this" shelf so I can remember which synopses really grabbed me. There are quite a few books on this shelf in any given moment, so I wanted to check out which books I can't WAIT to see covers for! Here are a few…
Synopsis: Simon Pulse has bought a YA title by Jenn Bennett. In Serious Moonlight, a mystery aficionado spends the summer before college knee-deep in both intrigue and a romance with her charismatic co-worker while working the night shift in a Seattle hotel. The book is scheduled for 2019.
Why I'm excited: I love Jenn Bennet in general and this book sounds so good! I've enjoyed her other covers for the most part and think they usually fit the book pretty well, so I have high hopes here. I feel like it's an nice complement to ALEX, APPROXIMATELY with the whole workplace love interest. The hotel part seems like a lot of fun.
What I hope for on the cover: I'm predicting that it will look like her recent book covers, with some kind of fun and relevant scene with two main characters.
---
Synopsis: Pitched as The Holiday meets My Big Fat Greek Wedding, the story is about a girl who breaks up with her boyfriend before the holidays and finds herself set up by her family, all eager to help mend her broken heart, on 10 blind dates over 10 days. Publication is scheduled for fall 2019.
Why I'm excited: This book sounds really cute! I like the two movies they used as comp titles (which is kind of funny, that there's no book comps there). I'm wondering if this will be an actual holiday book or just one that takes place during that timeframe.
What I hope for on the cover: I'm definitely hoping for an illustrated cover for some reason. I feel like 10 little guys and 1 girl would be cute. Not sure how it would be arranged but I just want something illustrated. Maybe the cover design will also clear up if this is a holiday book or not!
---
Synopsis: Pitched as Mean Girls meets The Tudors, the book is a modern-day imagining of Henry VIII and his six wives (or, in this case, high school girlfriends), told from the perspective of Annie Marck ("Cleves"), a 17-year-old aspiring journalist from Cleveland who meets Henry at summer camp. Publication is slated for winter 2019.

Why I'm excited: Honestly this synopsis had me at Mean Girls. I enjoyed the last Henry VIII retelling set in high school that I read so I hope this one also holds up. I like that this includes all of the girlfriends/wives instead of just Anne. I also love summer camp books so we'll see how that part factors in.
What I hope for on the cover: I'm picturing something somewhat similar to the last cover I described, where there are multiple girls facing off against Henry?
---

Synopsis: A thriller pitched as If I Stay meets Freaky Friday, about two girls whose lives become mysteriously entwined after an accident on a rain-washed road.

Why I'm excited: I wish this wasn't a thriller because it sounds like it would be an interesting contemporary as well, because I do love books involving people switching bodies! I'm curious about how the thriller part comes in though, so I'm definitely still excited.
What I hope for on the cover: I'm actually not sure what to expect here. I think truthfully I'm a bit more excited for the book than the cover itself. I have a feeling it'll be something kind of lame with two faces split down the middle or something. I don't usually like faces on the cover so I hope they do something different. I'm also excited for the full synopsis to figure out what else might be on the cover.
---
The Comfort Zone by Sally Thorne
Synopsis: From the author of THE HATING GAME comes a poignant and laugh-out-loud novel, perfect for summer, about sisters, love, and the risks that can lead to the biggest rewards… First time (blockbuster!) author Emma Carson believes that drama belongs in books. It's why she's been building a tranquil new life in London, away from her wealthy, distant father and her D-list celebrity half-sister, Claudia. But when Emma's writer's grant ends and she heads home to New York- with a pitifully underweight draft novel to explain to her editor- she finds her Dad is being extorted- again- and Claudia has been assigned a bodyguard. Alexei Aristov is big, quiet and gorgeous, despite his scars – and the first rule he learned in Bodyguard School was to not get involved with his clients. Especially if there's a spark. If Emma can just finish her book in solitude, decide on London or New York, and repair her relationship with Claudia, she can end this chapter nice and neatly. But real life can't be edited, deleted or skipped over. Emma thinks this is going to be easy? Famous last words!
Why I'm excited: Truthfully, I don't love the synopsis of this. The bodyguard thing doesn't appeal to me. The only reason this is here is because I LOVED the author's debut.
What I hope for on the cover: I hope it's another cute illustrated cover, like the first book! I definitely hope they keep it consistent because it really matches the fluffy inside. The cover definitely made me want to read THE HATING GAME too.
Related Posts