As you know by now, Bookish Bingo is one of my favorite challenges to participate in. I love completing the boards slowly and then learning what's going to be on the new one! It's always fun to see a fresh sheet. I usually do very well (either fill the board 100% or miss just a few spots). This one looks really possible to fill the board again and I'm determined to do it! Here are some TBR options (based on books I was planning to read).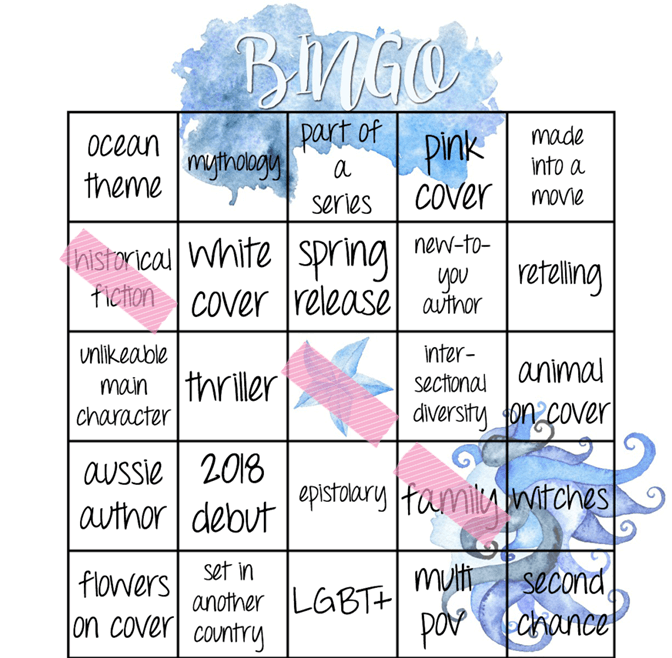 Reading, finished, and up next:
Family: Legendary by Stephanie Garber
Historical fiction: My Plain Jane by Meadows/Hand/Ashton
Part of a series: Down Among the Sticks and Bones by Seanan McGuire
CARAVAL is very family-oriented, as the whole book involves Scarlett looking for her sister, and LEGENDARY is similar. I don't remember the synopsis so I won't spoil anything and am too lazy to check… Let's just say that the family theme definitely continues. MY PLAIN JANE is a historical fiction technically, but it's not as historical fiction-y of a retelling (wow, what weird phrasing…) as MY LADY JANE. It's based on a retelling of JANE EYRE but technically the plot happens back in the day, so it counts. The Wayward Children series continues with book two here, so that counts in a series (even though I guess it's actually a prequel and not #2).
Possible TBR: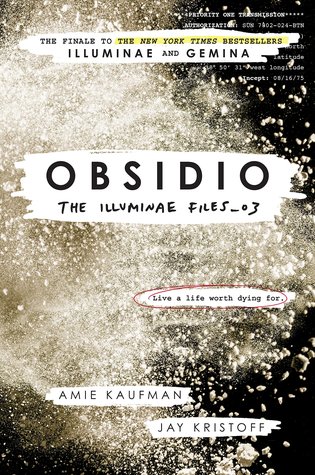 Ocean theme: No Filter by Orlagh Collins
Unlikeable main character: She Regrets Nothing by Andrea Dunlop
Aussie author: Obsidio by Kaufman/Kristoff
NO FILTER has an ocean on the cover, obviously, so when I double checked the synopsis, it does have a beachy setting. Perfect. SHE REGRETS NOTHING seems to have an unlikeable main character but frankly I won't know until I start reading. This slot is definitely subject to change but I wanted to put a placeholder in. OBSIDIO was written by twooo Australian authors, so double bingo there 😉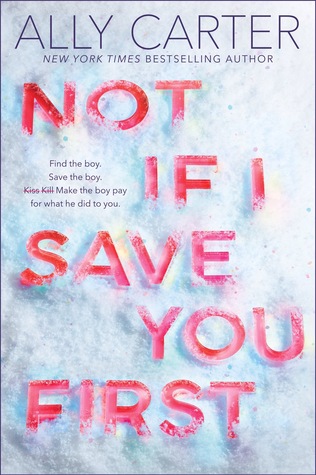 Flowers on cover: Sweet Laurel Falls by RaeAnne Thayne
Mythology: Oh. My. Gods by Tera Lynn Childs
White cover: Not If I Save You First by Ally Carter
I've been slowly working through the Hope's Crossing series, reading one book per month. I'll be on SWEET LAUREL FALLS in March or April, depending on my mood and huge library TBR. I've had OH MY GODS on my owned-TBR for literally 10 years. I've always wanted to give it a shot and this bingo square is a good opportunity for it… as long as I can find it somewhere… NOT IF I SAVE YOU FIRST was definitely the first book I thought of with a white cover. I love it even though it's super simple. Andddd new Ally Carter! Wooo.
Thriller: The Elizas by Sara Shepard
2018 debut: Nice Try Jane Sinner by Lianne Oelke
Set in another country: The Wonder of Us by Kim Culbertson
I can't believe I haven't read THE ELIZAS yet because of how much I love Sara Shepard. I had NICE TRY JANE SINNER on my TBR last time around for bingo because the prompt was here too. I still have it out from the library because I never got around to it, so I'm happy for the excuse here as well. THE WONDER OF US is in my library stack, so I hope to read that book set around Europe for that "another country" square.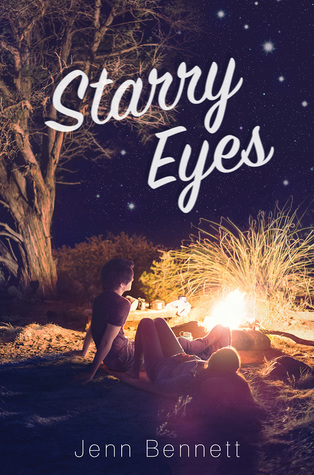 Spring release: Starry Eyes by Jenn Bennett
Epistolary: Everything Must Go by Jenny Fran Davis
Second chance: The Beau and the Belle by RS Grey
 I love Jenn Bennett; her books have been wonderful so far. Cristina and I are doing some Book Buddies for STARRY EYES so I know it'll be appearing in my bingo card for a "spring release." EVERYTHING MUST GO is told through "a series of letters, emails, journal entries and various ephemera," so I'd say that counts as epistolary, no? I'm calling TB&TB a "second chance" here because I started to read the first few pages a month ago and it didn't stick for me at the time.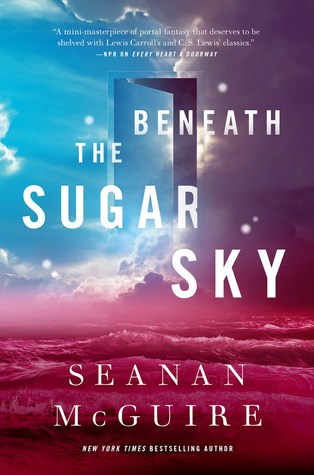 LGBT+: People Like Us by Dana Mele
Pink cover: Beneath the Sugar Sky by Seanan McGuire
New-to-you author: The Earth, My Butt, and Other Round Things by Carolyn Mackler
PEOPLE LIKE US is one I've been excited for for a long time! It's a thriller, which could work in that slot for bingo, but I'm going to use it here in the LGBT+ category instead. Again, I'm working on the Wayward Children series, so BENEATH THE SUGAR SKY will fit nicely here for a pink cover (on the bottom, okay?). I wanted to read TEMBAORT (longest, weirdest acronym ever) when I was younger but was always wondering what my parent would say if I pulled that title off the shelf. LOL. In any case, I got the follow-up novel for review and would love to get to it soonish. I'm excited to see what I was missing all those years ago!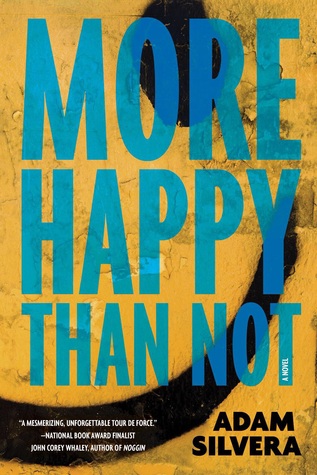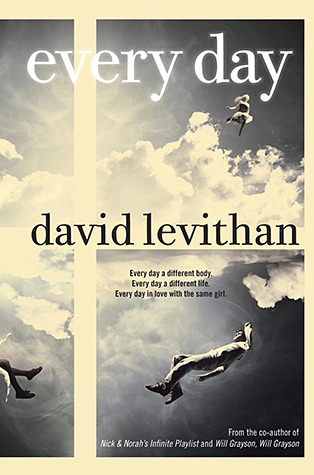 Intersectional diversity: More Happy Than Not by Silvera
Multi-POV: A Court of Frost and Starlight by Sarah J Mass
Made into a movie: Every Day by David Levithan
I've read two Silvera books and I'm pretty sure they both got 4.5-5 stars from me, so there's no sense in delaying MORE HAPPY THAN NOT any longer. ACOFAS is coming out at the beginning of May and I'm trash so I'll be reading it immediately upon its release. The book will alternate between Feyre and Rhys, so I'm counting that as multi POV even though it's maybe technically dual. And finally, EVERY DAY has been on my radar for years and this gives me a good excuse to read it – I want to see the movie!
Retelling: Disenchanted by Megan Morrison
Animal on cover: The Case for Jamie by Brittany Cavallaro
Witches: Toil & Trouble edited by Spotswood/Sharpe
The first book in the Tyme series was so cute but it didn't feel like a series I wanted to binge-read at the time. For the retelling square, I'll finally embark on DISENCHANTED (about Cinderella). There's a small horse on the cover of THE CASE FOR JAMIE, so I'm going to count it for sure. This was originally going to be the final book in a trilogy but now they've added a fourth after this. Wee! TOIL & TROUBLE doesn't release until August but I have a feeling I'll be reading it sometime this spring. Anthologies have been calling my name lately and this one seems so fun.
Related Posts