Books to Read by the Pool or Beach
Top Ten Tuesdays were started by The Broke and the Bookish and are now hosted by That Artsy Reader Girl, where we make lists of our top ten books (or something else!) based on that week's prompt. The topics are provided ahead of time and can be found here. Book links bring you to Goodreads or my review.
I posted my summer TBR (bingo and otherwise) last week, so I'm going to use this space to recommend some summertime books for you. I love reading fluffy contemporaries – bonus points if they're actually set in a beach/lake town – by the pool or while I'm laying on the beach. Here are some of my recent favorites that fall into this "throw into your beach bag" category!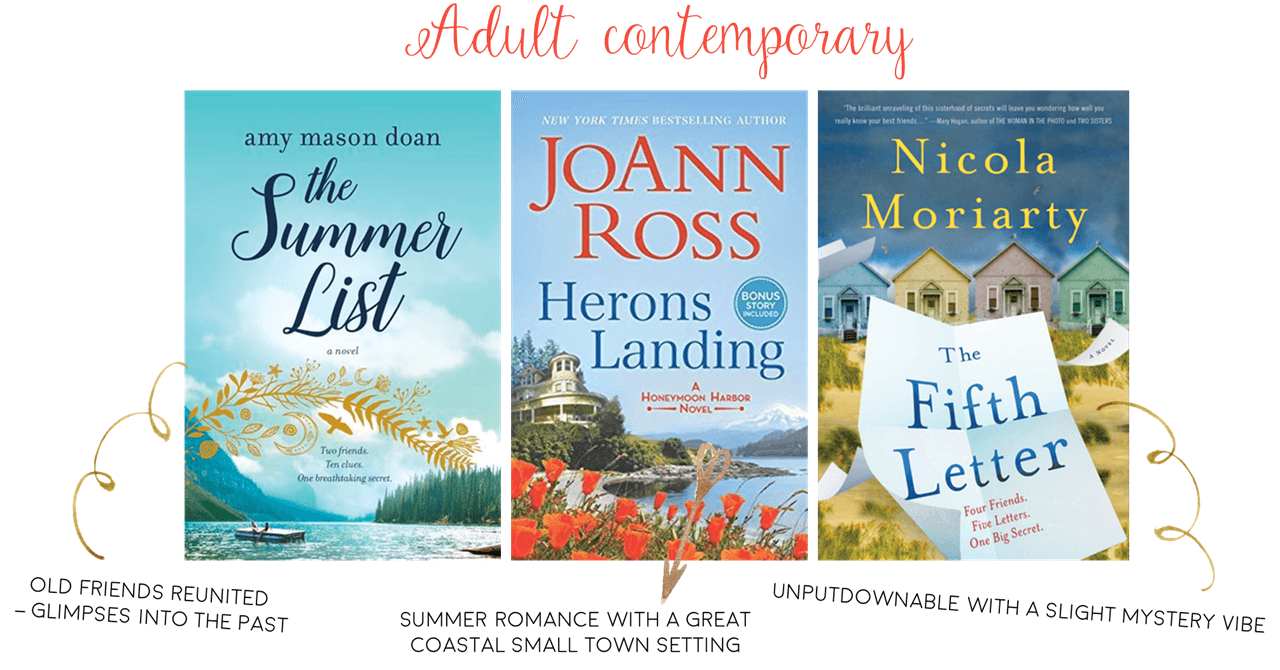 There are always a lot of adult contemporary books that I love reading in the summer. There are books with great beach settings, people returning home to their small town for the summer, and even some mysteries to be solved. These three were all pretty addicting reads for me and I'd love to have any of them on the beach to read! THE SUMMER LIST involved two old friends forced back together to complete a scavenger hunt. There were glimpses of the past mixed in throughout, so you got a really good sense of their friendship and how it went wrong. HERONS LANDING is a promising series-starter set near Seattle in a cute small town. It had a nice romance and the whole "returning home for a second chance" vibe – great for a beach read. THE FIFTH LETTER was a book I literally could not stop reading last year. It involved four friends and five letters they wrote one night… one letter was never meant to be seen and contained a pretty serious secret. Shit got crazy and I highly enjoyed trying to figure out what was going on.
---
All of these YA selections are really nice, somewhat fluffy summer reads. They all have a bit more substance to them though! THE LAST SUMMER OF THE GARRETT GIRLS has four sisters in their small town learning, growing, and making mistakes. I really enjoyed getting to know each girl and falling in love with their town. Totally would read companions about other characters! STAY SWEET is probably the most "fluffy" on the list and arguably the most summery for me. The story involves a little ice cream shack run by local girls that's facing some major changes. I loved their lake town, the ice cream cravings I got, the cute romance, and girl power vibes. AS YOU WISH has a touch of magical realism, as its set in a town where each person gets one wish granted on their 18th birthday. Definitely a unique, addicting read. I didn't love it, but it really strikes me as a quick poolside read if 100% contemporary isn't your jam. SAVE THE DATE is an obvious one because Matson writes some of the best summer contemps. This is set over the course of a wedding weekend and has a loooot of family feels. I adored it.
---
I think books involving some kind of travel (especially overseas) are really fun for the summer. These three all tick that box for me. THE KEY TO EVERYTHING was a quick, steamy read that involves a more unique location for this kind of book – Thailand! I really enjoyed the setting and could definitely read this on the beach or while traveling. LOVE & LUCK was a surprising hit for me; I loved the Irish road trip that happened and the family feels. It had a cute "Ireland for the Heartbroken" book to guide the characters too, which was so fun. 9 DAYS & 9 NIGHTS is a wonderful follow-up to 99 DAYS and involves a European trip. I don't want to spoil too much, but those who read 99 DAYS should 100% pick this up!
Related Posts