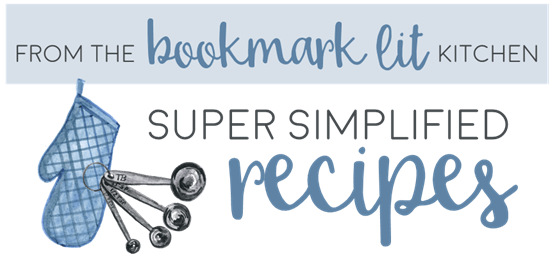 Because I've cooked a LOT of great things in the last 1-2 months, I thought I'd do a little round-up here instead of having a million things in the food section of Lauren Lately. My favorite thing to do while cooking is make things as easy as humanly possible, so most of these recipes will be super simple, as the header suggests 😉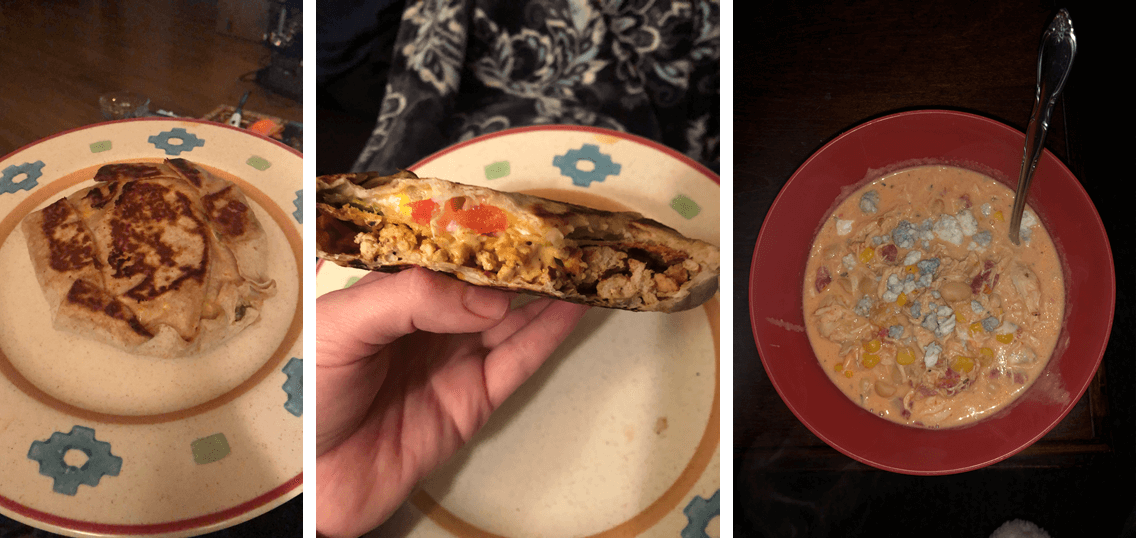 Homemade Crunchwrap Supremes | I found a WW-friendly version of this recipe and it was so good! I tried to buy tostadas online because no store carried them locally, and then they got crushed in transit. I made homemade ones with small tortillas and they were just as good!
Buffalo Chicken Chili | God this was amazing; I already want to make it again. I've been seeking out Crockpot and Instant Pot recipes like crazy and this one was a major win. I ended up using HALF the amount of cream cheese it called for to make it a little lighter and it was still super creamy and delicious.
Chai lattes at home | I was in the mood to get something nice and cozy for the weekends, instead of only having hot chocolate, so I grabbed this one from Target. It's sugar free so the only WW points are for mixing it with milk, and I use skim milk anyways. SO GOOD!
Blue Steak Wraps | This is a simple recipe that I was itching to make to use up the million containers of blue cheese I somehow acquired. It was pretty good, nothing to write home about, but I'd probably make them again just because of how easy they were. I used the Joseph's Lavash Bread as the wrap and it was tasty!
Superbowl food | I made buffalo chicken eggrolls, Mexican dip (cold version – I usually do a hot one), and jalapeno popper dip. I'd recommend ALL of them for sure. I made a few adjustments to the recipes based on eliminating calories and such but they were all great. I think the jalapeno dip could have used a litttttle something else though? Not sure what…
Three Bean Chili | I am constantly looking for zero point food ideas and this new "three bean" chili was a nice addition to my rotation! Honestly most chili kind of tastes the same but it was a good option to toss in. Super easy in the crockpot for the Super Bowl too… and for lunch the next three days!
Creamy Taco Soup | I'm always making some kind of chili or soup in the winter, so I thought this one looked good in the Instant Pot! I kept putting off making it because I would forget to defrost the ground turkey, but I finally got around to it at the end of January. It was okay but a little bland on the first day? I wish I didn't bother with the heavy cream because the cream cheese was more than enough.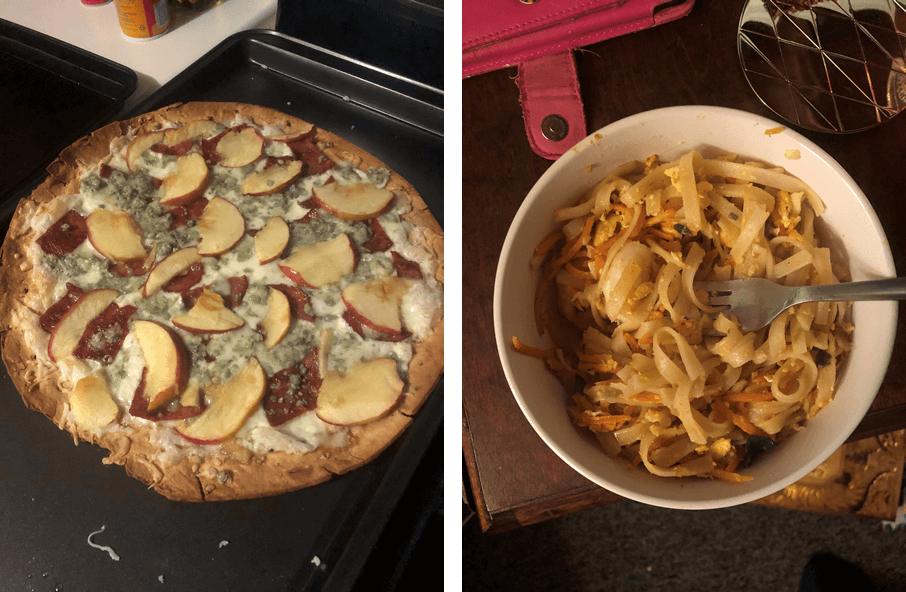 Blue Maple Bacon & Apple Pizza | As usual, I made a few adjustments lol. I got a pizza crust from Target and went wild with these amazing toppings. I'm a huge fan of fruity, tangy, blue cheesy pizzas, and was so excited for this more unique pizza. (Chris and I love weird flavored pizzas!) It was SO good. I had reduce the amount of syrup and I think Chris would have liked more; I should have drizzled some on top after it was done.
Shrimp Pad Thai | Chris and I eat a lot of Asian-inspired dishes because we always have the sauced on hand (in order to make some of his mom's recipes and just other classics!). I always have shrimp in the freezer and wanted to work on eating some leftover rice noodles we've had forever, so this classic shrimp pad thai did the trick for us. It was pretty good – definitely tasted similar to pad thai. I didn't use bean sprouts because Chris doesn't like them but I bet I would have liked it more with them!
Southwest Chicken Wraps | This recipe has on my meal planning Google Keep note for two months now because it includes ingredients I ALWAYS have… but I just never prep the chicken in time. I ended up not following the linked recipe AT ALL and instead made an adjustment to the usual salsa chicken recipe I use. I whipped up a batch of my own chicken with a can of tomatoes with chilies, TJ's chili lime seasoning, a can of corn, and a can of black beans. We used it as a topping for burrito bowls and inside our own version of the wraps I linked. Oh well! It was tasty.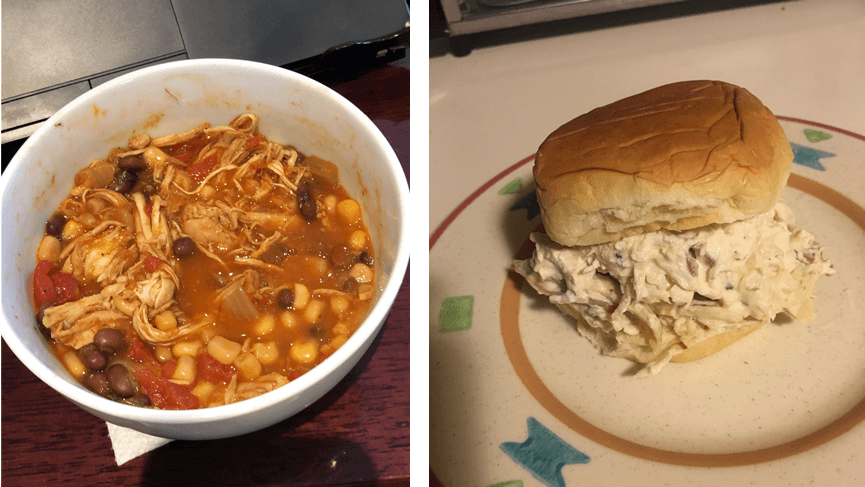 Chicken Taco Soup | I made another random taco-ish soup the other day, when I was working from home during the snow. I didn't have a jar of salsa so I used a can of tomatoes and added some seasonings, but it didn't really work that well. Definitely add more to this one, spice-wise, and maybe you'll enjoy it.
Garlic Bacon & Ranch Chicken Sliders | I was nervous about these because they involve cooking the chicken without liquid AND putting a cream cheese in the whole time, so that's double-scary, but the reviews/comments were super positive anyways! These were pretty dang good. I'm not sure how to improve the recipe because the cook time was weird and I don't like cooking dairy products in the slow cooker in general, so I don't know if I'd actually make this again.
Loaded sweet potato bowls | I'm not on Whole30 but these sounded SO GOOD that I had to try! I also made the classic WW-friendly ranch dip/dressing (using just ranch seasoning mix and greek yogurt) to go with it. I made some adjustments to the recipe, like using the Trader Joe's Everything But the Bagel Seasoning instead of all of their seasonings, but it tasted wonderful. Homemade sweet potato fries, added brussel sprouts, fried eggs, quick guacamole, ranch, and bacon. Loved it.
Tortellini Soup | I really struggled with reducing the super crazy ingredients in this one but ended up just coming to terms with the fact that it was going to be a high-ish WW point recipe. I LOVED THIS SOUP. Chris and I both don't really like tortellini much so I don't know what compelled me to make it, but this was so simple and so tasty. Highly recommended.
Taco-Style Egg Rolls | I made the buffalo chicken ones and had plenty of wraps left over, so I browsed for a few more ideas! These taco ones seemed like a fun option and they're only one point apiece (just the wrapper!). I always spray my rolls with cooking spray and bake them so they don't get too crazy with frying in oil. I made them with ground turkey instead of chicken, which tasted good, but it was harder to wrap them because they were lumpy.
Related Posts