My new Spotlight feature highlights anything within the bookish world that I feel deserves a spotlight for a few minutes – publishers (or more specifically, imprints!), new or old favorite authors, bookish people/bloggers, covers or cover trends, topics/genres within books, and anything else that should be on your radar.
Berkley Publishing / Romance
I've covered a lot of different things for these Spotlight posts, but this is only the second publisher/imprint I've featured. It was one of the first ideas I had for this series though! I've loved expanding further into romance and contemporary novels featuring adults instead of young adults and Berkley (along with Forever) have been some of my favorites to read. Now's the time to feature some of my favorite books, covers, and any other things you should keep an eye on!
---
Favorite Berkley Romance Books So Far
I've read a number of their books so far and really enjoyed the VAST majority of them! Here are some of my favorites that I've read and rated somewhere above 3.5 stars:
A companion series I've been loving by them is the Playbook series by Alexa Martin. Each book features a girl dating a different member of the Denver Mustangs (lol!) football team. They all had really unique stories and romance situations that I enjoyed. My favorite trope – second chance romance – happens in the first two books.
---
Illustrated Cover OGs
Whenever I think of illustrated book covers, Berkley comes to mind as some of the originators of the trend! Below is a collection of covers I adore from them – some from books I've read and others I haven't read yet. I'm such a fan of the cartoony cover trend in romance books and they have some great ones. I mean, please look at the cover for NATALIE TAN!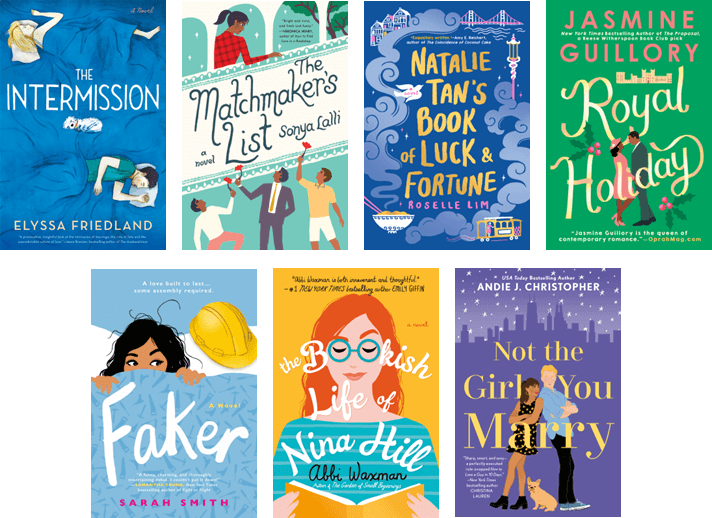 ---
Upcoming Releases I'm Excited For
Of course, there are quite a few books by them on my upcoming TBR list. They all have excellent illustrated covers too… what else is new? Here are some highlights:
NOT THAT KIND OF GUY is about a workplace romance and possibly a Vegas marriage
SOMETHING TO TALK ABOUT is about a Hollywood producer and her female assistant starting a "faux" romance based on red carpet rumors
UNDERCOVER BROMANCE is the sequel in the Bromance Book Club series
GROWN-UP POSE is about a newly separated woman starting her own yoga studio and starting her life on her own terms
---
Cozy Mysteries on my Radar!
I honestly completely slept on the fact that Berkley has cozy mysteries too! As a person who unabashedly judges books by their covers, I've generally avoided a lot of cozy mysteries because they have very standard covers that never appeal to me. I've noticed, from browsing on Netgalley, that Berkley has a few cozy mysteries coming up this year with adorable illustrated covers too! Here's more information:
A Deadly Inside Scoop by Abby Collette
Ice Cream Parlor Mystery #1
Release Date: May 12, 2020
This book kicks off a charming cozy mystery series set in an ice cream shop–with a fabulous cast of quirky characters.

Recent MBA grad Bronwyn Crewse has just taken over her family's ice cream shop in Chagrin Falls, Ohio, and she's going back to basics. Win is renovating Crewse Creamery to restore its former glory, and filling the menu with delicious, homemade ice cream flavors—many from her grandmother's original recipes. But unexpected construction delays mean she misses the summer season, and the shop has a literal cold opening: the day she opens her doors an early first snow descends on the village and keeps the customers away.

To make matters worse, that evening, Win finds a body in the snow, and it turns out the dead man was a grifter with an old feud with the Crewse family. Soon, Win's father is implicated in his death. It's not easy to juggle a new-to-her business while solving a crime, but Win is determined to do it. With the help of her quirky best friends and her tight-knit family, she'll catch the ice cold killer before she has a meltdown…
I was definitely sold when I saw the ice cream on the cover of this book – let's be honest. It sounds like a fun series too! The stories take place in a family-owned ice cream shop, where the new owner has to make sure her dad isn't charged with a crime he didn't commit.
Mimi Lee Gets a Clue by Jennifer J. Chow
A Sassy Cat Mystery #1
Release Date: March 10, 2020
Mimi Lee is in over her head. There's her new Los Angeles pet grooming shop to run, her matchmaking mother to thwart, her talking cat Marshmallow to tend to—oh, and the murder of a local breeder to solve…now if only Mimi hadn't landed herself on top of the suspect list.

Mimi Lee hoped to give Los Angeles animal lovers something to talk about with her pet grooming shop, Hollywoof. She never imagined that the first cat she said hello to would talk back or be quite so, well, catty—especially about those disastrous dates Mimi's mother keeps setting up.

When Marshmallow exposes local breeder Russ Nolan for mistreating Chihuahuas, Mimi steals some of her cat's attitude to tell Russ off. The next day the police show up at Hollywoof. Russ has been found dead, and Mimi's shouting match with him has secured her top billing as the main suspect.

Hoping to clear her name and save the pups Russ left behind, Mimi enlists help from her dreamy lawyer neighbor Josh. But even with Josh on board, it'll take Mimi and Marshmallow a lot of sleuthing and more than a little sass to get back to the pet-grooming life—and off the murder scene.
This one involves the MC, an owner of a pet grooming shop, being accused of murdering a shitty local breeder. She has to clear her name with her hunky neighbor/lawyer. This one seems pretty interesting too!
Related Posts