In honor of being home "working" on this snowy day, I had plenty of time to mess around on the computer and do bloggy things. (Primarily this means making lots of graphics for posts and trying to whittle down that 300-post Bloglovin feed!) I haven't shared a TBR post in a few months so I figured today would be a great day – especially because of the holiday approaching this month that's all about LOOOOVE. You can clearly see that I'm planning on packing in the contemporaries this month.
I'm currently in the middle of Red Queen by Victoria Aveyard and I'm enjoying it… for the most part. I'm definitely invested in the story and interested to see what's going to happen, but my attention span is struggling. I can only read a few pages before letting myself get distracted by the internet. I'm not sure if it's just because January was a big fantasy month for me and I'm over it (for now), or because of the book itself. Regardless, today I started Meant to Be by Lauren Morrill and am hoping that's a nice contemporary break. It should only take me a few sittings to finish it.
I have two swoony E-ARCs to read this month too and I'm super excited! Promposal by Rhonda Helms sounds cute and right up my alley; I always am interested to hear how people get asked out to dances! "Promposals" were just starting to get big while I was in school and I did have a few cute stories about them. I've had When Joss Met Matt by Ellie Cahill on my Kindle forevvvver but I've pushed off reading it because I wanted to do it closer to the review date. I can't believe it's almost here! I've been craving a New Adult lately too, so that one will probably happen ASAP.
I've slowed down at the library lately, but I just had to renew these ones because I didn't get to them last month! I've been looking forward to #scandal by Sarah Ockler for a while, but I'm not sure how it's going to be. From what I've heard, it's not nearly as good as her other books (which I loooved). I also (kind of stupidly) checked out Stone Cold Touch by Jennifer L. Armentrout. I wasn't a big fan of the first book in the series but I am pretty determined to finish the trilogy. (Major love triangle – must know who wins, even though I usually don't enjoy them.) For my last library read, I finally checked out My Last Kiss by Bethany Neal. I've heard mixed things on this one as well but I'm still pretty excited to read it. It feels a little like one of my favorite books and favorite things to read about: the weird space between life and death.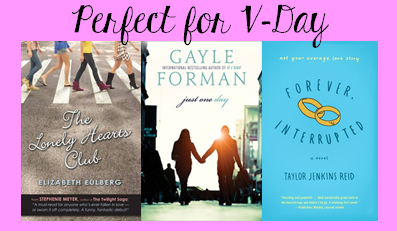 In the spirit of Valentine's Day, I'm going to read some romantic books – both of the traditional and nontraditional variety! I got The Lonely Hearts Club by Elizabeth Eulberg for Christmas and am excited to get started on it. The second book in the series was just released, I believe, so now's a good time! The main character sets up an anti-love/dating group and then has to reevaluate her priorities, once she starts falling for someone. Definitely could be a good nontraditional V-Day pick. I'll be reading Just One Day by Gayle Forman with Cristina as our Book Buddies pick for February, in keeping with the theme of the month! This is another one I got for Christmas, so that means I'm whittling down the physical TBR pile. My last pick for February is one that'll satisfy a few MOODS currently going on. I've been looking for an Adult Contemporay read and recently got this one on sale for my Kindle. Forever, Interrupted by Taylor Jenkins Reid is about a whirlwind romance that ends far too quickly. Certainly another nontraditional Valentine's pick, but hopefully that'll keep me in the contemporary mood without any swoon-related burnout.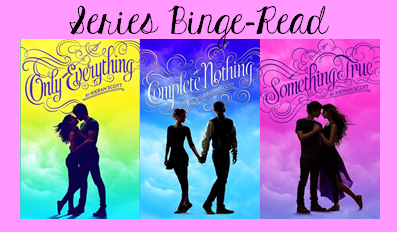 Lastly, I've been veryyy bad with my Series-A-Month challenge. I kept telling myself I would pick it back up in December…and then January…but it didn't happen. Now that the third book in the True Love trilogy is going to be released tomorrow, I really want to get going on it. My lovely swap partner, Alyssa, got me the first book in the series! (More on that below)  I think it'll be the absolute PERFECT read for February. The series is a spin off of Greek mythology, which is awesome, and it's specifically about CUPID being sent to Earth. If that's not Valentine's Day-oriented, I don't know what is. I'm going to try to read this series right around the middle of the month.
---
I had a GREAT partner for this swap – Alyssa of Life of a Book Enthusiast! This is my second Chaotic Goddess Swap I've participated in and it's been so much fun. The point of this swap was to send out and receive three books: one from your wishlist, one you love, and one you're interested in but haven't read yet. It's funny because both Alyssa and I ended up choosing all three books based on the other person's actual wishlist and TBR, in addition to meeting the qualifications! Alyssa really nailed it. She sent Only Everything byKieran Scott, which was on my wishlist. She also sent a book she's interested in but hasn't read yet – Something Strange and Deadly by Susan Dennard. I've wanted to read this one too and she got an autographed copy! So cool. The final book was Zodiac by Romina Russell, which is the one she loves. I've had this on my TBR for a while too. Looking forward to reading it! She also send me three different kinds of chocolate + raspberry candy bars. So, so yummy. Thank you Alyssa – this was awesome! 🙂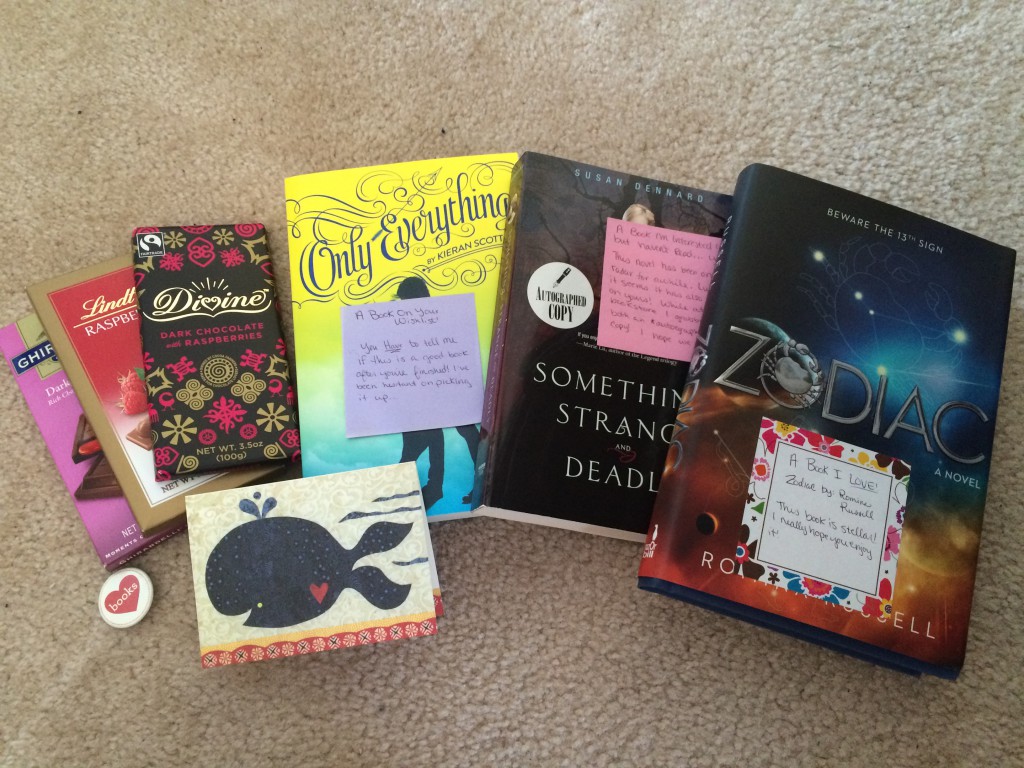 Related Posts