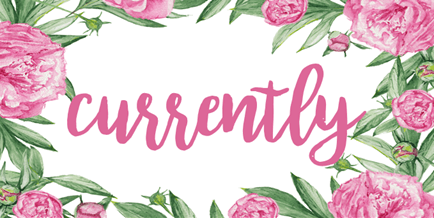 I've been doing some kind of Currently post on and off for many years. Ironically, Hannah at So Obsessed With credits me for inspiring her to finally make a Currently post… and now here *I* am, stealing *her* Currently prompts. I just like the way she lays them out and it's a nicer format than some I've done in the past. So here's credit-ception for you.
---
Bookish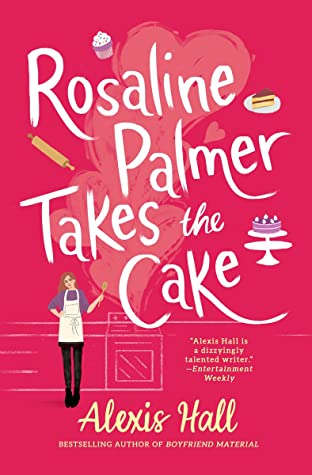 Currently reading: I've been attempting to read RULE OF WOLVES since it came out basically. I just haven't been motivated to read fantasy lately. I had a similar issue with taking forever to read ACOSF. I finished a bunch of romance novels in a row on my Kindle and this one has been sitting around. I also just started WAIT FOR IT last night because I got approved on Netgalley and started reading it right away because I actually thought it was something different lol.
Currently audiobook-ing: Even more embarrassing? I have RULE OF WOLVES on audio too. I've been mostly listening to podcasts though.
Currently recommending: Seriously, the last 4 romance books I read received 4-4.5 stars, with the majority receiving 4.5 stars. If you want mostly fun rom-coms, try out:
ROSALINE PALMER TAKES THE CAKE by Alexis Hall
TO SIR, WITH LOVE by Lauren Layne
SATISFACTION GUARANTEED by Karelia Stetz-Walters
THE SOULMATE EQUATION by Christina Lauren
Currently on hold at the library: I actually have run out of library holds, for the most part. The only one remaining is THE HEART PRINCIPLE by Helen Hoang, which hasn't even come out yet. I requested it on Netgalley too, so we'll see!
Currently pre-ordered: I decided to be a crazy person and preorder AS GOOD AS DEAD from Book Depository because it comes out one month earlier in the UK. I read book one as the US version, wanted to read book two ASAP so I also ordered the UK one, and am just going to keep it going. I loved that the US one is set in Connecticut but my desperation to read the next installments has led me down a different path haha.
Currently in my cart: I'm about two seconds away from buying my own copy of A VOW SO BOLD AND DEADLY because my library copy is overdue and if I never finish the RULE OF WOLVES audiobook, I'll never get to the VOW audiobook…and book club is next week.
Currently adding to my TBR: Nick made an amazing list of romances that are coming out in the second half of 2021 and I'm pretty sure I added 75% of them to my TBR the other day!
Currently NetGalley-ing: I definitely went ahead and requested a ton of those romances on Netgalley too. Whoops. WAIT FOR IT, the one I'm currently reading is one that I requested and was approved for.
Other Hobbies & Things
Currently listening: As everyone probably knows by now, I pretty much only listen to podcasts about wrestling and true crime. I can't believe it's taken me this long to finally listen to the Morbid podcast! It's a classic and well-regarded in the true crime podcast world. I'm enjoying it quite a bit. Shoutout to Bailey Sarian for joining one of their episodes and making me finally listen.
Currently watching: Chris and I just started Kevin Can F Himself, starring the amazing Annie Murphy. It's really interesting because it has a sitcom side and a dark comedy side? It's really hard to explain but after the first two episodes, I highly recommend.
Currently eating: A ton of meals from the Workweek Lunch program! Everything I've made so far is very tasty and I love how they help you cook things in a certain order to save time. I've been vaguely following the weekly meal plans as they release and it's been really helpful. I'm trying to be better about having meals ready to go at all times.
Currently drinking: I went to Dunkin with the pup after our walk and wanted to try the new Blueberry Lemonade Refresher but ended up with a Blueberry Coolatta I think? It's very tasty but not what I had intended haha.
Currently wearing: A ton of lounge sets. I went with the sweatpants/sweatshirt combos during the winter and now I have cute lounge sets with short sleeves and shorts for these warmer days and nights. At this exact moment, I'm wearing some jean shorts and my Led Zeppelin tee shirt.
Currently in my cart: I bought a cute lemon bathing suit top with matching black bottoms the other day and am debating on buying a second top that will match – it's a red floral one and seems cute! I still have to test out the lemon top in water though to see if it holds up before buying another 😉
Current Feels
Currently celebrating: Miller's gotcha day is approaching and I honestly can't believe we've had him for a year. It feels like he's been around forever. Getting him during Covid was a good move overall because we've had time to train him but it's been tough to socialize and get him to be less nervous. We're working with a trainer right now and its going well so far to build up his confidence.
Currently loving: Spending time with Chris, Miller, friends, and family! Things are looking more normal around here and our calendars are certainly showing it. Everyone in our lives is fully vaccinated so we're able to see them indoors and outdoors and enjoy the summer weather.
Currently looking forward to: We have plans basically every other weekend this summer and I really hope to take advantage of free weekends to go on adventures with Chris and Mill. I'm obsessed with Mystic and we haven't been since last year. I'm hoping we can go this Sunday.
Currently procrastinating: Cleaning my stupid house. I have some friends coming over this weekend and we're dog-sitting for my friend so I really have to get things more tidied. I'm hoping to organize my bookshelves and box up ones to sell or donate. I also want to organize our linen closet in the bathroom and our kitchen table with all the stupid papers/mail on it.
Currently accomplishing: I've done a lot for the wedding. We just need to hammer out a few basic details with transportation and the ceremony, but everything else is looking good. Thank god because I have had no desire to plan this thing.
Currently thinking about: I should probably get back to work… but this post has been in my drafts for a while and it's finally time to finish it off and post something other than a TTT, monthly wrap-up, or book review lol.
Currently feeling: Hopeful and happy.
Related Posts