My last post in this series was February 2021! It's funny because out of the books I featured in that post, I ended up reading the majority of them in other formats instead from the library lol. I'll admit that I'm not always the best at reading library books before they need to get returned. I'm hoping to be better about that this year! Here are the latest books I currently have checked out and those on hold.
---
DAISY DARKER by Alice Feeney | I kept mixing this title up with ONE OF THE GIRLS (which I read/finished on my honeymoon last year), so I was thinking I had a review copy of it. Nope. My mom read it recently and pushed me to get to it sooner rather than later! I went in to pick up a library hold and spotted it on the shelf. I've never read Alice Feeney, which seems a bit crazy because every booktuber I watch likes her books.
EMILY WILDE'S ENCYCLOPAEDIA OF FAERIES by Heather Fawcett | This is the book I was heading in to pick up when I spotted the previous book on my list. I saw a booktuber post about it as an anticipated release and knew I needed it in my life. Maybe it's an unpopular opinion, but faerie-related fantasy books are my favorite. I've been fascinated by faeries since I was a kid. Anyways, hoping this one lives up to my own hype!
TOMORROW, AND TOMORROW, AND TOMORROW by Gabrielle Zevin | I haven't read a book by Zevin since I was a preteen reading ELSEWHERE, but this one has been absolutely all over the place. I saw yet another person rate it super highly and decided I should get back on my literary fiction game sometimes. Funny story: I put in a library hold for the regular physical copy, ebook, AND audio versions of this, basically assuming I would never get it (super long lists as you'd expect). Later that day I popped into my library and the large print version was just sitting on the shelf! #blessed
ACTS OF VIOLET by Margarita Montimore | I definitely would have assumed I'd read OONA by this author first but oh well – this was a spur of the moment grab from the "new release" shelf at the library. I'm trying to give into the cozy and lighter mystery vibes I've been in the mood for lately and thought this could be a good one. I saw a podcast was involved in the plot and it kinda sold me.
THE HAZEL WOOD by Melissa Albert | Yet another impulse grab at the library. Along with cozy mysteries, cozy or light fantasy have also been on my list lately. I'm not sure I'll actually read this one if I'm being honest. Some friends loved it, some friends hated it or a least rated it below three-stars. We'll see if the mood strikes before I have to return it.
THE FIRST TO DIE AT THE END by Adam Silvera | This book is sooooo long. I've had it on my shelf, out from the library, since last year. I just… haven't had the mindset to read this one yet lol. I'm not sure I'll get to it in time either but I do have the audio on Scribd, if I remember correctly. That may help.
WAIT FOR ME by Sara Shepard | I'll read all of her books even if they aren't great, I'm not ashamed to say. Her writing is just too nostalgic for me and feels like coming home to my old reading as a teen. I think I have this as an ebook or egalley too but for whatever reason I snagged it from the library too a few months ago haha.
---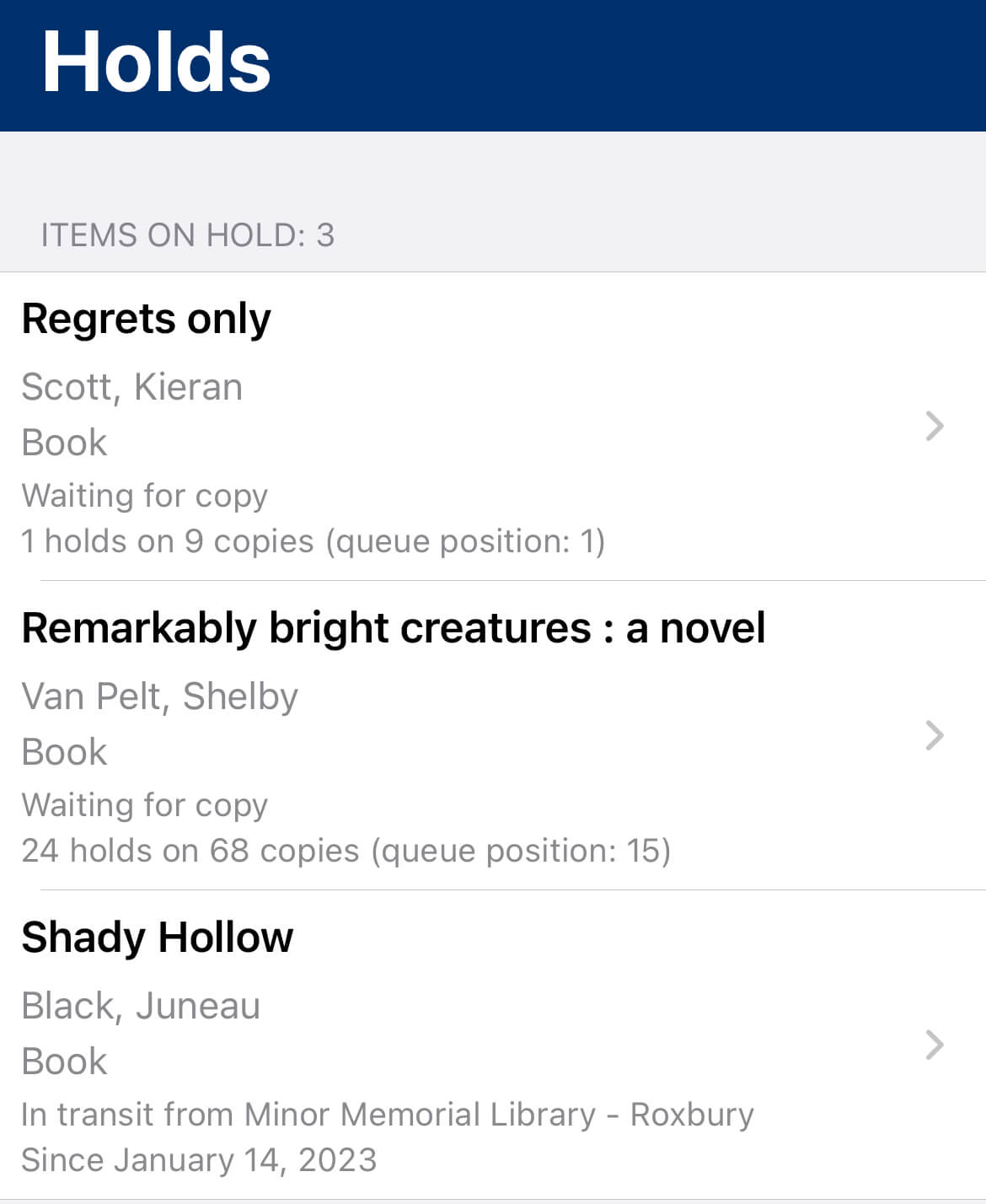 REGRETS ONLY by Kieran Scott | This author is another nostalgia read for me and I will read all of her books forever. (Her pen name from my teen years was Kate Brian.) The past couple of years she's gotten into adult mystery/thrillers, which is awesome – I really enjoyed her debut in the genre last year. I requested this one recently and it just came out, so hopefully it heads to me soon!
REMARKABLY BRIGHT CREATURES by Shelby Van Pelt | Okay so I saw yet another bookish friend (hi Laura) rate this one five-stars and decided to finally go for it haha. I'm on the fence about the whole "talking animal" thing (ironic given the next book on my list…) but if it's this highly rated and popular, let's give it a shot. As you can see, I may not get it for a little while haha. There is the audio version on Scribd, which Laura recommended, so I may end up cancelling this hold depending on when I actually get to reading this one.
SHADY HOLLOW by Juneau Black | I've seen this book on pretty much every cozy mystery list lately. Again, still on the fence about talking animals, but it's a little different when the whole cast is a bunch of cute woodland animals solving a murder mystery. I literally requested it the day I'm writing this post and it's already in transit – man, librarians are the best.
Related Posts