Have you ever finished a few GREAT books and thought… okay, now I kind of need to read a bad book. I've read some really solid ones, somewhere between 4-5 stars, and now I need something not-so-great. I call these buffer books because they act as a buffer between allll of the good books. I wouldn't be surprised if I'm the only weird one, but let's see. Where's my logic in this? Let's discuss.
Cleansing the Palette
If I read a number of really good books in a row, I'm always waiting for the other shoe to drop. I don't like to read too many highly anticipated books one after another, just because I could end up ruining them with a book hangover (more on that later). I never want to bang out 5 great, anticipated reads in a row because JUST MAYBE the 6th one will get ruined. I think this often has to do with genre or certain tropes being used a lot. Either way, I like to read some great books and then "cleanse my reading palette" with one I know might be bad in one way or another. Sometimes it'll be an author that writes ridiculous and addicting stories. Sometimes it'll be a book I'm reading completely for nostalgia. Sometimes it'll be an angsty NA that I know will annoy me but I've wanted to read for one reason or another. Either way, tossing a book I think will be "bad" in them middle of a few good ones helps cleanse my palette for more good books later.
Eliminating Book Hangovers
The other reason I do this is because I KNOW certain books will lead to book hangovers. Why would I read a book I'm super excited for RIGHT after one that I was even more excited for and/or already have a hangover from? I like to spread out my bookish excitement to get rid of those hangovers and ensure that they don't happen in the first place. (I have a similar post about this coming sometime soon I think!) Back in June, I read two five star books in a row. Both were highly anticipated newer releases. I didn't want to ruin my third book, so I picked one that I knew would be… not so great… and really quick to read. The buffer book ended up getting the rating I expected, and I was able to fully enjoy the next book I read (which was another book I was super excited about).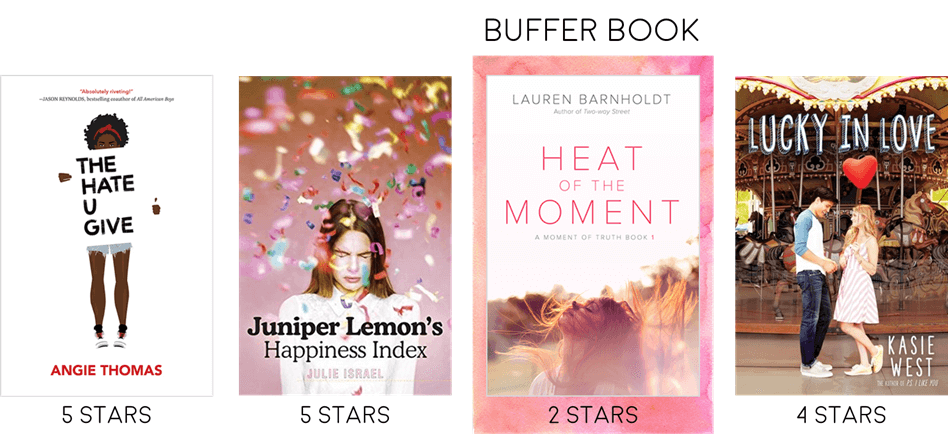 Soooo, do you think I'm super weird?
Related Posts