Books from Way Back on my Goodreads TBR
that I STILL Haven't Read Somehow
Top Ten Tuesdays were started by The Broke and the Bookish and are now hosted by That Artsy Reader Girl, where we make lists of our top ten books (or something else!) based on that week's prompt. The topics are provided ahead of time and can be found here. Book links bring you to Goodreads or my review.
I'm sure I've discussed this a few times in the past, but it's always good to come back and remind myself! I think about the books I couldn't wait for and HAD to buy but didn't read right away ALL THE TIME. I'm not including purchased books because I have definitely purged a lot recently; I'll just be using my Goodreads TBR today. I started my Goodreads account in 2010, so some of the earliest books are from back then.
The Secret by Rhonda Byrne | Added to Goodreads: September 2010
My friend's mom told me about this book back in the day and if I'm being honest, I think it's the reason I even made a Goodreads account?? I remember that I didn't want to forget the title so I was looking up book tracking sites, and Goodreads popped up. It's the first book I ever added to my TBR on there. I own a copy, I think, but I haven't read the whole thing.
Perfect Mistake & Ominous by Kate Brian | Added to Goodreads: September 2010
Kate Brian was my number one back in the day, and I still read her books (and the alias Kieran Scott). I still need to finish two of her series: Private and Privilege. These books were added back in 2010 to track the series as I was reading both of them, since one is a spin-off of the other.
The Diviners by Libba Bray | Added to Goodreads: September 2010
I think this is the first book I ever added before it was published. I loved the Gemma Doyle books in high school (right before I made my Goodreads account), so I must have looked up her books on Goodreads to add them to my TBR. This was two years before the book was published! It looks like I had bloggy habits before I even had a blog… or thought of making one!
3 Willows by Ann Brashares | Added to Goodreads: September 2010
I clearly did the same thing with Ann Brashares that I did with Libba Bray. I added this book to my TBR by seeing what other books a favorite author had out there. I don't know that I'll ever read this one because I've lost interest, but it's still on here for some reason. I liked SISTERHOOD obviously but meh.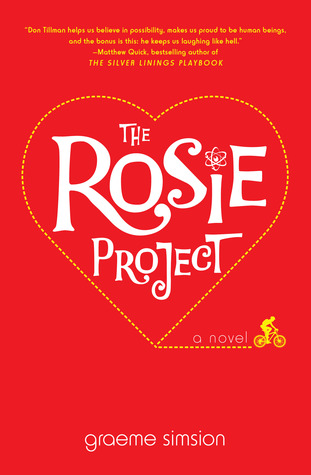 Where'd You Go, Bernadette by Maria Semple | Added to Goodreads: March 2014
I jump ahead FOUR years because clearly I forgot Goodreads was a thing? I remember being in a bookstore, being intrigued by this book, and probably remembered GR right away. I added it and still haven't read it. I think I probably will someday (isn't it becoming a movie?).
Vampire Academy by Richelle Mead | Added to Goodreads: April 2014
I feel like this is one of those books I saw in B&N as well and decided to remember it. I liked TWILIGHT enough and maybe thought more vampires could be fun. I think a lot of people love this series and maybe it holds up, so I'll probably do a binge of it at some point in my life.
The Rosie Project by Graeme Simson | Added to Goodreads: May 2014
I definitely want to read this one. I saw some buzz on Goodreads or something and bought the ebook forever ago. I think this might be a movie at some point too? It's not exactly a book for me, I'd say, but so many people loved it that I would have to give it a try. It seems like a cute concept though.
Dangerous Girls by Abigail Haas | Added to Goodreads: May 2014
I don't remember the circumstances for adding this one – probably read a Pinterest article about upcoming YA books, since it was around the same time as the book below – and added it to my TBR. I ended up reading DANGEROUS BOYS before GIRLS, so here it remains on my TBR. I liked BOYS and I've heard quite a few people enjoyed this one even more. I own it too.
The Museum of Intangible Things by Wendy Wunder | Added to Goodreads: May 2014
I definitely remember there being some kind of list on Pinterest about books to read over the summer, and this was on it. I recently got a paperback of it too; I think it was on sale and I thought the new cover was kinda cute. I will totally read this when I'm in the mood and have my full library back together. Now, it's hard to imagine getting a book list from Pinterest!
Related Posts