I wrote my first Three Things post a while back and was inspired to do a follow-up when I saw a version on Grace's blog. I stole some of the questions and included some of the previous ones (about recently read/watched/etc. because obviously those are different from last time). I originally got the first post idea from a couple of places (this post on a new blog I started following and she grabbed it from someone else) and I ended up adding a few more of my own as well to make it a longer. Feel free to join in but share the credit around 🙂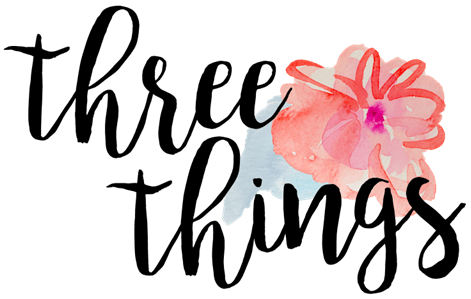 Three wardrobe staples | Black shirt, leggings, dresses
You'll most likely find me in some kind of flowy black short sleeve shirt, with a sweater of some kind over it, leggings, and boots. It's definitely my go-to, casual outfit when we're running errands or out and about on the weekends. I just ordered another short sleeve black shirt because I wear them so often. I have a lot of patterned leggings, so it's easiest to have plain tops. I also loooove dresses all year – with leggings and boots in the winter or solo in the summer. It's the easiest way to look put together even if you're not.
Three foods I hate and refuse to eat | Ketchup, mushrooms, peas
Not going to lie, I'm one of the least picky eaters out there. There are some foods I really dislike and won't eat, but most foods I either enjoy or don't like too much (but have no problem eating when needed). Ketchup is the biggest one I loathe and will not eat at all… except when it's an ingredient. I'm weird, but I don't mind when ketchup is IN something like special sauce or a meatloaf, but I will noooot eat it by itself. I don't like mushrooms and peas, but if they're in something, I won't complain that much.
Three foods I love and eat more of than I should | Pizza, all Mexican foods, snacks
Pizza is my biggest love, followed by alllll things Mexican. I would eat at a Mexican restaurant for dinner every night if Chris let me. Same with pizza. They're both so good! I think most of my meals I make at home are somewhat Mexican-inspired and have those flavors or ingredients involved. I'm also reaaallly bad about snacking. I count calories as my diet (which is working nicely, in case anyone is curious – I love the Lose It app) and I always save way too many calories for snacking when we watch TV at night. Whoops.
Three chores I avoid until absolutely necessary | Laundry, vacuuming, dusting
I hate chores in general, but these are the worst. I have a lot of clothes so I don't usually NEED to do laundry until Chris realizes he's out of boxers. I could go a very long time without doing it, but then I have too much to do and get pissed at myself because it's worse. I also hate general house cleaning tasks like vacuuming, dusting, spraying shit and wiping it down, etc. I put it off until it's…very late.
Three chores I always do | Cooking, dishes, organizing
I like to cook usually so I don't have a problem with doing it. Chris will clean up the dishes for the most part, but sometimes I hate leaving them around if he waits longer. I might hop up and decide to start washing them (since we currently don't have a dishwasher). I don't like them stacking up. I like to organize things usually, so I have no issues with cleaning up the fridge, putting groceries where they belong, etc.
Three things I don't spend money on | Expensive clothes, name brands of any kind, movie rentals
I'm the cheapest person when it comes to clothes. For me, I prioritize quantity over quality. I would rather have three plain black shirts that cost me less than $10 apiece than have one really good one that lasts longer. I like to switch up my clothes fairly often and hate spending too much on them. Old Navy is my BEST friend. Going off of that, I don't really by brand name anything. I always get store brands at the grocery store because it's all the same. And finally, I don't know why, but I hate spending money on movie rentals at home. I'll pay to GO to the movies, but I feel like anything I want to watch should be on Hulu, Netlfix, or On Demand. I'm already paying for those so I may as well use them.
Three things I do spend money on | Designer bags, dumb little decorations/knickknacks, candles
I don't skimp out when it comes to purses, even though I don't buy them THAT often. I have a Michael Kors and Kate Spade that I'm currently alternating between. I always waste my money on things from the Target Dollar Spot – mugs, wall hangings, banners, pens, sticky notes. I also buy a lot of candles from Bath & Body Works because they have some of my favorite scents and I'm often too picky to buy online without smelling them first, from other people. I only buy the three-wicks and only when they're on sale for $12 or less.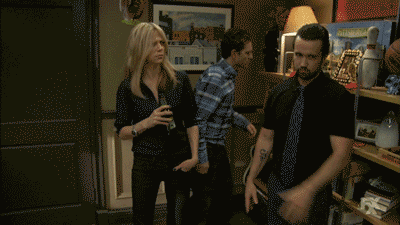 Three TV shows I frequently watch reruns of | Friends, Parks and Rec, It's Always Sunny in Philadelphia
I'm not one to just put the TV on a random channel and let it play. We usually are watching something specific or I'm reading while Chris is doing something with the TV (video games, YouTube, etc.). If I do sit down to watch reruns, I'm either in my GAZILLIONTH rewatch of Friends, or putting on a random episode of Parks and Rec or It's Always Sunny. I wish there was a "shuffle play" option on Netflix, because I would add these shows, plus a few more, to a playlist and just shuffle through episodes ALL the time.
Three genres I don't typically read | Adult/high fantasy, nonfiction/self-help, classics
I will read most things if the reviews look good and the topic interests me, but there are some I do mostly stay away from. If I'm going to read an ~adult~ book, it'll most likely be contemporary fiction. I don't read any other kind (like science fiction or fantasy). I like nonfiction/celebrity memoirs if I like the celebrity but don't read self-help books or really any other kind of general nonfiction title. I was never big on classics (which is why my career path as a high school English teacher didn't happen).
Three things I'm looking forward to this year | Exploring Maine, getting settled, weddings
We only have 4-5 months left in Maine and it's freaking me out. I feel like there's not nearly enough time to do everything I want to do! I'm looking forward to the weather getting nicer so we can explore even more. I'm also simultaneously excited to head home to CT and settle in somewhere. Probably more details to come on that. And finally, even though these weddings are stressing me out, I'll be able to celebrate four of my very best friends getting married. It'll be fun when the days actually get here!
Three things I recently watched | Monday Night RAW, The Big Sick, Bad Moms 2
The first one is obvious if you follow me on Twitter, but every Monday night we have to watch RAW. We watched a few movies over the weekend (aside from the Super Bowl – yay for the not-Patriots!), including The Big Sick and Bad Moms 2/Christmas. I enjoyed them both for the most part. I know BM2 is about Christmas but I wasn't planning on waiting another year to watch it.
Three most recent phone calls were to/from | Chris, Chris's sister, my mom
I don't make a lot of calls (like most people I know!), but I'm not surprised here. I called Chris last week when I was driving home from work, I called his sister to ask what kind of cake to pick up for their dad's birthday, and I called my mom on the way home from skiing to confirm that I'd be coming over to their house. I'm actually a little surprised my dad isn't on here because I probably call him more than anyone?
Three things that recently made me cry | The One with the Prom Video, chopping onions, Kylie's baby video
I watched the Friends episode "The One with the Prom Video" and it always makes me cry, even though yes I've seen it about a trillion times. I love it so much; one of my favorite moments in the show for sure. I also cried when chopping onions because it's inevitable lol. It was hard to come up with a third one here but the video that Kylie Jenner posted about her pregnancy and baby was so adorable, I teared up. I don't even care about the Kardashians at all really but it was SO sweet.
Three things that recently made me mad | RAW, wedding things, people talking
I was irritated with RAW this week because they're doing some weird, annoying, and/or predictable bookings lately. We alllll know what's going to happen at Elimination Chamber and at Wrestlemania, so why even bother trying to act like someone else is going to win? Otherwise, I haven't been super mad at anything lately… I get a little bogged down about wedding and bachelorette planning, which makes me mad from time to time. I get annoyed when I hear people talking loudly multiple times a day in the hallway too.
Three things that recently made me laugh | Tom Brady attempting to catch a pass, Tumblr, WrestleTalk
Seriously the Super Bowl made me straight-up gleeful, but the highlight was when Brady attempted to catch a pass and missed completely… only to have Nick Foles make a similar play actually work AND it was for a touchdown. Loved it. I've been on Tumblr a lot lately since I made a wrestling-focused one and it always makes me laugh. We watch WrestleTalk on YouTube every day when they put out new videos and those guys are so funny to me. I just love them and want to be friends with them.
Related Posts