This past weekend was our trip to the Bar Harbor, ME area, which includes Acadia National Park. This was actually the first national park I've ever been to (!!) so I was super excited to see everything I could. I thought a full recap with pictures would be fun here because the sights were just gorgeous and we did SO much.
Friday May 18th
We left Portland around 9 AM on Friday with the intention of getting up there by 12 PM-ish. Our campground where we rented a cabin was outside of Mount Desert Island (just over the bridge) so it was about 2 hours and 45 minutes away from home. The Bar Harbor area and parts of Acadia were about 20-40 minutes away from where we stayed, depending on where we were heading. The best part was that half of that time was spent actually driving within Acadia, so the time flew by and the views were constantly gorgeous. Anyways! We were able to check into our cabin early, put our stuff in the fridge, then head to our first stop. We purposely stayed at the Narrows Too Campground because they had small cabins with just a microwave and fridge; we wanted to actually camp (without having to use a tent).
Jordan Pond blueberry lemonade, view from the start of the trail, us!
I made a reservation at the Jordan Pond House restaurant for 1 PM, which was perfect timing. They have views over Jordan Pond and are the only restaurant in Acadia National Park. It was a must-see to try their famous popovers too! They have a 3ish mile trail that circles the pond that we were planning to do after as well. The weather on Friday was gorgeous – sunny and just cool enough with a nice breeze. The Jordan Pond Path trail was excellent, for the most part. The first half of the trail around the right side was a basic dirt or stone trail and pretty flat terrain. The halfway point switched over to walking on the rocks on the edge of the water for a bit, which was varied and a lot of fun. Then, the final 40% of the hike was on wooden planks in the woods, with a slight view of the water through the layer of trees. Chris hated how long this portion was because it got boring and was a bit of a lame way to end the trip. I didn't mind it as much as him though lol.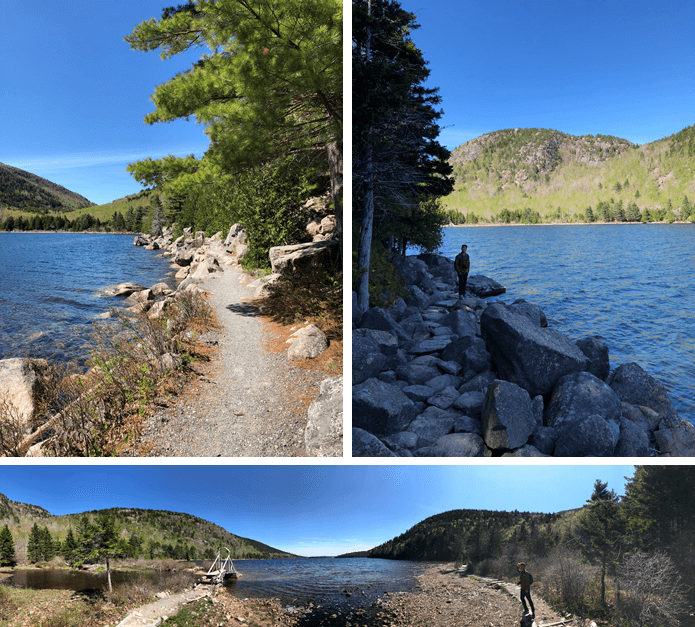 The right and left sides of the pond, panoramic view from the middle of the hike
When we finished at Jordan Pond, we headed to check out downtown Bar Harbor. We knew Friday was going to be the best weather day because there were some chances of rain during Saturday/Sunday so we figured we'd see it when we could walk around freely. We scoped out a bunch of restaurants and shops and checked out the waterfront area. We had watched a guy on YouTube talk about some good spots to grab food and sightsee, so we were loosely following some of his ideas throughout the weekend. We got duckfat fries at Blaze, which were tasty, and then tried lobster ice cream (!!!), which was also pretty damn good. Chris managed to find the Bar Harbor skatepark so we chilled there for a few minutes too.
Water view from downtown, duckfat fries, lobster ice cream
Back at the campsite, we checked out the little beach near our cabin and settled in. We ran to Walmart down the road to pick up a couple of things we forgot too. When we got back, we started up a campfire (which took forever) and I cooked up some sausage and veggie foil packets on the grill. We also had s'mores (obviously – I love them so much) and tried making some with Reese's instead of plain chocolate… so good. We chilled outside until it was too cold and went to bed early.

Chris at the cabin, beach at the campground, getting the fire ready, grilled bagels for breakfast
Saturday May 19th
We grilled bagels for breakfast, which was awesome, and then got ready for the day. We left the campground and headed over to Acadia around 10 AM. The first stop was Sand Beach, which is a well-known spot for visitors (especially during the summer) and is close to a few other sights we were hoping to check out. The beach was cute and had great views of another mountain, which we later learned was where we'd be taking the Beehive Trail to the summit (eek – more on this in a minute).
View of the Beehive trail mountain from Sand Beach, view from the middle of Beehive of Sand Beach on the ground, pano Sand Beach
Across the street from Sand Beach is the entrance to a few trails, including Beehive. It's a 520 foot mountain where the hike up involves literally walking on the edge of the cliff and often using metal rungs in the rocks to get up to the next level. It's a challenging hike, but not as physically demanding as I expected. However, I am pretty afraid of heights… and that was terrifying. I wouldn't look down or at the view most of the time and there were many moments I was basically crawling in order to make sure I didn't fall over. Watch this quick YouTube video to get a sense! When we finally made it to the top, I was so proud of myself that I almost forgot how scared I was the whole way up.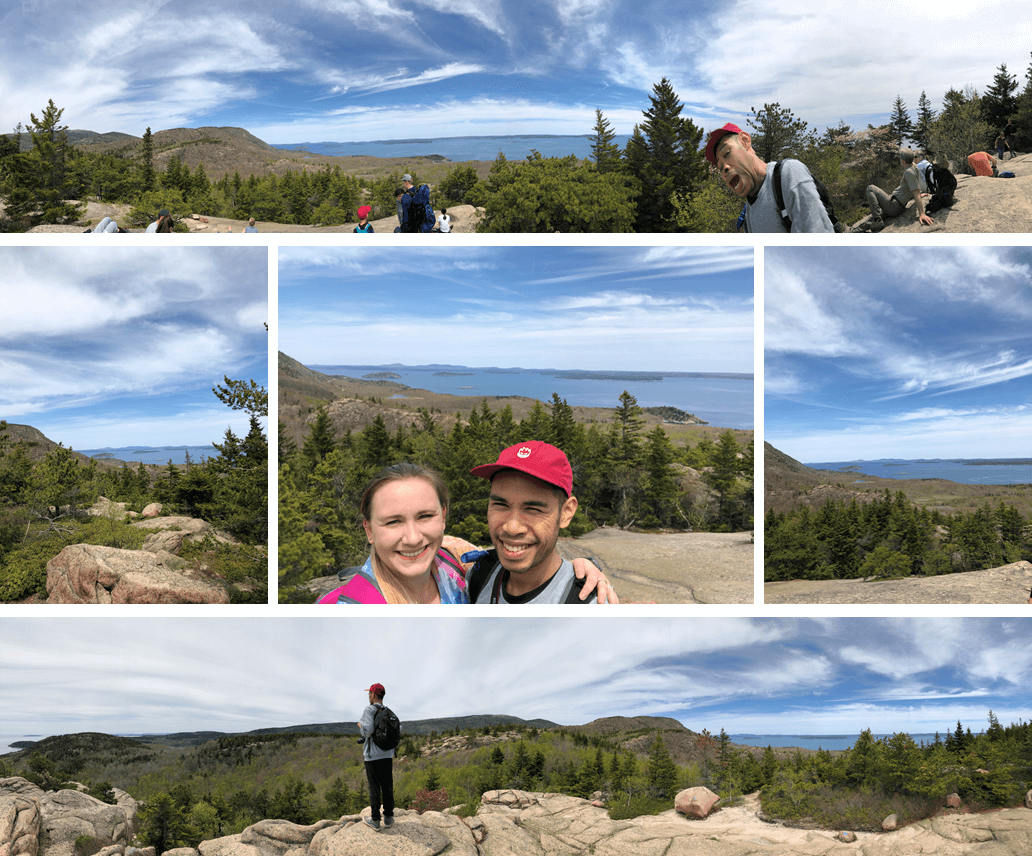 Various pictures and panos from the hike up Beehive and the summit in various directions
The summit was gorgeous. You could see Sand Beach from the top and other mountains surrounding it. The good part is that the way down is MUCH easier. There's a windy trail through the woods that gradually heads down the backside of the mountain so you don't have to climb down the way you came. I don't think I would have been able to do that lol. We stopped for some more pictures along the way because the view on the other side of the top was just as pretty as the main summit/face.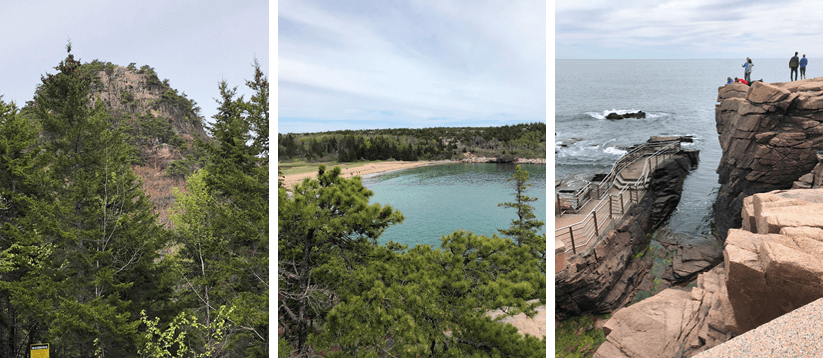 View of Beehive from the base, Sand Beach from the Ocean Path trail, Thunder Hole
We walked back over to the car after completing the hike, went to the bathroom, and planned our next move. There's a rock formation on the edge of the beach called Thunder Hole because during high tide, it rumbles like thunder with the waves. The Ocean Path trail takes you along the water and has some amazing views onto different rocks and cliffs along the way to Thunder Hole. We realized once we got there that there was plenty of parking and we should have just driven (my legs were killing me) but it was worth it to see those views. Thunder Hole was anticlimactic. It was overrun with people waiting to hear something even though it was about an hour after they said it would likely make noise. It just looked like a big rock with an open spot in between. I'm glad we saw it for the sake of saying we did though. We headed back along the path and then drove back to our campsite. We had a very low-key night there because we wanted to take advantage of some actual campground time. We made burgers, hot dogs, and s'mores on the grill for dinner and just sat outside on the porch. It got cold and a bit rainy so we turned in super early.
Sunday May 20th
Our plan for Sunday was to hit Bar Harbor for some food and souvenir shopping, then check out the summit of Cadillac Mountain. We heard about Cafe This Way from that YouTube channel I mentioned earlier and decided to give it a shot. I'm usually very easy to please at restaurants; you won't find me saying something was bad very often… but my food was BAD. I got eggs benedict and the English muffins were undercooked, the eggs were overcooked without enough runny yolk, the hollandaise was pretty good, and the Canadian bacon tasted a bit funny. It was not a good time and I was definitely disappointed.We shopped around town and picked up a few postcards and shirts. It started to sprinkle a little bit so we decided to get a move on to Acadia. We went back to the Jordan Pond House to check out their gift shop and picked up a couple more things. We drove to the top of Cadillac Mountain and were unfortunately met with a lot of fog. We couldn't see ANYTHING at all. It was more of an experience to say we made it to the top of the highest point in the northeast, and we had already seen so many gorgeous views throughout the trip, so we weren't too mad. We were definitely kicking ourselves a bit though because Saturday had gorgeous weather and we could have just driven up there to check it out quickly. Ugh. Anyways, we made tentative plans to kill some time and maybe come back later in the day before driving home. Our plan was to hit the LL Bean outlet, 40 minutes away, and then get some food. We decided against it just because it would have been too much backtracking and we figured we should get home instead.

Disappointing breakfast, disappointing views from the top of Cadillac Mountain, not disappointing Tim Horton's stop
One thing I was VERY excited about though was being able to get Tim Horton's on the way back! I am a huuuuge fan of their food and every location near me closed in the last 10 years. I knew there were some in the more northern parts of Maine, so we grabbed that on the way home and I was HAPPY. Overall, it was an amazing trip and I can't believe it's already come and gone so quickly. We're already making plans to come back sometime, maybe this fall if we're up for the drive.
Related Posts