Just like last year, I decided I should make a big ol post about TBR ideas for the Popsugar Reading Challenge! Sometimes it just helps me to circle back and remember what my ideas were at the beginning of the years if I start to get lost later on. I was REALLY excited to see this list because all of the prompts seem attainable this year. Seriously, I'd probably read *most* of these without a lot of prompting.
Other resources: Popsugar Reading Challenge post and Popsugar Goodreads Group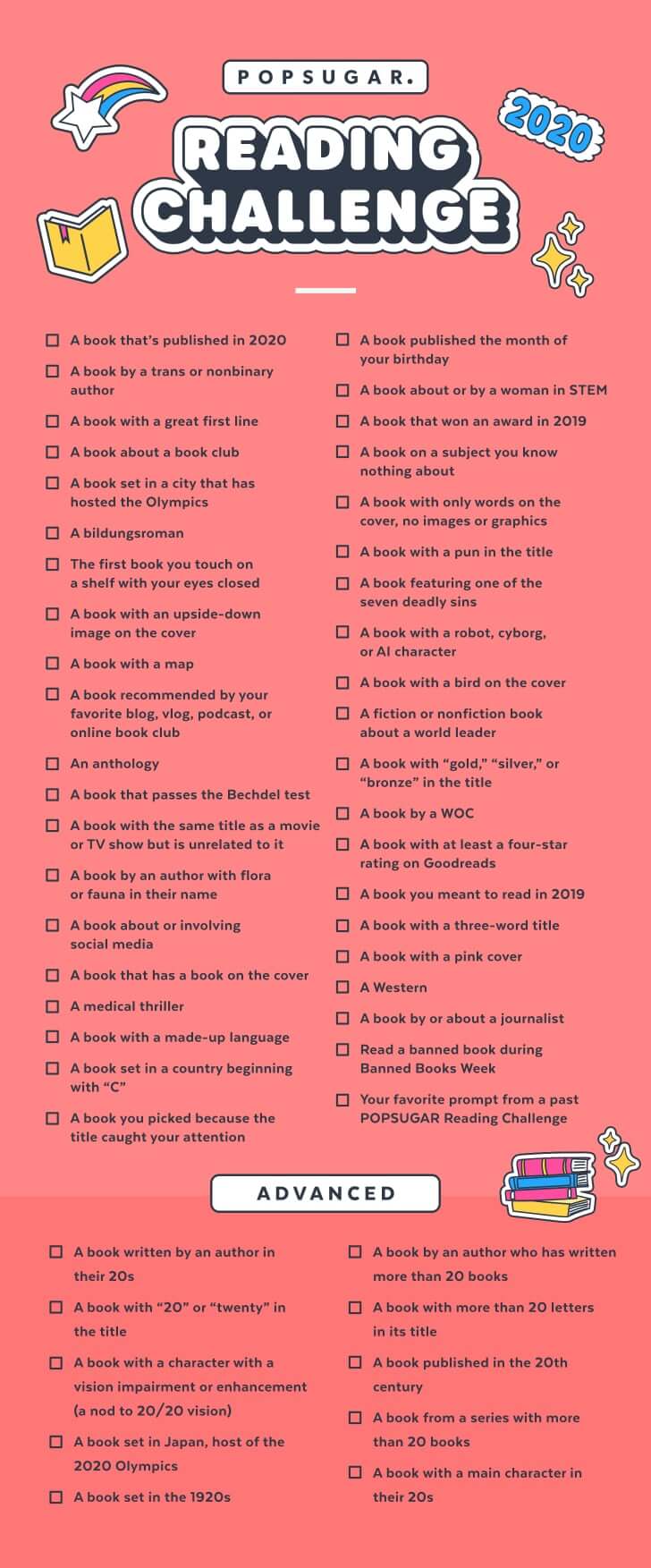 TBR Ideas
A book published in 2020
This is one I'll be sure to cross off right away, as I tend to read new releases pretty frequently! I decided to list some January titles I'm excited about since I'm sure that's when I'll check this box off. It could be ONE OF US IS NEXT, A HEART SO FIERCE AND BROKEN, or A CASTLE IN THE CLOUDS.
A book by a trans or nonbinary author
I struggle with heavier contemporaries like I WISH YOU ALL THE BEST but I've heard so many great things about this book. I think the likely option for me based on my existing TBR will be OVER THE TOP by JVN because they identify as nonbinary.
A book about a book club
I've been seriously meaning to read THE GUERNSEY LITERARY AND POTATO PEEL SOCIETY for while and I don't really know why, but that will work here. I also have an egalley of UNDERCOVER BROMANCE, which involves a bunch of men reading romance books. And one last option: CRIMES AGAINST A BOOK CLUB, because I've had this on my Kindle for a while now.
A book set in a city that's hosted the Olympics
Some easy ones from US cities are St. Louis, Lake Placid, Los Angeles, Squaw Valley, Atlanta, and Salt Lake City. International options with a lot of books set there are London, Paris, Beijing, Montreal, Seoul, Tokyo, Vancouver, and Singapore. THE BOOKISH LIFE OF NINA HILL is set in LA and is definitely on my TBR, since I missed it last year. LEAH ON THE OFFBEAT takes place in Atlanta.
A book with an upside down image on the cover
I've been meaning to read A THOUSAND PIECES OF YOU for a very long time and it has the upside down city on there. A couple of newer releases with similar upside down imagery include THE TWO LIVES OF LYDIA BIRD and THE KINGDOM, both on my TBR.
A book with a map 
I looove a good map. THE HAND ON THE WALL has a super cool one (because the other books in the series do) and I know I'll be reading this promptly in 2020. I've also been meaning to continue The Witchlands series with WINDWITCH, which also has a map.
An anthology
I've read many of the anthologies from my TBR, but there's one coming out next year (VAMPIRES NEVER GET OLD) that I'm sure to read when its released. I also have A TYRANNY OF PETTICOATS on my TBR from years ago. I'd still like to read this one at some point!
A book with the same title as a movie or show but is unrelated to it
I definitely relied on the Goodreads lists/group for this one! I guess there is a movie called PERMANENT RECORD and I definitely know there's a TV show called THE LYING GAME. This is another prompt that may just happen naturally if a realization happens, but these are two books on my TBR I would like to read and match here.
A book by an author with flora or fauna in their name
This is such a unique prompt! Obviously flora involves plants and fauna involves animals, so there are way more directions to go than I initially thought. One option, FAR FROM THE TREE, is by Robin (a bird) Benway. Another is WHITE CAT, since I've been meaning to read this series by Holly (a plant) Black.
A book about or involving social media
I know my most likely pick here is TWEET CUTE, where rival business social media account managers fall for each other. I have an egalley and the only reason I haven't read this book yet is because I get into full-blown holiday mode in December! My other top option is THE BOYFRIEND PROJECT, where three women become friends after someone live-tweeting a bad date makes them realize they're dating the same guy.
A book that has a book on the cover 
Another prompt with a lot of options for me! These two – THE BOOKSHOPS OF YESTERDAYS, THE BOOK CHARMER – are on my TBR, so they'll work nicely.
A medical thriller
This is most likely going to be one of those books I skip when I read 40/50 prompts. But, in case I don't, here are some ideas of books I MAY consider for this one. I saw that THE SILENT PATIENT was a good mystery – on my TBR already – that could qualify here. The other option is THE FARM.
A book with a made-up language
I definitely need to finish up this series next year or Chris will keep yelling at me. Luckily, SAGA includes a made-up language (or two?) and I'll be moving forward with volume 8.
A book set in a country beginning with C
I'm assumed that Canada would be the country I end up with, based on books already on my TBR, but there weren't any that immediately came to mind. I have NEXT YEAR IN HAVANA (takes place in Cuba) and THE LONELY HEARTS HOTEL (Canada).
A book you picked because the title caught your attention
I'm gonna keep this one honest and genuinely only have selections here that I added to my TBR because of the title specifically. THE FALLING IN LOVE MONTAGE was the first that popped into my head. The others I found from browsing my 2020 shelf and remembering adding them: I KILLED ZOE SPANOS and JUST A BOY AND A GIRL IN A LITTLE CANOE.
A book published in the month of your birthday 
I could easily pick a backlist book released in the month of September for this one, but I'm kind of guessing it may be a new release I pick next year. The issue, at the time of writing this post, is that most September 2020 releases on my TBR don't have covers yet. As a placeholder for one option (THE LAST CONFESSIONS OF MARA DYER AND NOAH SHAW), I'm including the previous book in the series' cover. Two September 2019 releases I missed are THE TEN THOUSAND DOORS OF JANUARY and AMERICAN ROYALS.
A book about or by a woman in STEM
I think SLAY should count here because the main character is a math tutor by day and video game developer by night, but still in high school. THE RIGHT SWIPE is about a woman who made her own dating app and is a badass basically.
A book that won an award in 2019
I thought it'd be fun to take a look at some Goodreads winners from the end of the year to get myself started. I have yet to read NINTH HOUSE and I'm not sure if I will, but it's here for the choosing. The other two that appealed to me from Goodreads are DEAR GIRLS and PUMPKINHEADS when autumn comes around again.
A book on a subject you know nothing about
This is tough! Not because I know everything but because if I don't know anything about something, it's because I'm not overly curious about it? If I have an interest in something, I'll read about it or learn about it. Anyways… I'm most likely going to read a historical fiction book during a time period I don't know much about. THE GREAT ALONE takes place in Alaska 1974, which is something I'm not familiar with, and A MAD WICKED FOLLY is about London in like 1909 and I don't read much in that time period.
A book with only words on the cover, no images or graphics
FRANKLY IN LOVE was the first book that came to mind since I've been considering reading it for months now. I'm a big fan of typography on book covers, so I went to my "cover love" shelf and tried to find other options.
A book with a pun in the title
I love this one! It was so fun to browse my shelves and see some options. CLIQUE BAIT is a 2020 release that I'm looking forward to. TWEET CUTE, featured elsewhere on here, is also a good option. I think if you consider a pun to be a play on words, THE HONEY-DON'T LIST is a fair option.
A book with a robot, cyborg, or AI character
I don't want to overexplain and spoil, so let's say GIRLS WITH RAZOR HEARTS is my most likely option here. I also have been meaning to read DEFY THE STARS and try to read a wider array of book genres next year.
A book with a bird on the cover
I know I'll read THE BALLARD OF SONGBIRDS AND SNAKES so I probably don't need to include THE NEST on here, but they both have birds on the cover. It'd be super appropriate to read the Hunger Games prequel for this prompt since they all have birds on the titles.
A fiction or nonfiction book about a world leader
I'm not into these kinds of books, fictional or otherwise, for the most part… but I am tempted by BECOMING. Only turds don't like Michelle Obama. I suppose a fictional book would work and I have read some (about royalty or politics).
A book with "gold" "silver" or "bronze" in the title
This was hard based on my already-existing TBR! I don't know about these ones but they're my best options. GOLDEN and ONE SILVER SUMMER are not books I'm super high on so maybe I'll skip this prompt unless a new book comes to my attention later!
A book by a WOC
I'm trying to get better about reading more diversely and widely; I actually have a lot of great options for 2020 books by women of color. I'm probably going to read all three of these within the first two months of the year: THE WORST BEST MAN, BLITZED, and 10 THINGS I HATE ABOUT PINKY.
A book with at least a four-star rating on Goodreads
It's hard to finagle this one as a blogger because I could use my TBR-unreleased shelf and easily find something with 4 stars because not a lot of people have read the book yet 😉 I decided to just use my actual TBR with books already released, but this is probably one where I'm going to check the rating when I start something. I have SAGA #9, TRANSFORMED, and KILLING NOVEMBER.
A book you meant to read in 2019
I have seriously so many books I could put here. I wanted to read these ones in 2019 primarily because I had review copies (for the first two), but also I just can't believe I put off ROYCE ROLLS yet again. MARRIAGE ON MADISON AVENUE and RICOCHET are the major review copies I thought I'd get to.
A book with a three-word title 
It can be hard to find titles with exactly three words! I feel like so many have "the" and other small words in between. Anyways, I'll be reading COME TUMBLING DOWN immediately when it comes out, so that was quick. The other options for 2020 releases are THE TOURIST ATTRACTION and A SWEET MESS.
A book with a pink cover
A nice and easy one for me, as a pink-lover! These three are 2020 contemporary releases that I'm super looking forward to: YOU SAY IT FIRST, FOUR DAYS OF YOU AND ME, and THE HAPPY EVER AFTER PLAYLIST.
A Western
I'm definitely not a Western kind of gal so I am truly thrilled that MY CALAMITY JANE comes out in 2020! I have obviously been waiting for the next installment in the Lady Janies' book series and it's so perfect that this one is centered around Calamity Jane, therefore is a Western.
A book by or about a journalist
I feel like I'm more likely to find a YA book where the MC is wanting to go to college for journalism than I am likely to read one of these, but here we go. I have a nonfiction book by a journalist – INVISIBLE WOMEN – and a fiction book where the MC is a reporter – SHARP OBJECTS.
A book by an author in their 20s
I feel like I read a decent amount of younger authors, so this wasn't overly challenging! I feel like this may be okay to stretch into a book that an author wrote when they were in their twenties as well. I know I'll read Adam Silvera's newest book INFINITY SON next year so that's easy. I'm also thinking I should finish off ToG and read EMPIRE OF STORMS.
A book with "20" or "twenty" in the title
I've been sitting on TWENTIES GIRL for a long time now and am usually delighted to read Kinsella's backlist, so maybe that'll happen here. My other, far more serious option – like… incredibly opposite of a Sophie Kinsella novel – is WE HAVE YOUR DAUGHTER (the second half of the title includes "twenty years later"). I'm fascinated by this case and would likely enjoy a book about it.
A book with a character with a vision impairment or enhancement (nod to 20/20 vision) 
I suppose any book where the character is wearing glasses would count! I can't think of a vision enhancement except if they could SEE into the future 😉 Not sure if that counts hah. THE STARLESS SEA has a character who needs contacts/glasses apparently. I think it'll be easy to find a book with a character who needs glasses once I start reading too.
A book set in Japan, host of the 2020 Olympics
I need to expand my reading horizons! I've been thinking about WARCROSS for a while now so maybe this would be the right time. I kind of determined a while ago that I might not ever read SEVEN DAYS OF YOU but who knows. Could be quick and easy.
A book set in the 1920s
Super easy, 100% reading this book the moment it's released and that's that. I don't read much historical fiction so this is an obvious choice. THE KING OF CROWS will probably kill me so that's fine.
A book by an author who has written more than 20 books
Sara Shepard was the first author that came to mind for this one… AND I've read the majority of her books too. She has two books I haven't read yet: REPUTATION (2019) and INFLUENCE (2020).
A book with more than 20 letters in its title
All of these titles are too long to actually list out here so feel free to read them above lol. I have a good feeling that GUIDE will be the one I pick, since book club will likely read it later in the year once its released.
A book published in the 20th century
I'm really not great about reading classics or older books, so I have a decent feeling I may read something closer to the year 2000. But who knows! I like to use Serial Reader for classics occasionally. There's a super strong chance I reread the HARRY POTTER books next year because I miss them, and this would be a great one. I've been thinking of reading the SANDMAN graphic novels.
A book from a series with more than 20 books
I knew right away that I'd read a cozy mystery OR Hercule Poirot book for this prompt. With DEATH ON THE NILE coming out as a movie soon, that's most likely going to be my pick for this one! The other Agatha Christie book I've thought about reading is THE ABC MURDERS.
A book with a main character in their 20s
This is another one where I may just came across it naturally, but I have a couple of books on my TBR where the character is apparently in their 20s – NINTH HOUSE and AN ABSOLUTELY REMARKABLE THING.
TBD When Reading
There are always a few prompts you may not know ahead of time, until you start reading the book and determine that it fits a prompt. Here are some of those that I'll figure out when the time comes!
A book with a great first line: I'll see this when I start something, surely.
The first book you touch on a shelf with your eyes closed: I might get a little crafty with this one and try to pull the rainbow books from my shelf and pick one of them with my eyes closed.
A book that passes the Bechdel test: I knew of the Bechdel test but couldn't remember the exact situation for it – basically its a scene where to or more women discussing something other than men. I probably could list some book options for this one here but I have a good feeling that I'll find one quite easily while I'm reading, since I read so many books written by women.
Your favorite prompt from a past Popsugar Reading Challenge – A book you think should be turned into a movie: I've decided to pick this prompt because I really love it! It was fun last year and I remember finding a book super quickly for it. I can't necessarily plan ahead; this is one that hits you while you're reading or upon completion.
A book recommended by your favorite blog, podcast, vlog, online book club: I think I may wait on this one as well. I watch a lot of booktube lately and if there's a book on my TBR that one of the people I watch recommends, I can count that quite easily. Any book a friend recommended on Goodreads or on their blog would work too! I can play it by ear.
A book featuring one of the seven deadly sins: I decided to wait on this one as well. I think it would be fairly easy to pick a steamy romance novel to represent Lust. There are plenty of other options that would be found while reading: a super angry character looking for revenge, for example.
Read a banned book during Banned Books Week: This is definitely one that I could make a TBR for but honestly I don't think I'll participate. I struggle with reading anything in September as it is, but making it a banned book? Even harder. I don't like most of the options. So, we'll see.
A bildungstroman: This is just a fancy word to mean that that book deals with someone's formative years… so, basically every YA book ever on my TBR. I won't bother with a TBR option here because I have a feeling that I'll just read a normal YA contemporary and realize it fits.
Related Posts