Five on Friday displays the the top five things that have been on my mind this week! It could be book-related, but it may be music, movies, TV, personal life, food, etc. I'll generally be posting these biweekly and linking up with Friday Favorites (hosted by A Little Bit of Everything, Grace and Love, and Momfessionals). Previous posts can be found here!
---

Birthday Week and Cape Cod Camping
My birthday was on a Wednesday this year so I, as usual, took the day off to relax alone haha. I got my nails done and hung out with the dog all day before getting an early dinner with my mom on the patio. My friends all met up at our favorite brewery in the evening. It was a nice day overall! The next day, we headed out to go camping. I used to go to Dennis in Cape Cod every summer of my childhood, but hadn't been back in over 15 years! It was my favorite place on earth. We decided this summer to go camping at a campground in Dennis, a few minutes from the cottage and beach I frequented as a kid. It was so fun to relax, play disc golf, get our pups together, and check out the area again as an adult. We hope to go back next year if things are normal and stay in a cottage or something.
---

WW and Meal Prep/Planning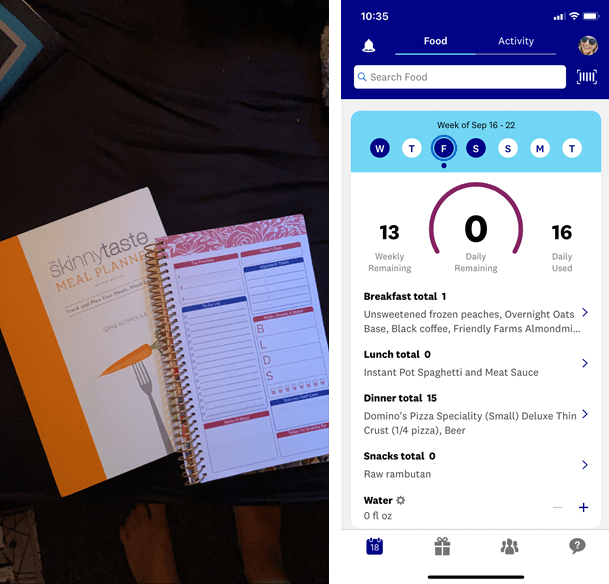 I was attempting to calorie count again but really lost steam for some reason. I decided to try WW again when they sent me a birthday coupon for 50% off three months. The other deals all involved a 9 month program and I'm hopeful I will have success in three months and assess from there instead. I'm on the purple plan, which means there are less points per day but more zero point items. Things like oats, whole wheat pasta/rice, brown rice/pasta, and potatoes of all kinds are zero points. We've been wanting to eat more of those things and I thought it would be a good way to switch up the program from what I've done in the past.
I posted last month about the Skinnytaste Meal Planner and trying to be better about meal prep but that didn't work as well as I hoped over the past month! I've decided now with WW it'll be a lot easier to prep things ahead of time and mix and match foods to make some meals. With items like whole wheat pasta or brown rice zero points and likely staples in meals, I can cook a bunch of one or both at the beginning of the week to use in our meals throughout. I told Chris it'd probably be easier for us to use one of Miller's nap times on Sunday and just go crazy with prepping food for the week and maybe making one lunch for both of us for four days so we don't have to think about leftovers.
---

YNAB
I used You Need a Budget a few years ago and ended up getting lazy. Now that I'm in a better financial situation, have paid down some credit cards, and have a wedding to mostly pay for, I thought it would be wise to get back into budgeting for real this time.
---

Football
Football is somehow back! They seem to be doing okay so far when it comes to COVID rates but I can't imagine that will stay true the whole season. There are already a lot of injuries too because I don't think players had the ability to condition and practice as much as usual either. It's been nice to have it back though – some normalcy. I'm still sad and mad about the Panthers and Cam Newton, but I really enjoyed Teddy's performance the first Sunday (not so much the following Sunday…). The defense on the other hand… woof.
---

Watching and Listening…
Watchmen

I think the cinematography and style of storytelling here were fascinating! We've enjoyed the show overall and there are at least 2-3 episodes that really wowed us, but I don't think it's what Chris expected. I'm not sure what *I* expected (I didn't know anything about it) so it's been pretty good for me. I would be curious to see what they'd do in another season but it seems like they won't be making more.
Paper Ghosts I'm always looking for new true crime podcasts to add to my rotation. The spooky image above caught my attention. Then, the synopsis mentioned a string of missing girls from New England towns and I was definitely intrigued. Within the first few seconds of the preview? They mentioned my actual hometown and a few of the neighboring towns that I've lived in before and/or frequented. SO needless to say… I was hooked. I'd heard about one or two of the cases in passing before but was so excited to learn more in podcast form! Apparently the host is a famous true crime journalist whose written a ton books and lives in one of the towns.
Related Posts