Five on Friday displays the the top five things that have been on my mind this week! It could be book-related, but it may be music, movies, TV, personal life, food, etc. I'll generally be posting these biweekly and linking up with Friday Favorites (hosted by A Little Bit of Everything, Grace and Love, and Momfessionals). Previous posts can be found here!
---

Near Year, New Motivation, New Nutritionist
I was thinking a lot about New Years and resolutions. I've always said that I think it's stupid to get THIS excited about a new year, when time basically isn't real and it's meaningless. 2020 sucked and flipping the calendar to 2021 doesn't change anything without actual progress or work. Anyways, I've simultaneously (like everyone else) used this time to plan new goals and set intentions for the next year. January is such a motivating month for me and I don't feel bad if/when I fall off the wagon in February. I think because time REALLY doesn't exist between Christmas and New Years, we all fall out of routines and are so desperate to get back into the swing of things – that's why January is a great time to start over and freshen everything up! That's what I think anyways 😉
No major resolutions here except to keep working on my health and nutrition. I want to eat better overall, get into intuitive eating instead of tracking, and become better at working out. I'm trying to focus on cookbooks and recipes that are well-rounded and allow me to feel better when eating them. Half Baked Harvest (and her second book, HBH Super Simple), Skinnytaste, and other websites/nutritionist recipes will be key this year. I signed up with a nutritionist instead of following a diet. I want to be able to eat more food, but have it be better for me and keep me full!
---

Currently Watching:
Moonbase 8, The Boys, and The Undoing
Now that holiday movies and books are gone from my life (WAH) I'm actually able to focus on other shows I've wanted to watch. I knew Chris wouldn't care about The Undoing so I started it alone and it's been interesting so far. I have the final episode to watch today and honestly it's been underwhelming. There could be a big wild reveal in the finale but even so, the journey was a bit meh.
Chris was in the mood to watch The Boys and I recently paused my Amazon Prime membership (more on that in number three), so we thought we'd get going before it ends on 1/22. It's interesting too! It follows superheroes who work for various cities and are actually shitty people behind the scenes. A guy comes in to infiltrate and expose them, and he ends up being kind of terrible too haha.
And finally, Moonbase 8 – Chris has been a fan of Tim and Eric for a while, so we watched a few episodes of their show this past week. This led to some YouTube suggestions and we found out that Tim, John C. Reilly, and Fred Armisen had a show out called Moonbase 8. They're at a moon simulation base in Arizona to see if they can move up to the actual moon. It's somewhat funny – the second episode is better than the first. We're also about halfway through right now.

Shopping Small
As I mentioned above, I'm trying to buy more from small businesses, Etsy, and even local chain stores (I don't even want places like Best Buy or Petco to close because of a mega corporation like Amazon) instead of demanding everything in two days or less. I can get almost anything I need locally. Despite holiday shipping delays, I've received items so quickly from small businesses. I ordered garden flags from a random website and they shipped and arrived in the same timeframe they would've from Amazon.
Two random Etsy purchases I'm excited about: a wall calendar and a Mason Jar lid organizer! So random but really helpful. I even opened Amazon to find a 2021 calendar, realized I could get it from somewhere better, and moved into Etsy.
---

Nail Wraps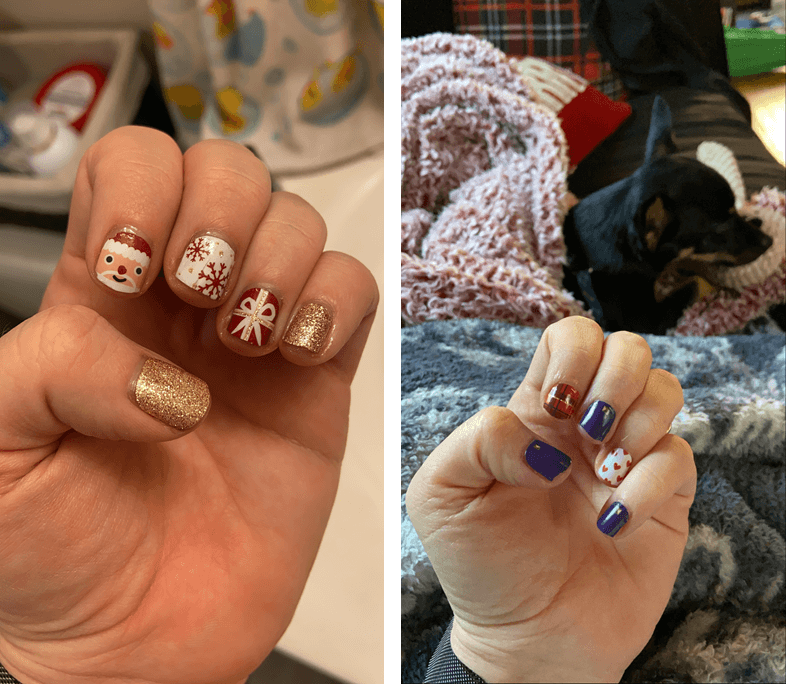 Speaking of Etsy, I've gotten really into nail wraps or stickers! I know Color Street is the main place people buy these from, but I'm aiming to not support any MLMs anymore whatsoever. Bonuses? Going on Etsy supports small businesses (so far, all woman-owned) and they're cheaper than Color Street! I've bought from a few different stores and may do a roundup at some point if people are curious about my favorite companies. I bought a coupon organizer to keep the packages and info sheets. Most of them last around 10+ days and peel right off after soaking your fingers in water. I'm really happy with them so far! I was thinking it was pointless because I don't really see anyone except a few family members and Chris right now, but my Christmas nails and early-January winter nails have made ME happy whenever I look down. For $3-5 per set, who cares?!
---

Miller Roundup
Miller was totally spoiled between Christmas and New Years when Chris was home and I wasn't working! He usually will bark at me to play throughout the day when I'm working and has trouble entertaining himself (when he can see me in the same room as him) but he's gotten better since we got back into our routine. We're starting to get used to leaving him unsupervised as well. He's not particularly mischievous but you never know haha. He very rarely gets into things he's not supposed to – if he can't see us, he'll entertain himself with a chew or stuffed animal, or just sleep. He's 9 months old now!
Related Posts