Another round of a quarantined work day in my life! This is my first installment with the pup, since we got Miller about a month after posting my last one in May 2020. Here we go.
---
My work-from-home routine during the pandemic has definitely evolved and changed since March 2020, a year ago this month (!). I used to be in my pajamas until noon, shower during my lunch break, and have an easy day on the couch. 3 months into it, we got a puppy – and my whole day changed! Luckily my boss is flexible and realistically as long as I can make meetings/interviews happen when needed and get everything else done in time, I can spend time during the day with Miller when needed. I wish I did one of these around early fall to just show how different my routine is now. Oh well – here's how my day went on March 10th!
Miller used to sleep until after 8am but lately he's been waking up and wanting to go downstairs somewhere in the 7:00 hour. This morning he was definitely up closer to 7am so we headed down to get the day going. We go out to the bathroom first and foremost.
I made my coffee and had a bagel thin with veggie cream cheese for breakfast. Miller gets his Greenie for his dental health to start the day.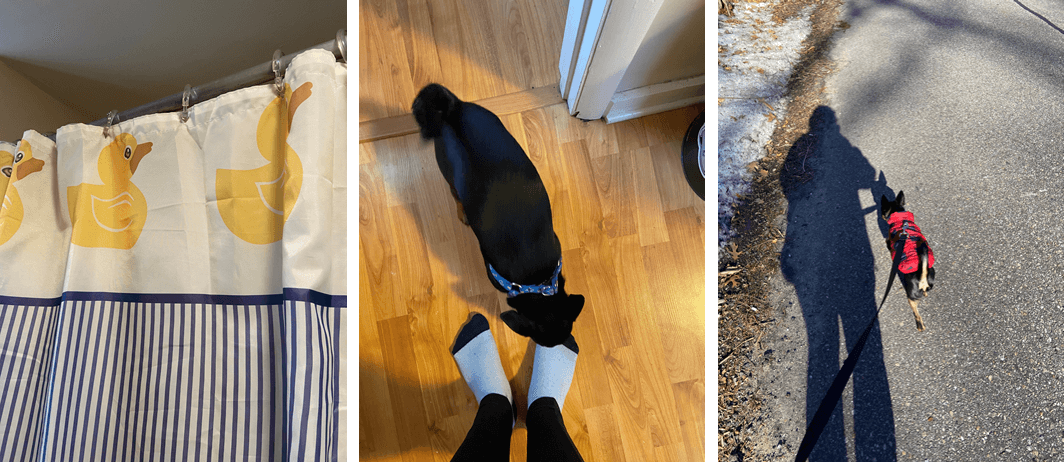 I took a shower (please enjoy our duckie shower curtain), brushed my teeth and hair, and got ready for our walk. He knows what time it is when I get my clothes on and was totally ready to head out when he saw his little jacket and leash. We've been walking a quick one-ish mile trip up my street and onto a quieter one for most of the walk. I typically go until I reach a certain house because I know it's been about 15 minutes out and then it takes 15ish to return. He's very sniffy on the way back because there's more grass to explore on the side of the road haha. I've been addicted to The Vanished this week – I listen to a decent amount of true crime podcasts and this is one I revisit randomly; I get in the mood and listen to like 10 episodes in a row before moving on. I also listened to my wrestling podcast on the walk.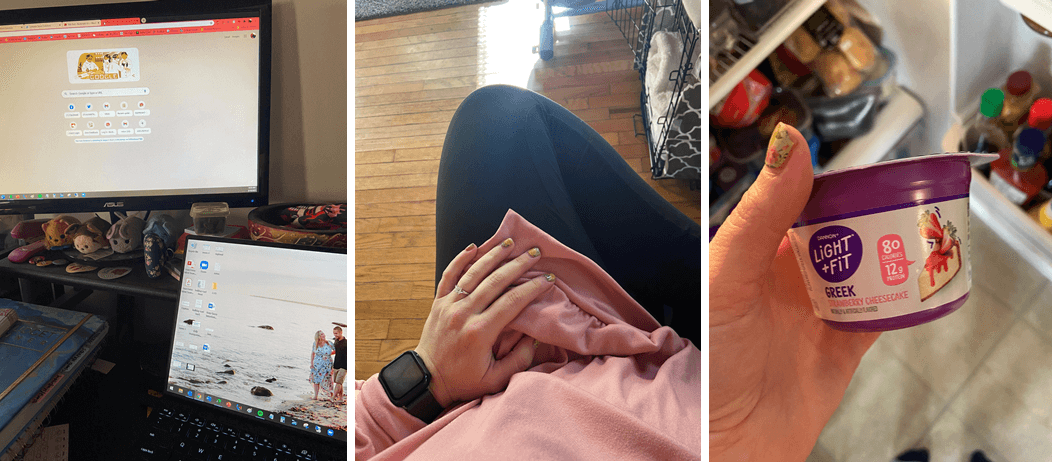 I started my work day from home still. Like most mornings, he'll usually fall asleep for a bit right after the walk so I can get some work done downstairs. He has a habit of bugging me for attention if I'm at my desk so I try to spend around 5 hours of the work day upstairs at my makeshift bedroom desk. This morning, I was able to spend a few hours downstairs working ahead of lunch. I wore a long sweatshirt with some leggings for classic WFH attire. I had a Greek yogurt for snack.
Miller gets a bully stick for 30 minutes per day when I need uninterrupted work time or someone calls me unexpectedly. We're definitely still working on the whole don't-bark-when-I'm-on-the-phone thing. I took a team Zoom call that lasted for 2.5 hours, unexpectedly… woof. Miller and I went outside afterwards so I could work in the sun.
He has a bad habit of digging holes when the grass/dirt is exposed (aka most seasons of the year lol) so I had to manage that while getting my work done. I didn't have any interviews to do or phone calls to make so it was nice to just be in the sun with my laptop and my pup for as long as I could trust him to not dig holes lol. Chris was heading to disc golf with a friend after work so I knew I'd be solo with Miller for a couple of hours. It took me a while to figure out what I wanted to make for dinner because I needed something that would reheat easily for Chris – I decided on the Skinnytaste Meal Prep recipe of Banh Mi Meatballs because the meals are literally made to meal prep and reheat leftovers.
I watched a little YouTube (hi Kristin!) before Chris came home for dinner and our usual night of TV watching. Miller curled up with his dinner on the little cushion we keep on the ground – we typically use it for ourselves when we play with him down there but he's been using it as a bed sometimes too haha.
Wednesday night is for AEW Dynamite, on the screen above. We love it. Miller usually relaxes anywhere around 7-8pm depending on how lazy his day was and/or how tired he is from the fun and excitement. We usually like to watch TV in bed for an hour but when Dynamite is on we don't get up there until 10pm. Chris took Miller out one last time while I got into bed with my Kindle. Did I read this? No, of course not. Ugh.
Related Posts