Eric Carle Museum of Picture Book Art & Montague Book Mill
My boyfriend and I took some time off this week and were able to have some bookish adventures! We were originally going to head up to Boston for the day, but Chris has been sick since the weekend and wasn't sure how much walking around he would be able to do. I'm grateful that he agreed to this day though, because he is generally a non-reader (although I am slowly converting him! He's listening to the Lord of the Rings audiobooks while working and has checked out some Lego books from the library. The key for helping non-readers is finding books about topics that interest them!). We ventured up into the Pioneer Valley of Massachusetts, which is around an hour from where we live in Connecticut. It's so pretty up there with tons of farmland – it was the perfect time of year, too, since the leaves are starting to change!
Eric Carle Museum of Picture Book Art
Our first stop was the museum located on the campus of Hampshire College in Amherst. We were randomly looking into museums we could go to that were closeby and discovered this one. It was so cute – everyone remembers reading Eric Carle books as kids. The two featured artists within the small museum were Simms Taback, author of There Was an Old Lady Who Swallowed a Fly, and Louise Fitzhugh, author and illustrator of Harriet the Spy.
I only took a few pictures inside the galleries (because you're technically not allowed to), but I just wanted to show what the place looked like. One gallery featured the permanent exhibit dedicated to Eric Carle's life and artwork. It was interesting to learn about his life and how he got started. Fun fact: he started in magazine advertising and design! He worked for various companies and magazines designing their artwork. He was approached by an author, who was impressed by his work, that asked him to illustrate a
book for him. The rest is history!
The middle exhibit featured the Harriet the Spy. It was interesting seeing all of the illustrations from the book because it has been SO long since I read it. It's amazing what people can do with pen and ink. It definitely made me want to re-read those books. I wish I could have gotten some pictures of the drawings.
The last exhibit was about Simms Taback and his work. He actually had a number of cute books that were featured, but the most prominent one that people remember is There Was an Old Lady Who Swallowed a Fly. I loved the way he integrated mixed media into his books. There was one cool picture of buttons that he made. Some images of buttons were real buttons, and some were ones he drew. You could tell when you were standing up close, but they all looked real when you stepped back from them.
Montague Bookmill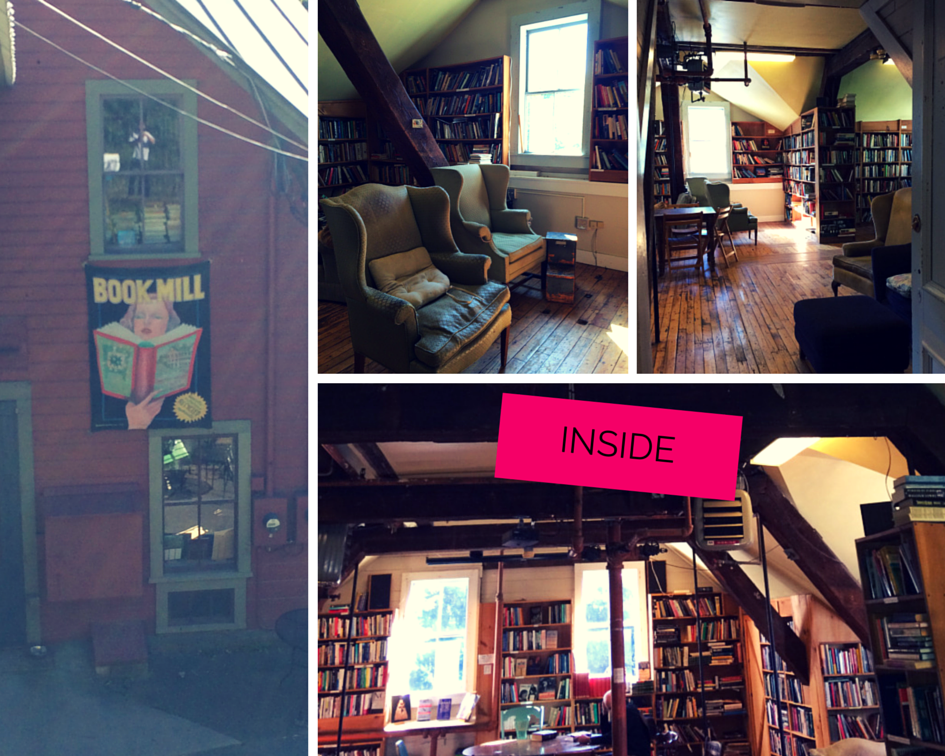 I'd been drooling over pictures of this place for almost a year before I finally convinced Chris to go. The bumper sticker doesn't lie – it is almost impossible to find. It took us about another twenty minutes to get there from the museum. It's tucked in the woods right next to a river. They have other buildings near it and attached to it: a restaurant, cafe, arts collective, and music/DVD store. We browsed for a while but honestly I was a little disappointed in the selection. I understand that I won't find all sorts of new releases at a used bookstore, but I always at least hope for some current books. All of the books in there were really, really old. The young adult section was very small and had a lot of titles and authors I didn't even recognize.
The scenery and interior of the building were gorgeous though! I took so many pictures. Chris used his fancy camera and probably got a lot of better shots than me, of course. I was glad we went regardless of my small haul from there. We tried to eat at the cafe and restaurant there, but both locations didn't really have food we were looking to eat. The restaurant was very expensive, and the cafe had some weird sandwiches that we totally weren't in the mood for. We ended up going over to a nearby tavern and restaurant for dinner before heading home. I wish I took some pictures of our food because it was pretty good!
When we returned to town, we went to our library to really cap off the bookish day! Chris got the next book in the LOTR series he's listening to as well as the Lego book you see in the picture. I got another book to add to my pile…as if I really have time for library books right now! I currently have three checked out that I need to read within the first couple weeks of October. I'm sure I won't have a problem finishing them, but I am unnecessarily stressing out about it anyways. I am totally addicted to the library now that we have our library cards. I can't believe I went SO long without one. I had one in my hometown that I used for many years. It expired while I was in college and I never got around to renewing it (plus, as you know, I barely had any time to read during college). When I moved home from school, Chris and I moved in together in a different town. The library there was in a rough area of town so I kind of stayed away from it. By the time I was really getting back into reading again, we were planning a move to the next town over. FINALLY I got my library card and it feels so good. (Clearly, because I'm addicted already)
We went back to our apartment after finishing at the library and decided to read some books outside. We watched the sun set from our little gazebo and read until the solar-powered light in there turned off. My plan of getting my boyfriend to be a reader is totally working! It was such a beautiful day for our little adventure and I'm so glad that we went 🙂
Check out my bookish haul from the day!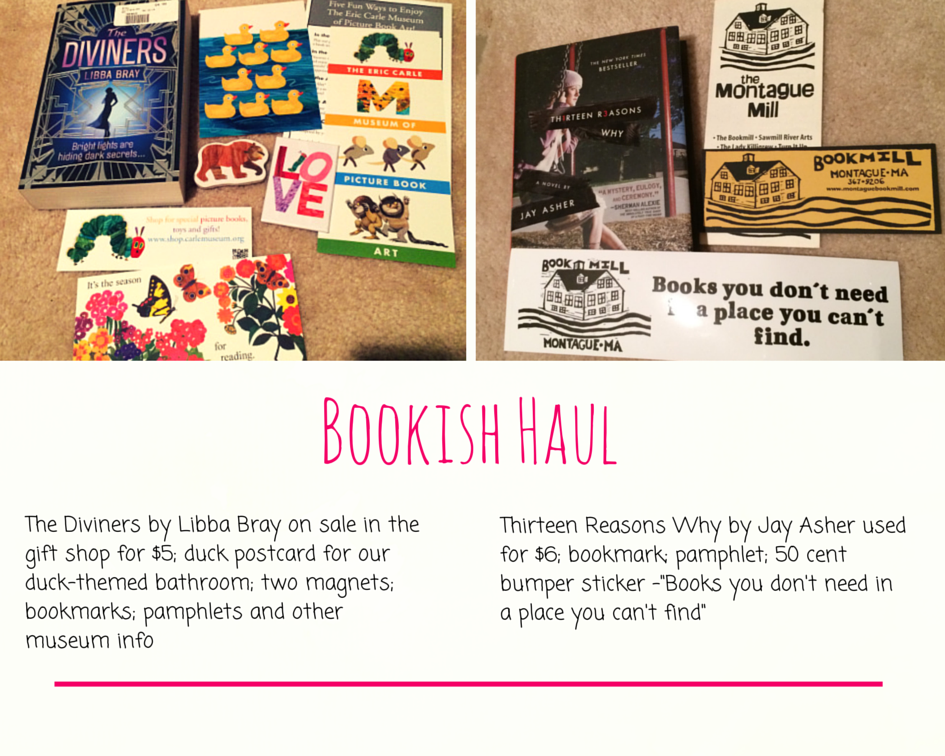 Related Posts