Top Ten Twenty Books I've Read So Far in 2015
Top Ten Tuesdays are hosted by The Broke and the Bookish, where we make lists of our top ten books (or something else!) based on that week's prompt. The topics are provided ahead of time and can be found here. Book links bring you to Goodreads or my review.
So we're halfway through the year, and I've read 88 books. To put that in perspective, I read 91 books total in 2014. It's hard to keep track of what I had for breakfast, let alone all the books I read this year. Most of these books I totally thought I read last year, so there are a bit more than expected… I tried to keep this list as SMALL as possible but its not easy. Here are the top 20 books I've read so far in 2015! (Yikes.)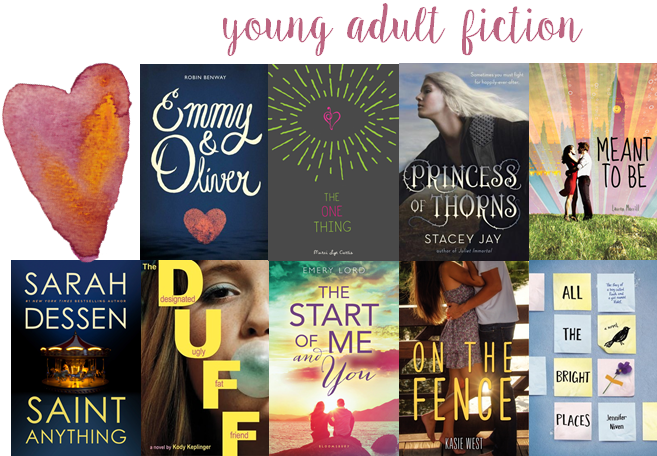 Emmy & Oliver by Robin Benway | I think this may be my favorite book so far of the year. It's hard to say (and I'll probably say this again a few more times on this list…), but I just got so many feels from this book. It's so well-rounded, with romance, friendship, and family. I can't sing its praises enough.
The One Thing by Marci Lyn Curtis | This book definitely caught me by surprise. I wasn't expecting to love it so much, but it was pretty amazing. It doesn't come out until September but I would mark your calendars. I have a feeling this book won't get much attention but it should.
Princess of Thorns by Stacey Jay | This started out kind of boring for me but got pretty amazing after the first 100 pages. I loved the plot twists, the adventure, the characters… Overall, definitely one of my favorites! (I read this back in January and totally thought it was 2014 when I did.)
Meant to Be by Lauren Morrill | EEEK, this was adorable. Morgan, my TBTB Secret Santa, gave me this one in her package because its one of her all-time favorites. It was such a fun book and I couldn't be happier that she made me read it!
Saint Anything by Sarah Dessen | No surprise that this is on here, eh? I've always loved Sarah Dessen and her latest book was an absolute hit for me. This was more a story of character growth and friendship than romance, and I wouldn't change a thing.
The DUFF by Kody Keplinger | I really enjoyed A Midsummer's Nightmare but this book cemented Keplinger as a new auto-buy author. I've loved all three books I've read by her. She makes flawed, real teenagers and puts them in believable situations. Love it.
The Start of Me and You by Emery Lord | GIVE ME MAX WATSON, PLEASE. As usual, Emery Lord knocked it out of the park. I loved this even more than Open Road Summer and am so freaking excited for her upcoming 2016 release. I love her.
On the Fence by Kasie West | I'm pretty sure Kasie West will be on every favorite list until she stops writing books. She's been one of my favorite authors ever since reading just one book by her. This book was super adorable and I shipped them so hard.
All the Bright Places by Jennifer Niven | The last 50 pages of this book pretty much broke me. I was sobbing continuously and my boyfriend kept bringing me tissues. Definitely an unexpected favorite for me this year.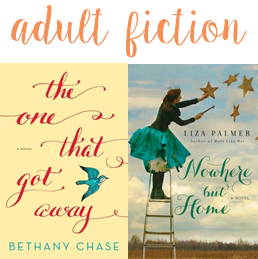 The One that Got Away by Bethany Chase | The cover alone should make you want to read this book. The inside was even better. I'm so glad I decided to read this one; I fell in love with the characters, setting (Austin, TX), and story.
Nowhere But Home by Liza Palmer | OKAY this book absolutely blew me away. Almost nothing about the synopsis really sounds like anything I'd like to read, but everything ended up completely perfect. I'm kind of obsessed with this book and can't wait to read more by Liza Palmer.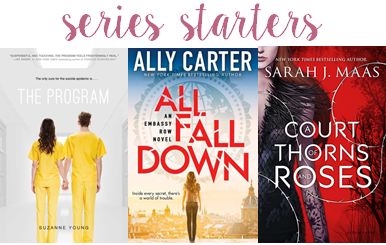 The Program by Suzanne Young | My Book Buddies series read for the next few months is The Program, and it got off to a GREAT start. I was a bit hesistant for some reason, but really am hoping the others in this series are just as strong!
All Fall Down by Ally Carter | Ah, Ally Carter. I love you. I still need to read her Heist Society series, but Gallagher Girls is so fantastic. I'm so excited for this new series; I could not put this one down for the life of me!
A Court of Thorns and Roses by Sarah J. Maas | I finally read an SJM book and it completely blew me away! The characters and complex world-building were so unbelievable. Some parts felt a litttttle slow, but the ending was absolutely intense.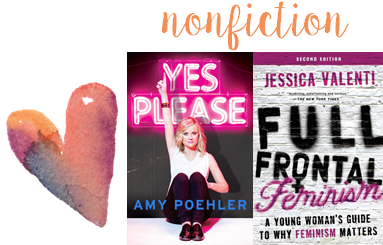 Yes Please by Amy Poehler | I knew I was probably going to love this one regardless, because Amy Poehler is kind of my queen. I loved her book; it was exactly as hilarious as I'd hoped. I recommend mixing the physical copy with the audio, because her narration was amazing.
Full Frontal Feminism by Jessica Valenti | My review for this one is posting next month and holy moly, it was so good. This should be required reading for all young women. It fully reminded me of why its so important to be a feminist and why everyone should be one. Loved it.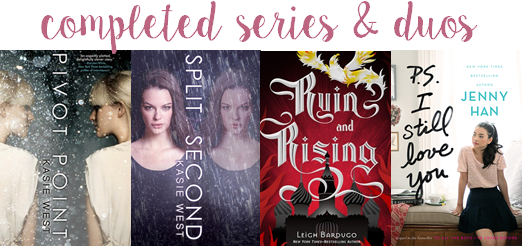 Pivot Point and Split Second by Kasie West | Yes, Queen Kasie West can deliver the goods even in non-contemporaries. I looooved this duology. It was intense, interesting, and unique. I absolutely love the dual timeline aspect of these.

Ruin & Rising by Leigh Bardugo | EEEEK. The Grisha Trilogy was pretty amazing. I liked the first book a lot, the second one wasn't my favorite, but the third one was perfect. I'm so happy with the way she wrapped up this trilogy.
PS I Still Love You by Jenny Han | God, I love these two books. To All the Boys I've Loved Before was easily a top three favorite last year, and the sequel did not disappoint. I could definitely read about Lara Jean and her family for pretty much the rest of my life.
Related Posts