I'm not sure if you've noticed, but I have been reaching for the adult contemporary fiction books lately. I always used to add them to my TBR based on some of my favorite bloggers' recs but I would never actually sit and read them. I requested some from Netgalley and got in the groove through ARC August, so now I'm itching for more. Here are some adult fiction books I plan to read sometime in the next few months. I'm trying to avoid the same books I always claim I'm going to read and never get around to…
The Secret Ingredient of Wishes by Susan Bishop Crispell /// I don't read a lot of magical realism, but the recent YA book I enjoyed that dealt with granting wishes definitely helped me add this different adult version to my TBR. Not a lot of people have read this one yet, it seems, but it looks like my friends enjoyed it.
The Regulars by Georgia Clark /// Another magical twist? Apparently that's my new thing. I'm intrigued by the concept: young women in NYC come across something that makes them supermodel gorgeous. I can't wait to see how their lives change and how they deal with the beauty. (First world problems, right?)
The Matchmakers of Minnow Bay by Kelly Harms /// I love second chance love stories! This book takes place in a small town at an inn, which is another favorite trope/setting of mine. I hope this one is as fantastic as it sounds, because it's seriously right up my alley.
The Roanoke Girls by Amy Engel /// So maybe adult mystery/thrillers aren't my cup of tea for the most part, but this one really interested me. It helps that the ARCs are gorgeous. But this part of the synopsis sold me RIGHT away: "Her return might mean a second chance with Cooper, the boyfriend whom she loved and destroyed…But it also means facing the terrible secret that made her flee, one she may not be strong enough to run from again…It weaves between the summer of Lane's first arrival and the summer of her return…"
The Hopefuls by Jennifer Close /// I didn't love her first book I read, but I want to give her another shot with this one. I'm intrigued by the relationship dynamics that develop between the two couples in the story… and I'm not gonna lie, the cover of this one makes me really happy for some reason.
Today Will be Different by Maria Semple /// I still haven't gotten to Where'd You Go, Bernadette? even though it's been on my TBR for years. This one seems really interesting though! The main character is basically going through a midlife crisis or something and has to reinvent herself a bit.
We Were on a Break by Lindsey Kelk /// Obviously I added this on Goodreads without even reading the synopsis because the title relates to Friends. Normal right? Anyways, the synopsis DOES sound up my alley too. It is like the premise of what happens in the show too. "Friends, family and bystanders all have an opinion and one complication leads to another as Adam and Liv try to muddle through… Are they split up – or are they on a break? What exactly are they allowed to get away with? And, most importantly, what do Liv and Adam really want?"
The One That Got Away by Leigh Himes /// I loved another book with the same title and this kept popping up on Goodreads when I'd search for it. Upon reading the synopsis… HELL YEAH. It sounds sooo perfect for me. It's a "what if?" kind of book and those always go straight to the TBR. "The woman Abbey might have been . . . if she had said yes to a date with Alex van Holt all those years ago." YEP YEP it's like so many things I love.
Rich and Pretty by Rumaan Alam /// I actually added this while looking for books to add to this post! It was recommended on the sidebar. Honestly the reviews and average rating for this book are seriously rough but I'm still interested for some unknown reason. (Gotta take a risk sometimes, right??)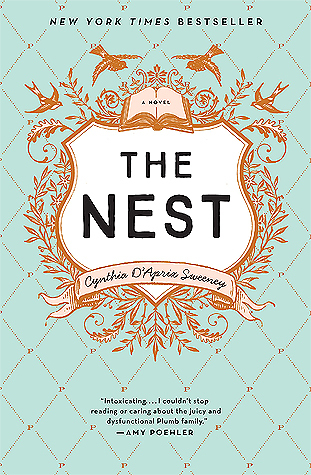 The First Husband by Laura Dave /// The premise for this one sounds a little wacky but I'm interested. A woman's husband decides to leave her, she moves away, she meets someone new… and gets married within three months. I don't know what to make of it, but quite a few of my trusted adult fic recommenders loved this one.
The Decent Proposal by Kemper Donovan /// If this book looks familiar it's because I talked about it quite a bit on the blog before, when I was anticipating its release. I even checked it out once from the library and never got to it. I still love the premise and will read this sometime soon I hope!
The Nest by Cynthia D'Aprix Sweeney /// I know this has also been on here before (and from the library, returned without reading), but I hope to read it soon maybe. It felt like the book was everywhere over the summer. I hope it's as good as I made it out to be in my head…
Related Posts