My girl Cristina and I were chatting the other day and I mentioned that I don't often buy books anymore. She then wondered: where do I even get my books from? Aaaand of course, that made ME wonder the same thing. I know I do a lot of ebook and library reading, but I've read around 130 books this year. Surely I didn't get them ALL from the library.
I know this is something I usually briefly talk about in my end of year wrap-up, but I wanted to dive in deeper here. My book buying is at an all-time low. I struggle to even give people Christmas lists because there are SO few books I actually want to own these days. I'm happy that I'm getting pickier overall, but it does make me wonder what books I'm actually reading.
Luckily, I keep track of this very carefully in my bookish spreadsheet. What books am I actually reading? Where do they come from? How much money am I even spending on books in general? [All data compiled on October 26th so it includes the first 10 months of the year, give or take a few I finish by the end of this month.]
Books I've Acquired
So first, how many books have I bought this year? How much have I spent? This handy little screenshot below can show you just that. Each column represents one of the months in the year. The total I've spent this year is $320.31 on 59 books. The others were gifted, borrowed from a friend or the library, or for review. This means that the average amount I spend is $5.43 per book. This makes sense because A LOT of the books I buy are just ebooks on sale for $1-3. Otherwise, I've preordered a few favorites that usually cost over $10. I can see why this number would balance out to the middle. I like that!

Books I've Read
I had to get crafty to get some of these answers and I decided to actually not include audiobooks. I haven't read enough of them this year to go through the trouble of analyzing where I got them from, especially because sometimes I borrow the audio but also have my own copy (and vice versa). It's too tedious. Just know, for audiobooks, I usually borrow the audiobook from the library/Hoopla.
Owned Books I've Read: 68 books
51.5% of my read books
Physical copies
Owned hardcover from previous year: 1
Preordered hardcovers from favorite authors: 5
Preordered hardcovers from new-to-me authors: 1
Purchased paperbacks for nostalgic reread: 10
Owned paperbacks from previous year: 3
Digital copies
Ebooks purchased this year: 9
Ebooks purchased in previous years: 9
Advanced copies
ARCs from the publisher or author: 7
Egalleys from the publisher or author: 20
Of the owned books I've read this year, 38 of them were purchased in 2017. I want to sort of exclude 10 of those though because they were bought for my nostalgic A-List reread. So! 28 books I read were purchased this year. That's a small number compared to the 126 books I've read. However, some of my read books were bought earlier and sat on my shelf for a while, finally able to be read in 2017. 27 of my books read were free books from the publisher or author. That's basically the same amount of books as the ones I've purchased and read.
Borrowed Books I've Read: 65 books
49.2% of my read books
Borrowed hardcover from library: 11
Borrowed hardcover from my sister: 1
Borrowed paperback from library: 1
Borrowed ARC from friend or ARC tour: 16
Borrowed ebook from library or Scribd: 17
Half of the books I read this year were borrowed. HALF. That's kind of crazy and a huge amount of money saved. I'll get more into this later on, but I'm not surprised by this at all. You can see the breakdown of all the places I get these borrowed books from, which is how I save money.
Other Thoughts
One other thought I had after talking with Cristina was if the lack of book buying (especially of new releases) would impact the release year of the books I chose to read. Because I haven't been preordering as much or buying new releases as they come out, does that mean 2017's reading would be primarily backlist books? Let's look quickly first at the release years for the books I DID buy: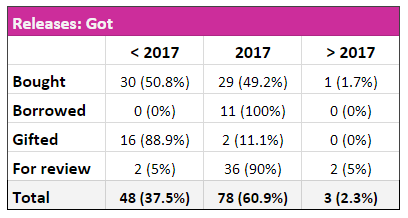 Most of the books I bought were either backlist titles (earlier than 2017 at least) or 2017 releases. There's almost an exact 50/50 split! (The other column is just noting that I've already preordered one 2018 release and have two egalleys for that year as well.) I think the main takeaway here is that I alternate between buying new books AND backlist books, depending on the price. I preorder favorites and buy books for my Kindle when they're on sale. These Kindle books are both 2017 releases and backlist titles, depending on what I think of the books on sale.
As for releases I'm reading… the chart below shows that breakdown:

This year, I've read a lot of 2017 releases (66 books at 60% of my reads). I've read 45 books published before 2017, which accounted for less than half of my reads. I spend a lot of time reading newer releases that I'm excited about. This could be partially because I try to focus a lot on advanced copies, even if I don't read them before the pub date. I try to at least get to them within 6 months of publishing. 43 of the books I've read this year were advanced copies from one source or another, which accounts for a lot of the new releases I read. I obviously didn't spend money on these.
Conclusions
I buy backlist because they're on sale, but don't read them as quickly.
Many of the books I buy each year are backlist titles on sale for Kindle. Some of them are paperbacks when they come out because I prefer to own paperbacks. This is more of a random comment I noticed through this data. I'm not surprised to see it; usually I fall victim to Kindle sales even if I'm not overly excited to read the book quickly.
If I buy a new release I'm more likely to read it because I was excited to buy it.
I used to have this problem where I would buy books I just NEEEEDED and then never read them. Since my book buying has drastically decreased, this hasn't really been the case. Most of the books I've preordered or bought soon after the released date were read very quickly. I restrict my buying to favorite authors pretty much all the time, so I read them quickly.
I get a lot of my anticipated releases as ARCs (borrowed or otherwise) or library books to save money, then I read them right away.
More on the specifics in a minute, but this is definitely my biggest place to find books. I request new releases from the library instead of buying them most of the time. This is usually because (1) I prefer to buy paperbacks, so I might read the library hardcover release and buy the paperback later when it is released and (2) because I don't have space for new books. I request a decent amount of advanced copies from Netgalley and have done a good job of actually reading them.
I've read more free books than books I spent money on this year.
Books I read that I spent money on at one point: 38 books
Preordered books or new releases I purchased
Backlist books I've bought at some point
Books I read that were free for me to read from any place: 73 books
Books borrowed from the library
Advanced copies from the publisher/author
Books borrowed from friends, my sister, and ARC tours
Related Posts