I love September and beyond. Sure, summer is great, but I prefer not to sweat all of my makeup off immediately. My birthday, anniversary, and the start of football season in September bring me a hell of a lot of joy. I make big autumn plans and bucket lists every year, which usually involve many decorations, pumpkin picking, and other falltime activities around New England. I thought I'd follow up with you and share some of my decorations this year, as well as other autumn highlights and adventures! I also decided to work on the TBB Asks survey this month because it's fall-themed (it's supposed to be from the beginning of the month but oh well).
I like all the fall colors, but I often dress in maroon/burgundy shades and lately some mustard!
Apple cider should always be cold. LOVE it, especially when it comes fresh from a local orchard.
Nope, I'm not a caramel kind of gal. I don't like it when it's all sticky (like on a caramel apple or in a candy bar), but I don't mind something with caramel flavoring (like coffee).
Hmm this should be tougher because I love all things pumpkin, but apple cider donuts are my freakin FAVORITE THING. They are so sugary and delicious. Our farmers market usually has a truck with fresh ones but they haven't been around lately as much 🙁
I love long cardigans because I will mostly wear them with comfy leggings and a basic shirt underneath. In general I do prefer longer clothing items because they're cozier and make me feel less self-conscious.
Mmm I love football food! I have a lot of dips that I love for snacking on during football games, including crack dip and buffalo chicken dip. My dad makes a lot of cheese/pepperoni/cracker plates or chicken nuggets for us to snack on too.
I never liked white pumpkins when they were first "getting popular" in recent years, but now I like to mix them in! I usually get small pumpkins and gourds to decorate inside and out, so I'll get a few white and orange ones of various sizes.
I think hayrides are fun in theory, especially if it leads you to the pumpkin patch to get your pumpkin, but they're not super comfortable. I love having friends over for fires in the summer and into fall too.
I usually make pumpkin bars, pumpkin cheesecake, pumpkin pie, or pumpkin cookies. I'm not a baker so I'll usually find a good pumpkin-based box from the store and make them! I have an easy pumpkin pie recipe too that I need to track down again…
I love going to apple orchards and pumpkin patches! They're ALL OVER the place in New England, so we usually spend at least one Saturday in October picking out pumpkins and apples, getting apple cider and cider donuts, and exploring the changing leaves.

Apple fritters and hiking
We spent the first weekend of October getting out for our first hike of the season and the first hike back home in Connecticut. We had a few different options but settled on Blackledge Falls. It was a nice hike (with a few confusing trail markers at the end) that led to a gorgeous waterfall in the middle of the woods.
Because the town its located in is home to a lot of apple orchards, we decided to head out to one we've visited in the past. We were planning on getting pumpkins, cider, and donuts/fritters. They ended up being really slow that day and had no hayrides because of the wet ground, so we set off for a new one – Dondero Orchards. They had fresh apple fritters and other orchards we could pick from, but we weren't in the mood. We just ended up eating fritters and grabbing a cider donut to go.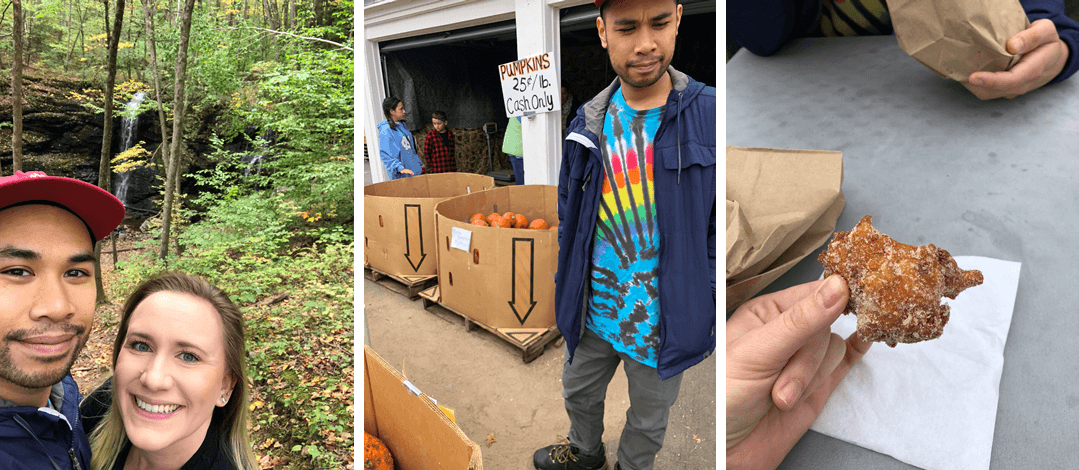 We figured that we had plenty of time for the rest of the month to see other orchards, both for apples and pumpkins. I like to be able to take a hayride into a patch for pumpkin picking so I didn't want to settle for plucking one from a cardboard box haha.
Fall decorations at the house
I keep my decorating simple for the fall because I don't care much about Halloween (sorry). I usually stick with pumpkins, football, and leaves, because then I can keep it all up from mid-September through Thanksgiving. I bought some football-themed gel clings for our window (hard to see, but in the picture above). I got a little pumpkin door hanging that I love too.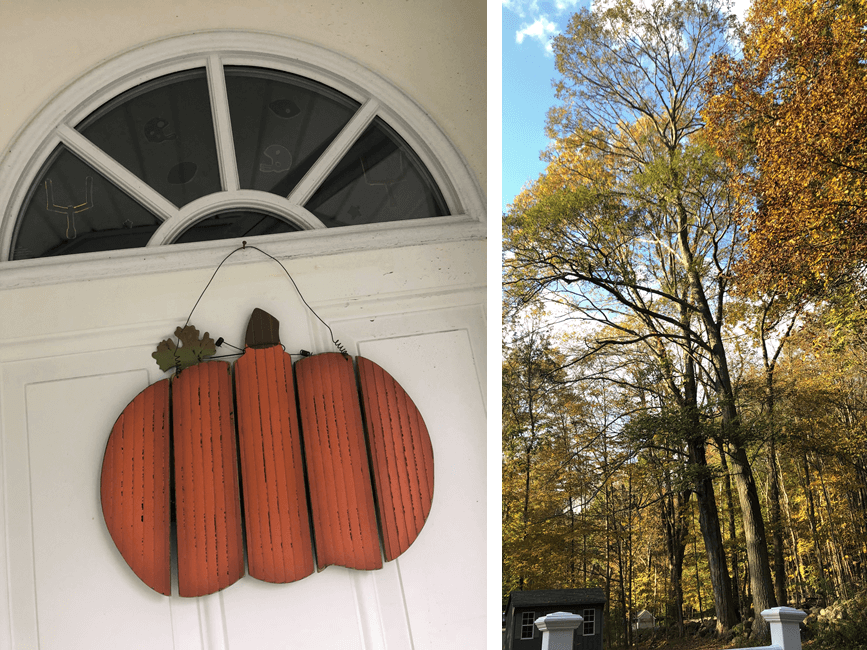 I bought mini stuffed pumpkins that sit on our TV stand and always have a fall candle burning. My favorite candle scent overall is apple, so I've been getting pumpkin apple or apple cinnamon candles so far this season. They smell SO GOOD. I switch to Winter Candy Apple from B&BW as soon as they're available though.
We went to the local farm/landscaping store to pick up some gourds and a sugar pumpkin. The small mum is from Trader Joe's because they always have the cutest floral options for low prices!
Seasonal eating
I am a pumpkin spice gal who also loves a good apple cider. Fall is my JAM in terms of food and beverage options! I love everything with these ingredients, plus cozy soups and stews in the crockpot during Sunday football games. Here's a round-up of some of the seasonal foods we've been enjoying so far!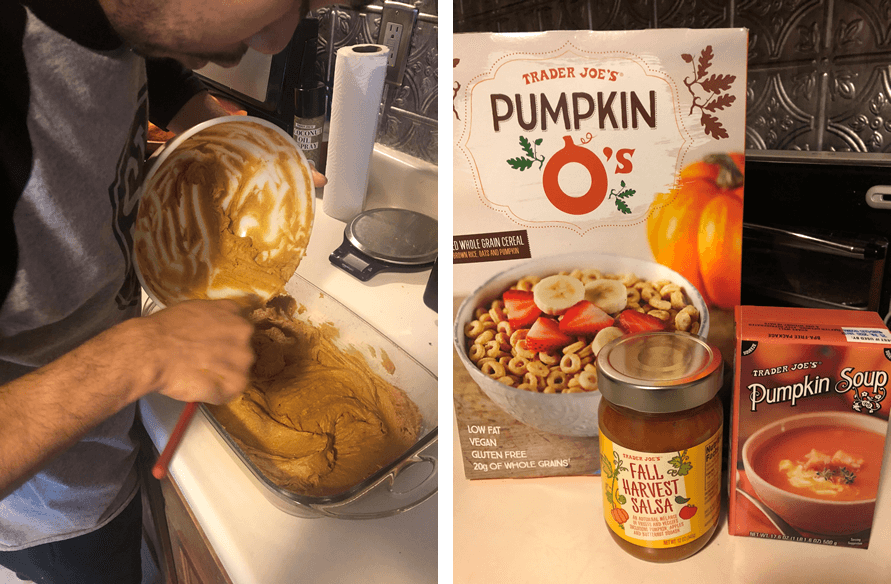 Two-Ingredient Pumpkin Bread/Cake
I saw this recipe so much on Pinterest, I knew I had to give it a shot! (Here's one of the options I got it from.) You mix together a 15 oz can of plain pumpkin and a box of Spice Cake mix. That's it. Mix the two things up, spread it into a 9×13 pan, and bake at 350* for about 30 minutes. It was so good. Many of the articles said the recipe is even better on the second day and I agree – it starts to form together even better as it cools and becomes more moist (I hate that word) by day two.
Trader Joe's Pumpkin/Seasonal Foods
I talked about this in my TJ's go-to shopping list post, but wanted to reiterate. I love all of the seasonal things there but had to be more careful to follow Weight Watchers this season. (My go-to weekly pumpkin spice from Dunkin had to be diminished into an iced coffee with one pump of pumpkin and skim milk, and even that costs too many points to be worth it!) We also tried the Fall Harvest Salsa with chips and some Pumpkin Soup with grilled cheese. The soup was a bit watery and missing some flavor, so I might make it creamier with a little heavy cream next time?
Related Posts