Bookish Items / Merchandise
Top Ten Tuesdays were started by The Broke and the Bookish and are now hosted by That Artsy Reader Girl, where we make lists of our top ten books (or something else!) based on that week's prompt. The topics are provided ahead of time and can be found here. Book links bring you to Goodreads or my review.
I don't acquire a lot of bookish merch, if I'm being honest! I've tried to buy less and less THINGS over the past few years (I've moved so much since high school that I'm so tired of lugging items everywhere I go!). The two bookish things I like to collect the most are candles and bookmarks, so here are some of those (and more). Some items below are specifically on my wishlist while others are just favorites in general – I'll mark them so you know. All photos are credited to the original websites/shops or were taken by me if noted.
---
Favorite Novelly Yours Candles
Full disclosure: I am incredibly picky about candles. Most are too sweet for me and give me a headache, but I knooow I can count on a few specific scents to work perfectly. Usually they involve apple, but not always. Brittany's candles are some of the BEST out there and I have a couple of go-to scents.
I thinkkkk Winter is still my favorite here because it's the most apple-y of them all, but the close second is probably Brave. I love the pumpkin pie scent mixed in! Cabeswater is a nice and refreshing scent, which is the other kind of candle I like to buy (something with outdoorsy, clean scents!). I couldn't recommend these three (or any other candles FWIW) from Novelly Yours. I have a few more (like Currently Reading) for my shelf and that has a lovely scent too.
---
Little Inklings Bookish Planner and Bookmarks
I bought the 2018 Fully Booked Planner and really enjoyed it. I think I'm going to integrate bookish things into my standard planner this year (for no real reason – I think I'm just being cheap, TBH), so I won't likely repurchase, but I LOVED this planner otherwise. Little Inklings also has adorable bookmarks I've pined over for a while.
I love her design abilities so much. The graphics in the planner were gorgeous for 2018 and the bookmarks are just as pretty. I love the handwriting style so much. I feel like I do have one or two of these bookmarks but I honestly don't remember because I collect too many! These are two current faves in the shop.
---
Self-Inking Book Stamp
One thing I've always wanted is a bookish stamp, to designate when books come from my library. I've had this one on my Etsy wishlist for a while but I'm not picky about what kind I have. I like to keep my books in good condition but this stamp thing is something I wouldn't mind doing, just for peace of mind.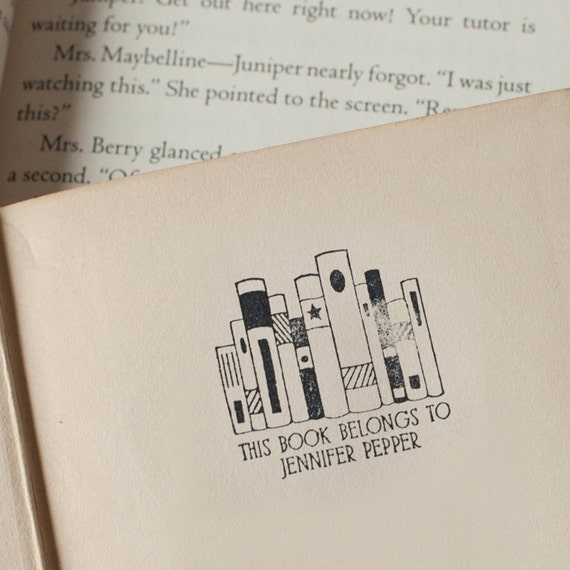 Self-Inking Bookplate Stamp
Customization with name
---
Bookish Pins
There was a time where I was investigating bookish pins (and ones for other hobbies too) but I never followed through on collecting them. I have some, especially if I got them in a pub package or picked them up from BEA, but I haven't purchased any. I currently don't have anywhere to store or display them either.
I loooove these three pin designs from IceyDesigns. Her whole Etsy shop is actually pretty great but I have yet to take the plunge and buy something from it. I love anything with books and/or coffee, so these are my favorites. I'm not a huge tea drinker but the cute cup in the third one is enough to add it to my list.
---
Bath Caddy
This is book-related, right? I've always wanted one of these bath caddies that can go across you while you relax. It's a place to prop your book, your coffee, your candle, etc. I currently only have a stand-up shower, which is depressing for me, but when I have a house with a tub again, this will be mine!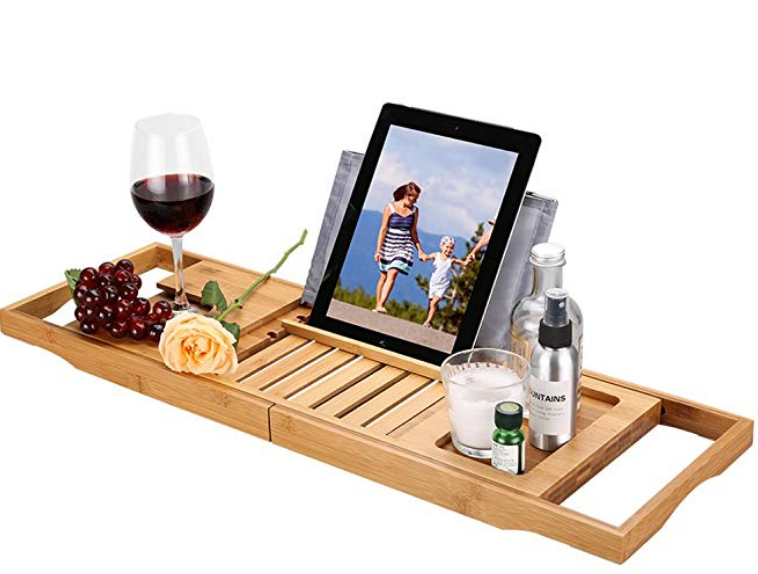 Bath caddy
Amazon
---
Bookish Pillows or Prints
My dream library would have a day bed in it, so I could read under the covers or on top of the bed like a couch. It's been one of my dreams to have a gorgeous floral comforter and a bunch of book-related pillows to make it super comfortable. I always have my eye on the pillows from Society6 because there are a lot of awesome prints on there. Here are some of my favorite designs for both pillows and wall prints.
I own the first and third ones above as prints, which have yet to be hung up in the new house, and the middle pillow I own as a tee shirt. I love all of these prints because they're not necessarily book-specific. I don't have quite as many all-time favorite series (where I would order book-specific merch) as others, so general reading quotes and prints appeal more to me. The library print IS a Harry Potter quote, which is definitely the number one series I would order merch for. I'd love it as a pillow!
Related Posts